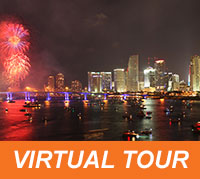 Miami and its region – South Florida – stand at the crossroads of the Americas, a location that lends students at the School of Law an international perspective; exceptional career-building and externship opportunities in courts, corporations and clinics; and rewarding careers in this exciting environment.
Miami Law: Part of a Great Campus
The University of Miami School of Law is on the 260-acre main campus of one of the largest private research universities in the U.S. with premier graduate schools with which the law school offers a range joint degrees including the Frost School of Music, Miller School of Medicine, Rosensteil School of Marine Science and School of Business Administration. No other law school in the nation is located in a region that affords this exceptional mix of diverse perspectives and opportunities.
Coral Gables: A Great Neighborhood for a University
Coral Gables, known as one of Florida's most desirable residential areas and increasingly recognized as an international business center, offers all the benefits of large-city living in a relaxed suburban setting. Its main street, Miracle Mile, is filled with restaurants and shops. Next door to Coral Gables is the Greater Miami area with many distinctive neighborhoods where students live such as South Miami, Coconut Grove, Brickell, the Art Deco inspired South Beach, and "Little Havana."
South Florida: A Hub for Opportunity & Business
Miami, home to nearly 1,400 corporations, hosts the headquarters for multinational corporations including Disney, Sony, and FedEx; and dozens of headquarters for U.S. companies, including Office Depot, American Airlines, and Hewlett-Packard.
Students can take advantage of the location specializing in corporate/business law, real estate, intellectual property/IP, or international law.
Federal agencies – including the Securities and Exchange Commission and the U.S. Department of Homeland Security – have offices here. As the the largest financial capital in the U.S. after New York City, South Florida has become a leading center of international tax planning, arbitration, and asset management.
Studying in Miami = Hands-On Learning Opportunities
Top local attorneys and alumni serve as adjunct professors and mentors and students have unparalleled opportunities to work side-by-side with faculty and clients via externships and practicums. Lawyers in South Florida practice in numerous courts, including the U.S. 11th Circuit Court of Appeals, and the area provides students access to dozens of agencies and courts - state and federal, trial and appellate, bankruptcy, immigration, family and more.
In Miami Law's clinics are students get involved in relevant issues in immigration law, family law, bankruptcy law and more, and make meaningful contributions. In addition, notable guest speakers from the community are brought to campus by more than 60+ student organizations.
 
Unbeatable Weather
The law school's proximity to the ocean, the Port of Miami, and Everglades National Park enables students to specialize in Environmental Law/Marine Affairs and Maritime/Admiralty Law.
Miami enjoys a true tropical climate with summers almost identical to those of the Caribbean, and winters with mild, mostly dry weather and temperatures in the 60s and 70s. With more than 500 public parks and thousands of miles of paths for biking, running, or walking, South Florida is ideal for outdoor enthusiasts. Miami also has more than 20 beaches and is the only U.S. metropolis with two national parks.
Vibrant Culture & Sports
Law students capitalize on Miami's culture-rich environment to specialize in entertainment law, sports law, arts law, music business and live entertainment management.
Miami boasts a thriving international arts community with the world-acclaimed City Ballet, International Film Festival, and music venues offering opera and classical to contemporary performances. The City is host to Art Basel – one of the most important art shows in the world and the new Perez Art Museum. For sports fans, South Florida is home to professional teams for all of the major sports including The Miami Heat, The Miami Dolphins, the Miami Marlins and the Florida Panthers -- there are also the Miami Hurricanes sporting events. The University of Miami campus is also replete with culture as home to the Lowe Art Museum and the Beaux Art Festival, Miami's oldest juried fine arts fair.
For More Information
www.miami.com
www.coralgables.com
www.miami-florida.com
www.miamiandbeaches.com
www.miamigov.com/home/pages/visitors.asp
University of Miami: Coral Gables and the Region
Justice in Paradise at University of Miami's School of Law: Florida State Homes