"The International Arbitration LL.M... made so many things possible that completely changed my appeal to prospective employers and that better prepared me; from the research assistant position with Miami Law's International Arbitration Institute, me being a panelist at the ICC Costa Rica Conference on international arbitration, and the two practicum placements with DLA Piper and Astigarraga Davis in Miami. All this led to me not only landing one of the best arbitration positions in the world with White & Case's international arbitration practice group in Washington, D.C., but also one of the best legal clerkships in Miami [with Astigarraga Davis]."  
Brian Vaca, LL.M. '16
---
The LL.M. in International Arbitration develops practitioners that are well rounded and ready to enter the field of International Arbitration. The program's internationally-renowned arbitration faculty and staff provide students with ongoing personal advice and structural support in planning and advancing their careers in the field. 
Opportunities After Graduation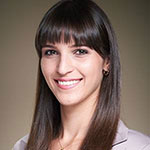 "During my LL.M. at UM, I received valuable mentoring from some of my classmates, UM´s staff and Professors. After my LL.M., I took the New York Bar, and returned to my home country, Brazil. Here, I had the chance to choose from a selection of great law firms, and the conversations I had at UM were decisive in determining the next step in my career."
Caroline Klamas, LL.M. '14
Associate Attorney, Carvalho, Machado e Timm Advogados, Brazil
---
Sit for U.S. Bar Exam
Foreign-trained graduates of the International Arbitration LL.M. Program may sit for the Bar Exam in several states without a J.D. degree, the most common being New York and California.  After being admitted to any bar in the United States, graduates may practice federal law in any of the 50 states, serve as corporate counsel within a corporation anywhere in the United States. In addition, many states, including California, Florida, New York and Washington D.C., allow experienced foreign-trained lawyers to work a foreign legal consultant without being admitted to the bar in the United States.
OPT
Foreign-trained law graduates of the International Arbitration LL.M. Program may qualify for an employment authorization for a one-year period of optional practical training (OPT) in the United States immediately following their graduation from the program. The OPT provides students with a valuable opportunity to gain practical experience in the United States prior to returning to their home countries (or to seeking permanent employment in the United States). 
Work Around the Globe
Miami Law graduates work around the globe. See the articles, "LLM Graduates Practice International Arbitration in Firms Worldwide" and  "Making an Impact Around the Globe: International Arbitration LLM Alumni" Alumni work internationally with prestigious entities.
LAW FIRMS

Arnold & Porter
Astigarra Davis
Bofill Mir & Alvarez Jana Abogados
Carlton Fields
Carvalho, Machado e Timm Abogados
Dentons López Velarde
DLA Piper
GST LLP
Hogan Lovells
Tavernier Tschanz

ARBITRAL INSTITUTIONS

Energy Charter Secretariat
International Chamber of Commerce (ICC)
International Centre for Settlement of Investment Disputes (ICSID)

ALUMNI WORK IN 6 CONTINENTS AND 30+ CITIES INCLUDING:

Basel, Switzerland
Brussels, Belgium
Casablanca, Morocco
Dubai, United Arab Emitrates
Frankfurt, Germany
Geneva, Switzerland
Houston, Texas
Lisbon, Portugal
London, United Kingdon
Mexico City, Mexico
Miami, Florida
New York, New York
Paris, France
Rotterdam, Netherlands
São Paulo, Brazil
Shanghai, China
Stockholm, Sweeden
Tokyo, Japan
Washington D.C., United States
Zurich, Switzerland
Videos: Hear Graduates Discuss the Program
Click below to hear Maria Rivero, originally from Spain and now Director of ADR Services at American Arbitration Association, share how Miami is a "must-place to be and study" arbitration as well as which classes in arbitration were her favorites.
Embedded Video
Luiz Camps, LL.M. '12, International Arbitration
-J.D. Equivalent, Universidade Paulista – UNIP
Embedded Video
Hear Patrick Miller, now an associate at Watson, Farlye & Williams in Bangkok, Thailand, discuss how Miami Law influenced his career path.
Embedded Video
Hear Kristina Stefanovska of Macedonia who received her J.D. Equivalent from St. Cyril and Methodius University, discuss the International Arbitration LL.M. 
Embedded Video
Hear Allia Skalli of Morocco who received her J.D. Equivalent from the University of Panthéon Sorbonne, France and is currently a Legal Consultant at African Development Bank, Abidjan, Morocco, discuss the International Arbitration LL.M.
Embedded Video
Serhat Celen of Turkey received his J.D. equivalent from Ankara University and talks about the International Arbitration LL.M.
Embedded Video
---
"Being a practitioner and licensed attorney in Sweden, the program has broaden my legal expertise in area of international arbitration and increased my contacts in the field. Furthermore, I have made friends for life!" 
Kajsa Larsberger Holting (Sweden)
J.D./LL.M. in International Arbitration candidate