The HOPE Fellows Program allows public interest minded students to create summer dream jobs and work across the globe to effectuate change. To do this, the HOPE Public Interest Resource Center provides a $5,000 stipend to law students who work in uncompensated public interest jobs during the summer. HOPE Fellows work with local, national, and international public interest and government agencies, as well as non-governmental organizations (NGOs), to provide much-needed legal advocacy.
Since 2000, the program has evolved from two local placements to include national placements in locations such as Washington, D.C., New York City, Chicago, and San Francisco, as well as international placements in countries such as Tanzania, Namibia, Lebanon, China, Colombia, Bolivia, Haiti, Kuwait, and Israel. This year HOPE is continuing efforts to serve post-disaster areas and encourages students to consider organizations advocating on behalf of impacted communities including, but not limited to, the Florida Keys, the Florida Panhandle, and California. 
HOPE Fellows Program Requirements
Who is eligible to apply?
All rising Miami Law 2Ls and 3Ls who are in good standing with a GPA of 2.5 or above. Although priority is given to JD students, returning LLM students may apply as well. 
Priority will be given to students who have a demonstrated commitment to public service and financial need. Priority will also be given to applicants proposing placements nationally, internationally, and/or in post-disaster affected regions. Please note that judicial internships do not qualify. 
HOPE Fellows may not receive credit or compensation (from the host agency or Miami Law) for their work. If additional funding is being sought, Fellows must list the source and amount of funding and are expected to receive compensation only for hours above the HOPE Fellowship requirement of 360 hours of service.
What are the requirements of the HOPE Fellowship?
All HOPE Fellows must work under the direct supervision of an on-site licensed attorney throughout the full term of the HOPE Fellowship. Please note that judicial internships do not qualify. 
HOPE Fellows must attend all scheduled pre-departure meetings and trainings. Information will be provided in the letter of acceptance.
Fellows are required to attend the Spring Public Interest Recognition Ceremony in April.
Fellows are required to be active participants in fundraising efforts to ensure continued funding for HOPE/SPIF Fellowships. 
HOPE Fellows will serve as hosts for various programs/fundraising initiatives. 
Over the course of the summer, Fellows must complete a minimum of 360 hours of work over a period of no less than 9 consecutive weeks.
HOPE Fellows will have an ongoing reporting and feedback commitment throughout the duration of the placement.
Fellows must submit weekly journals reflecting on their experience.
Fellows must also participate in an online exchange and discussion with other HOPE Fellows.
Fellows are required, in consultation with their supervising attorney, to design and execute an on-site project to uniquely serve the host agency.
Fellows must submit an evaluation/final journal entry regarding their HOPE Fellowship experience and the supervisor will also be asked to submit an evaluation within two weeks of the completion of the on-site work.
During the summer, Fellows must submit a proposal regarding their post-Fellowship programming/project and schedule a meeting with their HOPE liaison upon their return to campus.
Participation in the promotion of HOPE Fellowship opportunities includes, but is not limited to, the following: information sessions, interviewing/mentoring of prospective Fellows, video testimonials, and other HOPE initiatives in support of public interest at Miami Law.
What is a complete HOPE Fellowship Application?
All Fellowship applications must demonstrate how you, as a Fellow, will contribute uniquely to the agency with which you wish to work.
Completed applications must include the following:
o Timely submission of online application.
o Current resume.
o Unofficial transcript.
o Letter of commitment from the host agency, if obtained, or information on status of placement(s). This may include pending, interviewed, etc. Applicants are responsible for updating HOPE regarding the status of any and all pending placements.
HOPE Fellowship Placement FAQs  
Q: How does a student find a placement?
A: Students must propose a placement of their own choosing. Students should start by identifying the geographic and topical areas in which they have an interest. A good place to start is to read past HOPE Fellow bios on the HOPE website. Need more ideas?  Search on PSJD and Equal Justice Works to find out about exciting organizations. Talk to faculty, classmates, and alumni who have been engaged in public interest and pro bono service. Be creative–this is an opportunity for students to create their dream jobs! 
Q: When seeking a host agency, what kinds of questions should one ask?
A: When contacting an agency, take the time to research what they already do and who they have staffed at their organization. Check if they have any Miami Law alumni. Think about what help a fellow can offer, before calling, and ask them about their needs. More than likely, the agency will appreciate the sincere interest and proposal to assist in their offices. Be patient, but also be persistent. Students should describe who they are (Miami Law student dedicated to public interest, rising 2L or 3L, interested in immigration, human rights (with a particular area of focus), bankruptcy, etc...) and how they would like to go about helping the agency to serve the clients/community.
Q: How is a HOPE Fellowship beneficial after graduation from Miami Law?
A: A HOPE Fellowship provides legal experience through on-the-job training in legal writing and research, and advocacy while working under the supervision of licensed attorneys. In addition, students will engage in project development with the guidance of a HOPE staff attorney. The HOPE Fellowship is highly competitive and obtaining this award is a great distinction for any resume. In addition, students will have a resource in former and future HOPE Fellows as well as the ongoing support of the HOPE team.  
Q: Is it possible to split the summer among two placements?
A: No. HOPE Fellows must complete at least 360 hours over the course of no less than 9 weeks at one placement. Any additional hours spent at another placement will not count towards the hour requirement of the HOPE Fellowship. However, hours in excess of the 360 hours, should be logged as pro bono hours.
Q: Can one work for a private attorney or private firm that does pro bono?
A: No. All HOPE Fellows must work with a non-profit or government agency.
Q: Can a student work at a public interest agency that does not have an attorney on staff?
A: No. All HOPE Fellows must work under the direct supervision of an on-site attorney so they have the opportunity to work with exceptional lawyers to develop advocacy skills. While it is understood that there are many meaningful opportunities with agencies dedicated to promoting justice who do not have an attorney on staff, this particular program requires a supervising attorney on site. 
Q: When can a student expect to hear about his or her fellowship?
A: Interviews will take place in late February and early March of 2022.  Offers will be extended by mid-March, with student commitments required by the end of March.
Q: What should one prepare for the interview?
A: Treat the interview like a job interview. Students should be ready to discuss their goals and why they feel they are an exceptional candidate for the HOPE Fellowship.
Q: What if one does not secure a HOPE Fellowship?
A: Other resources for summer funding include the Summer Public Interest Fellowship Program (for rising 2Ls), Equal Justice Works Summer Corps, and many opportunities featured online. Search PSJD, Symplicity, and Equal Justice Works to get a full picture of the options. 1Ls will have another opportunity to apply for a HOPE Fellowship next year! Miami Law is dedicated to ensuring that students have opportunities to develop advocacy skillsets while helping others. Be sure to check into summer clinic placements, externships, courses with field components and other opportunities offered through Miami Law.
The HOPE Fellows Experience: See Past Fellows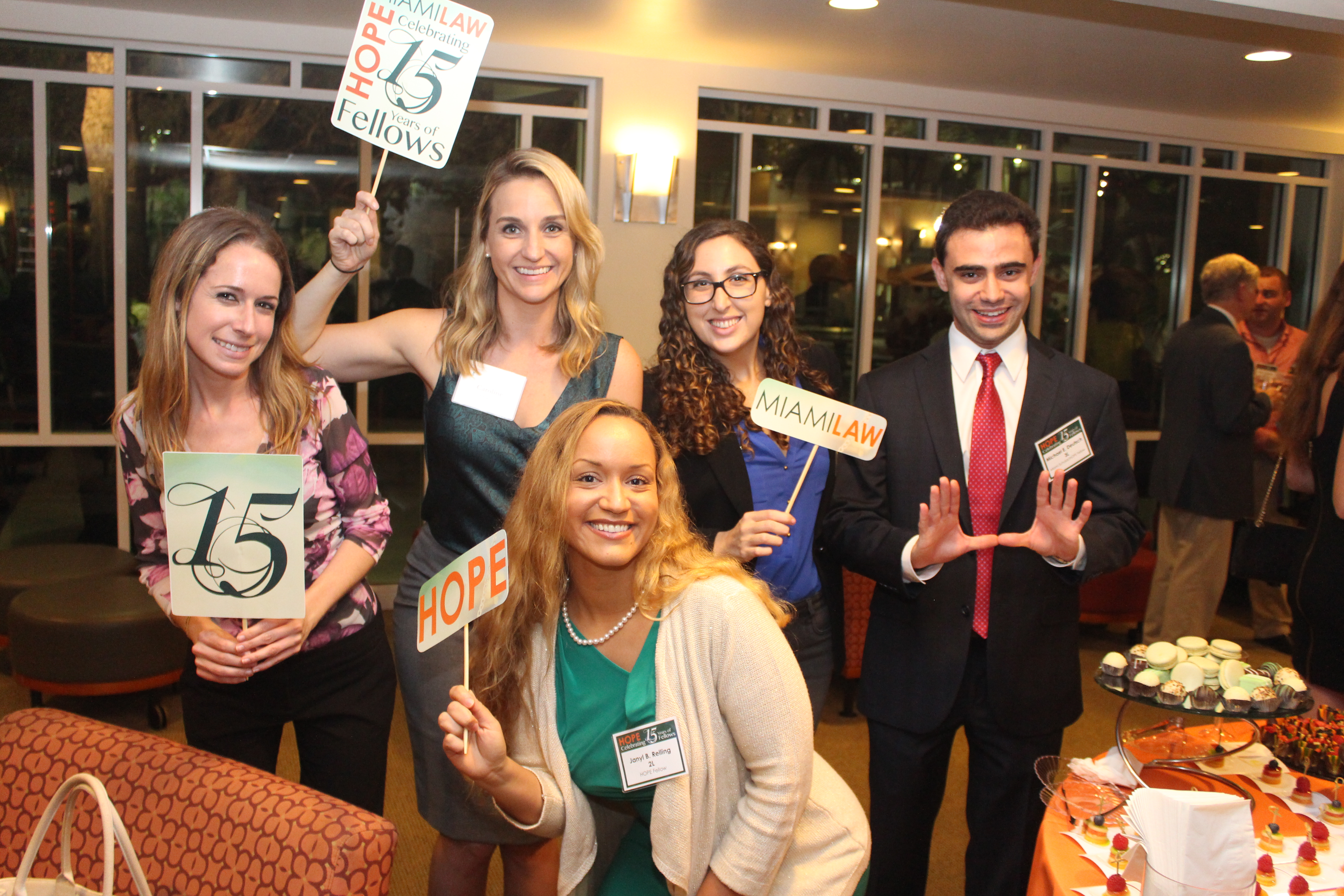 TO APPLY:
The 2023 application will be available in late 2022. 
The application deadline will be in February 2023. For more information, email umhope@law.miami.edu.