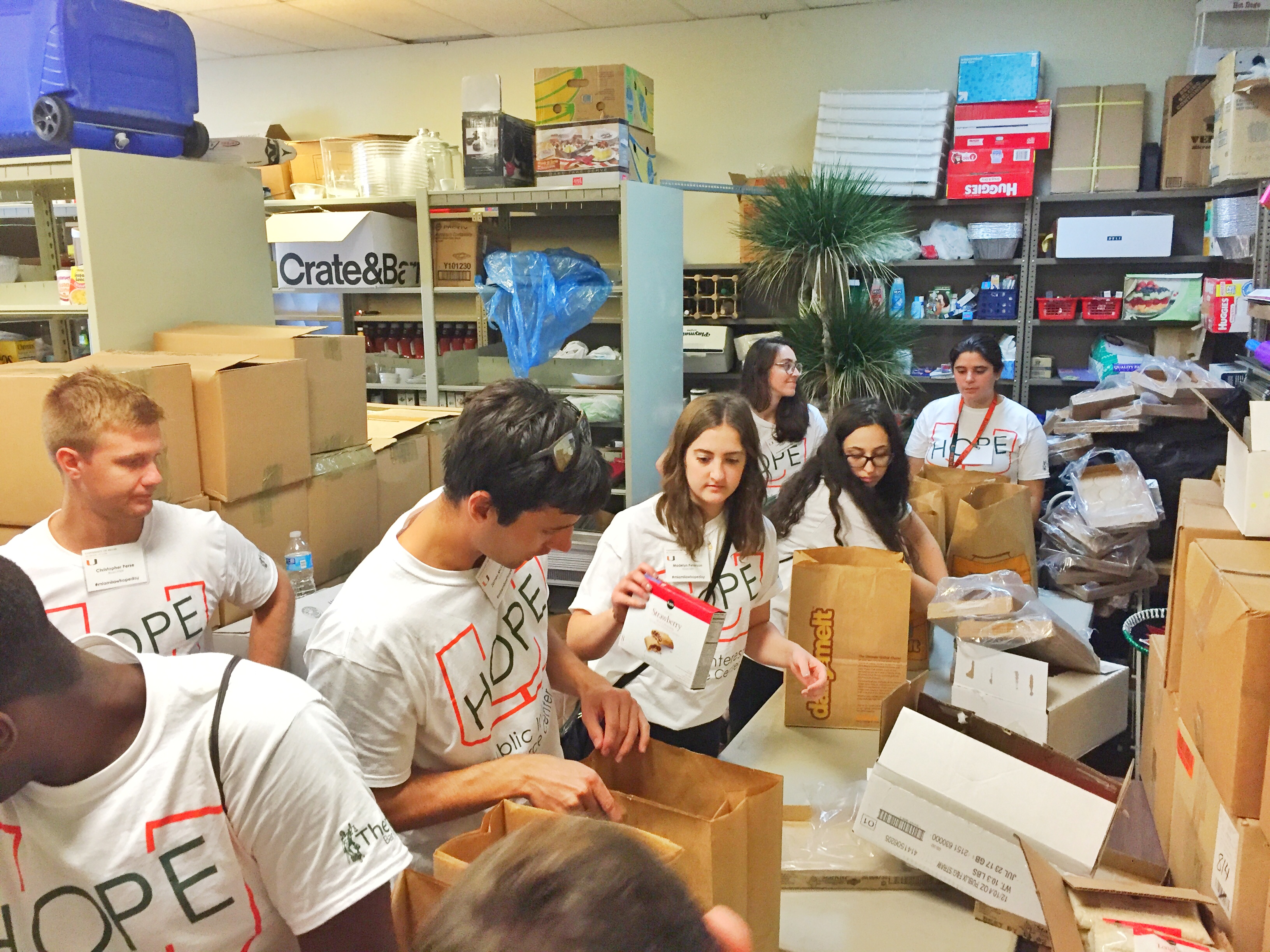 The HOPE Public Interest Resource Center teams students with agencies in the community in need of volunteers for both legal and non-legal advocacy projects. Students have the opportunity to assist supervising attorneys in a variety of practice areas and are afforded a meaningful opportunity to build practical skills while playing a key role in the promotion of access to justice. 
There are opportunities for both flexible and ongoing work. Projects are frequently added to meet the current need in the community as well as student interest. A number of advocacy projects are listed below, but please contact HOPE to learn more about current opportunities to get involved!
COMMUNITY SERVICE OPPORTUNITIES DURING COVID-19
HandsOn Miami is a volunteer organization promoting positive change and service in the Miami-Dade County community. In light of COVID-19, they are now initiating HandsOn at Home, where you can participate in service projects at home and online. For more information, visit www.handsonmiami.org/at-home.
United Way has several remote volunteer opportunities that will allow you to make a difference from a distance. Visit https://unitedwaymiami.org/remote-volunteering/ for more information.
Volunteer from Your Couch has opportunities to get involved. Visit https://www.volunteerfromyourcouch.com/?country=US for details.
 
Alternative Break Opportunities 
HOPE organizes opportunities for law students to engage in pro bono and community service during fall, winter, and spring breaks, both locally and nationally.
Children & Youth 
Guardian ad Litem Certification: Become a certified Guardian ad Litem on campus and serve as a court-appointed advocate for an abused, abandoned, and/or neglected child or youth. (Community Service)
Empowered Youth: This local non-profit dedicates itself to helping at-risk young men between the ages of 12 and 19. Law students assist with tutoring and mentoring. (Community Service)
Books & Buddies: This program targets children who attend local elementary schools in order to promote reading, writing and education. Each semester, Books & Buddies pairs law students with a local student to share and communicate the excitement of reading through the exchange of letters. Correspondence is traded weekly between the Buddies and provides an opportunity for each to learn about their reading pen pal. (Community Service)
Criminal Justice
Legal Writing Course at Dade Correctional Institution: HOPE has partnered with Exchange for Change, a non-profit that brings courses to people who are incarcerated at Dade Correctional Institution, to conduct a 6-session course on legal writing and research. Miami Law students help to lead the course, taught by Professor Pelz. To participate, you must attend a volunteer training conducted by DCI. After you have been trained and passed a background check, you will be certified to enter the facility to particpate in leading the course. (Pro Bono)
Sealing and Expungement Project: The Sealing and Expungement Project allows law student volunteers to team with local agencies—including the ACLU, the Office of the Public Defender and the Office of the State Attorney—to provide assistance to individuals seeking to seal or expunge their criminal records. (Pro Bono)
Disaster Relief
Be trained and ready to mobilize in the event of a disaster, such as a hurricane, as part of Legal Services of Greater Miami's disaster relief program. Learn how to assist in addressing legal needs, such as FEMA and emergency food stamps. (Pro Bono)
Domestic Violence
HOPE seeks to raise awareness about domestic violence, foster student advocacy on behalf of domestic violence survivors and create initiatives to meet the needs of survivors.
Students collaborate with several legal services agencies and community organizations dedicated to serving the needs of indigent and low income women and their families, as well as survivors of abuse, neglect, violence and discrimination, including the Legal Aid Society, Legal Services of Greater Miami, Kristi House, the Florida Immigrant Advocacy Center, No More Tears, and the 11th Judicial Circuit Domestic Violence Division. (Pro Bono & Community Service)
Employment
Very few low-wage workers in Miami have access to pro bono wage theft representation. Without an advocate, low-wage workers have a reduced chance of recovering the wages they have earned. Most, if not all, of these workers live paycheck to paycheck, so the consequences of wage theft can be severe. HOPE is partnering with local attorney Oscar Londono and the National Lawyers Guild South Florida Chapter to develop this student-run project where students will represent individuals in wage theft hearings with training and supervision. (Pro Bono)
Immigration/Human Trafficking
HOPE has partnered with local and national immigrant advocacy non-profits to connect law students with opportunities to assist attorneys with asylum, U-Visa, SIJ, and other immigration matters, and at Citizenship Clinics in the community. 
AI Justice Immigration Screening Team: Help protect the rights of immigrants in South Florida! Work with AI Justice's Family Defense Project to conduct community outreach, assist with Know Your Rights trainings and/or volunteer at intake screening clinics on Saturday mornings. (Pro Bono)
EEOC Human Trafficking Outreach and Education: Did you know that the EEOC can assist victims of human trafficking and sex trafficking? Help the EEOC's Miami office raise awareness of the pivotal role they can play in this area by assisting with outreach to local agencies and communities. (Pro Bono)
Pro Bono Legal Research Project
Through the Pro Bono Legal Research Project, Miami Law students are teamed with practitioners from the private and public sectors to provide legal assistance on pro bono cases. Read E-news for current opportunities! (Pro Bono)
Volunteer Income Tax Assistance (VITA)
As one of the poorest urban centers, Miami is in need of direct services that provide e-filing and rapid tax refunds, allowing clients expeditious access to funds without charging fees for the service. That's where Volunteer Income Tax Assistance (VITA) comes in. VITA is a nationwide program that provides free tax assistance to low-income, elderly and disabled individuals who need help with basic income tax return preparation and electronic filing. All VITA volunteers receive training from the IRS and operate a site in conjunction with the IRS during tax season. To ensure that all of Miami-Dade County's diverse residents may access the services, tax preparation assistance is offered in English, Spanish and Creole. (Community Service)