Current Projects
Old Smokey
Located in the West Grove, a historic African American and Afro-Bahamian community in Miami, "Old Smokey," an aptly named municipal incinerator that operated from 1925 to 1970, released copious amounts of toxic ash that contaminated the air and land surrounding it. After Old Smokey was razed, the hazardous debris was placed in public parks across the City of Miami, including several in the West Grove. In 2017, after discovering that the City had measured elevated levels of contamination due to the operation of Old Smokey, a litigation team including the EJC filed a state class action lawsuit on behalf of past and present residents of the West Grove against the City of Miami and the engineering firm contracted to remediate the contamination in the municipal parks. In addition to addressing the contamination of property, this lawsuit also requests medical monitoring for the residents of the West Grove who suffered health consequences due to the exposure to contaminants.
Housing Justice
Gentrification has caused dramatic changes in urban, low-income minority neighborhoods in South Florida, as well as across the nation. Rather than focus on the many factors that can lead to gentrification, the EJC focuses on alleviating the main unwanted consequence of gentrification: the displacement of people, and in particular, low-to-moderate income minority communities. To combat displacement, the EJC developed the Displacement Vulnerability and Mitigation Tool (DVMT). Similar to an environmental impact study, the Tool is designed for municipalities to assess the vulnerability of residents to displacement during the permitting process and to identify mitigating measures and alternatives that minimize the potential displacement of residents. Additionally, the DVMT will assist municipalities in complying with Fair Housing Act standards by assuring that developers and local municipalities are not disparately impacting protected classes through displacement and that proposed developments do not have a segregative effect.
Climate and Energy Justice
Climate change, which results from the burning of fossil fuels, is one of the most significant crises of our time and will be felt most acutely by the poor and marginalized. As temperatures and sea levels rise, vulnerable communities are disproportionately experiencing natural disasters, weather extremes, food and water insecurity, economic disruption, and more. Scientific evidence suggests that if we do not act now, no person or place will be safe. To meet the urgent need, we must build a thriving, equitable, and globally competitive clean energy economy that puts vulnerable communities first. The EJC's Climate and Energy Justice Project focuses on tackling the impacts of climate change by working with community partners to develop innovative, community-based policy solutions that provide accessibility of power/energy, allow for community governance, and incorporate equity into energy planning.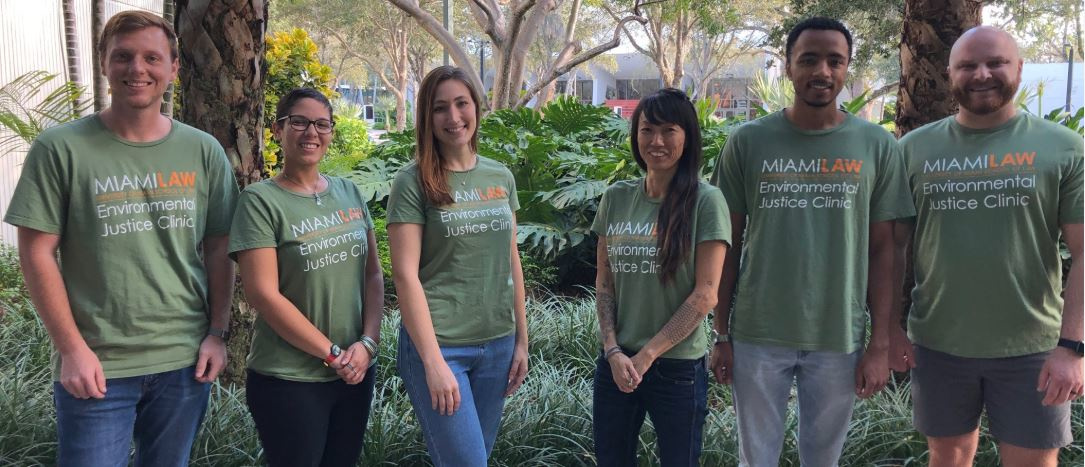 Past Projects
The EJC's prior projects include:
developing a Community Benefits Agreement (CBA) template and general resources guide;
examining the affirmative marketing practices of an affordable housing development in a low-income minority community to ensure compliance with local, state, and federal regulations;
conducting an environmental health disparity analysis of Miami-Dade County;
developing community resources on right-to-know legislation;
analyzing the relationship between the displacement of minority communities of color and form-based codes, such as Miami21 and Urban Center Districts in unincorporated Miami-Dade County; 
conducting a comparative analysis of flood risk disclosures across the United States both for homeowners and renters; and
providing litigation support in a federal class action lawsuit seeking to address the environmental health consequences of exposure to a toxic dump site in the heart of a disenfranchised and historically discriminated against African-American community of Dunbar in Fort Myers, Florida.
For Information
Please contact environmentaljusticeclinic@law.miami.edu for more information about the EJC and its current or past projects.
Help us Make a Difference