What Does the IRC Do?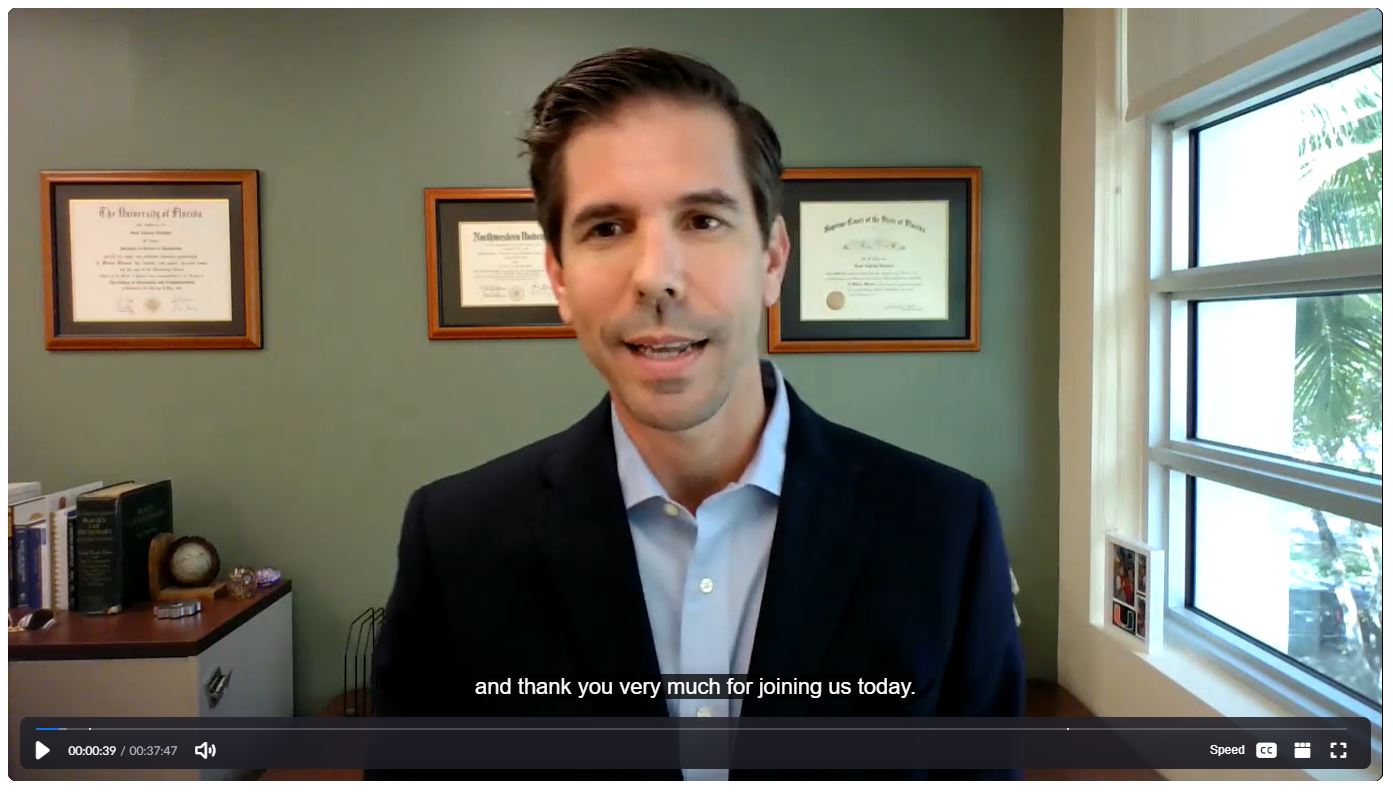 WATCH INFO SESSION: Acting Director Scott Eichorn gives an overview of the clinic experience. PASSCODE: XCP5Pi=p
The Investor Rights Clinic is a one-semester clinic staffed by second and third-year law students who represent under-served investors in securities arbitration claims against their brokers before the Financial Industry Regulatory Authority (FINRA). FINRA is a self-regulatory organization that administers the largest forum for arbitration of securities claims in the United States. Arbitration is the most widely used means of resolving disputes in the securities industry.
What Services Does the Clinic Provide?
The Clinic provides a resource to individuals of modest means who have suffered investment losses as a result of broker misconduct but, due to the size of their claim, cannot find legal representation. The Clinic, which does not charge attorney's fees, is funded by a grant from the FINRA Investor Education Foundation, and the Law School.
Community Outreach
In addition, the Clinic conducts financial literacy and outreach programs designed to educate the public about how to detect and avoid fraudulent investment schemes and broker misconduct, with particular attention to schemes targeting the elderly and retirees. As part of their clinical work, every student intern participates in preparing and presenting at least one educational outreach seminar each semester at various locations throughout South Florida, including community and senior centers, investment clubs, high schools, and the Law School.
See Prospective Student Requirements
---
INFORMATION FOR PROSPECTIVE CLIENTS
The Investor Rights Clinic provides a resource if you are an investor who may have claims against your broker for investment losses, but your claims are too small for you to find legal representation. See Resources for Broker Claims
Does My Claim Qualify?
The Clinic has established the following investor and claim eligibility guidelines:
Claimed losses should not exceed $100,000.
Clients' annual household income should not exceed $100,000.
Clients should not have any major assets aside from their home, car, and the investment that led to their claimed losses.
Preference will be given to Florida residents and senior citizens.
What if My Claim Does Not Meet the Guidelines?
In certain circumstances, the Clinic may agree to undertake the representation of investors who do not meet all the guidelines listed above. The Clinic operates as part of the University of Miami School of Law Clinics, a non-profit organization and, as such, has limited resources and cannot accept every eligible case. A decision not to take your case is not a decision about the merits of your particular matter.
How Do I Find Out if You Will Represent My Case?
If you believe that you meet the IRC's guidelines and you wish to consider student representation of your claim, please contact the Clinic at 305-284-8234. All potential clients will be asked to answer a questionnaire over the phone in order for the Clinic to conduct an initial evaluation of your eligibility assessment of your claim.
How Much Will It Cost?
The Clinic does not charge attorneys' fees. However, investors are responsible for all other costs incurred in an arbitration and/or mediation, such as filing and hearing fees. An arbitration filing fee calculator is available at FINRA's website here https://tools.finra.org/arbitration_calculator/. Upon demonstration of hardship, the IRC may be able to assist in defraying costs.
INFORMACION PARA POSIBLE CLIENTES
La Clínica de los Derechos del Inversionista (IRC) es un recurso para los inversionistas que podrían tener reclamos en contra de su corredor por pérdidas en sus inversiones, pero cuyos reclamos son demasiado pequeños para que sean capaces de encontrar representación legal.
Bajo la supervisión de profesores, estudiantes de derecho se encargan de todos los aspectos desde la admisión, evaluación y procesamiento de los reclamos de éstos inversionistas en los procedimientos de arbitraje de valores ante la autoridad de la industria de regulación financiera (FINRA), una organización de autorregulación que administra el mayor foro de arbitraje de las reclamaciones de valores en los Estados Unidos.

¿Como sé si el relamo mio califica?
La clínica ha establecido los siguientes parámetros de elegibilidad para el inversionista y su reclamo:
Las pérdidas reclamadas no deben exceder los $100,000.
El ingreso annual del cliente no debe exceder de los $100,000.
El cliente no debería tener mayores activos a parte de su caso, automóvil y la inversión que lo llevó a reclamar sus pérdidas.
Se le dará preferencia a los residentes de la Florida y a personas de mayor edad.
¿Qué pasa si el reclamo mio no cumple con los parámetros de elegibilidad?
Puede que en ciertas circunstancias, IRC decida representar a inversionistas que no cumplan con las directrices indicadas anteriormente. IRC es una organización sin fines de lucro, y opera como parte de las Clinicas en la Facultad de Derecho de la Universidad de Miami, como tal, sus recursos son limitados y no puede aceptar cada caso aunque éste sea elegible. La desición de no tomar su caso, no es una desición basada en los méritos de su caso particular.
¿Qué hago si quiero ser representado?
Si usted cree que cumple con los parámetros de la clínica, y desea considerar el ser representado por un estudiante con su reclamo, por favor contacte la clínica al número de teléfono 305-284-8234.
¿Cuánto costará?
IRC es financiada por una beca de la Fundación para la Educación de los Inversionistas FINRA y la Facultad de Derecho, por lo que no cobra honorarios de abogados. Sin embargo, los inversionistas son responsables de todos los demás gastos incurridos en el arbitraje y honorarios de audiencia. Una calculadora de pagos de presentación de arbitraje está disponible en el sitio web de FINRA es https://tools.finra.org/arbitration_calculator/. Una vez demostrada las dificultades financieras, el IRC puede ser capaz de ayudar a sufragar los gastos.