The Miami Law Human Rights Law Clinic seeks applicants for a full-time Lecturer/Practitioner-in Residence & Program Manager to begin in Summer 2018. For more information about the position, click here. Applicants are strongly encouraged to apply by April 15, 2018. Please contact hrc@law.miami.edu with any questions.
Human Rights Clinic News
Dec. 12, 2017: Professor Bettinger-López Wins A Roddenberry Fellowship to Start the COURAGE in Policing Project (Community Oriented and United Responses to Address Gender Violence and Equality)
Oct. 31, 2017: Students from Professor Carrie Bettinger-López's International Human Rights Law and Advocacy class teamed with the law school's Human Rights Clinic and South Florida anti-poverty organizations to produce six reports for the United Nations special rapporteur on extreme poverty and human rights. The rapporteur, Professor Philip Alston, will use the reports to supplement his report to the U.N. Human Rights Council in Geneva in early 2018.
Feb. 7, 2017: Beaver County, UT becomes 31st municipality to adopt a "Freedom from Domestic Violence" Human Rights Resolution. The Human Rights Clinic has worked with law clinics, advocates, and municipalities across the country to develop other "Freedom from Gender Violence" local human rights resolutions. Click here to learn more about the Resolutions.
---
The Human Rights Clinic (HRC) works for the promotion of social and economic justice globally and in the U.S. The Clinic uses international human rights laws and norms, domestic law and policy, and multidimensional strategies, such as community organizing, political activism, and global networking, to draw attention to human rights violations, develop practical solutions to those problems, and promote accountability on the part of state and non-state actors.
The Clinic represents clients in litigation before international, foreign, and domestic tribunals, and collaborates with organizational partners on human rights advocacy campaigns, documentation projects, legislative advocacy, report-writing, and research. Focus areas include gender violence, racial justice, and immigrants' rights.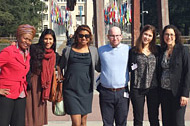 Human Rights Clinic students are deeply engaged in the practice of law in the international and cross-cultural context of human rights litigation and advocacy at the local, national, and international levels. In the classroom, students critically engage with human rights law and contemporary social problems while sharpening their lawyering and advocacy skills. Outside the classroom, students gain hands-on experience working on cutting-edge human rights projects and cases before the United Nations, the Inter-American human rights system, U.S. courts, and in other fora. 
(Pictured: Clinic students together with Professor Bettinger-Lopez, Marleine Bastien from Haitian Women of Miami (FANM), and Meena Jagannath from the Community Justice Project of Florida Legal Services, stand in front of the UN Palais des Nations, Geneva.) 
Working in case/project teams, students develop and hone essential lawyering skills, including oral advocacy, fact-finding, research (legal and non-legal, international and domestic), legal and non-legal writing, interviewing, media advocacy, cultural competency and strategic thinking. Additionally, students will critically examine the substance and application of human rights law, the use of interdisciplinary methodologies for documenting and responding to human rights violations, and the ethical challenges of working on human rights problems globally. Some students may have the option (but are not required) to undertake international or domestic travel in connection with their projects, usually during break periods.
Clinic Projects
The projects cover the full range of human rights advocacy. Past projects have focused on:
Human Rights in Post-Earthquake Haiti
Migrants' Rights/Immigrants' Rights
(Pictured: Clinic students discuss the plight of Haitian deportees from the U.S. with a representative of the United Nations High Commissioner on Refugees (UNHCR) at UNHCR headquarters in Washington, DC.)
Clinic Newsletter
Fall 2013-Spring 2014 Newsletter
Fall 2011-Spring 2012 Newsletter
Spring 2011-Fall 2011 Newsletter
Faculty and Staff
Learn More
Prospective Student Requirements
Clinic Projects
News & Media Coverage