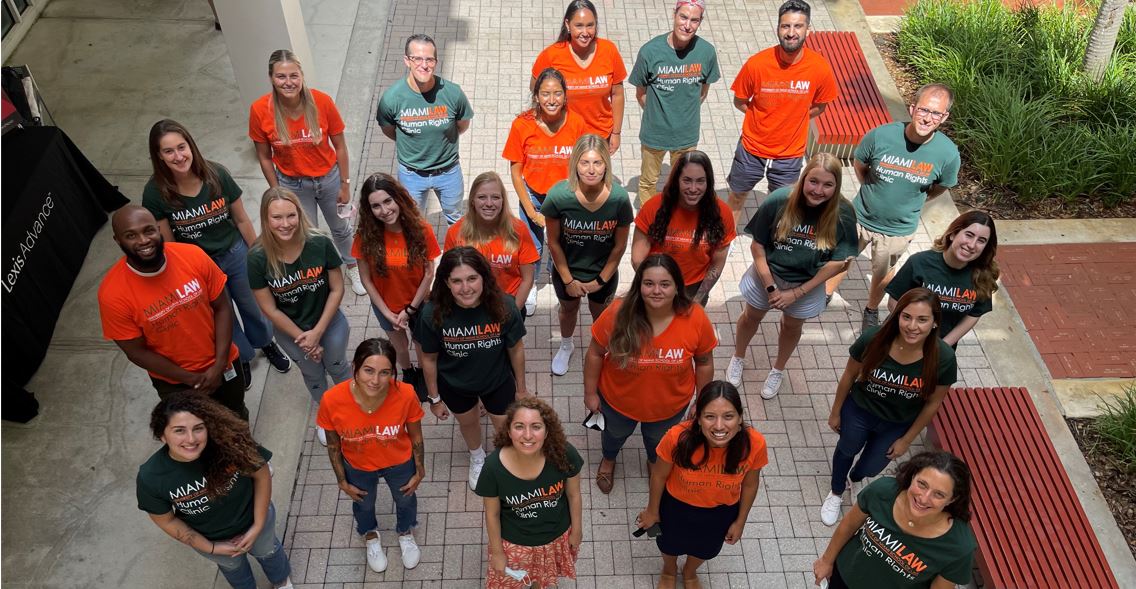 About the Clinic
The Human Rights Clinic (HRC), part of Miami Law's Human Rights Program, works for the promotion of social and economic justice globally and in the U.S. Students gain firsthand experience in cutting-edge human rights litigation and advocacy at the local, national, regional, and international levels. This includes engaging with the United Nations, Inter-American Court and Commission on Human Rights, European Court of Human Rights, African Court on Human and Peoples' Rights, and other tribunals. Focus areas include gender and racial justice, immigrant and Indigenous women's rights and the rights to housing, health and food.
Human Rights Clinic Spotlight
HRC draws on international human rights laws and norms, along with domestic law and policy. It engages in multidimensional advocacy strategies, which include documentation and report-writing, litigation, media engagement, work with legislative and administrative bodies, campaigning, community organizing, and global networking to develop practical solutions and promote accountability on the part of state and non-state actors. HRC works closely with local, state, national and global partners.
Watch Caroline Bettinger-López, Professor of Law & Director, Human Rights Clinic talk about the clinic's work:
Our Students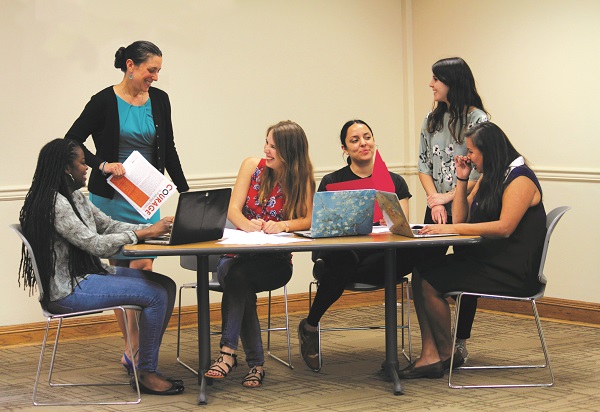 Students take a lead role in all aspects of cases and projects and receive extensive feedback on all aspects of their Clinic work. Working in case/project teams, students develop and hone essential lawyering skills, including organization and management, collaboration and teamwork, leadership and creativity, research skills, legal analysis and writing, communication skills and oral advocacy, interviewing and relationship-building with partners, self-reflection and cultural competency, and professionalism.  Some students may have the option (but are not required) to undertake international or domestic travel in connection with their projects, usually during break periods.
In the classroom, students have the opportunity to bridge theory and practice. They critically engage with human rights law and contemporary social problems while sharpening their key lawyering skills.  Students examine the actors, subjects, and tools of the human rights movement, as well as critiques coming from left and right. Specifically, the seminar considers the evolution of the human rights movement both globally and in the U.S., how to locate litigation in human rights work, the. use of interdisciplinary methodologies, and ethical challenges in human rights work.
Clinic Informational Flyer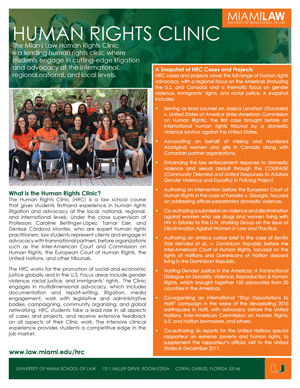 Help Us Make a Difference
The Human Rights Clinic relies on charitable contributions to:
Offer high-quality legal support to underserved and disadvantaged communities
Give students firsthand experience in cutting-edge human rights litigation and advocacy at the local, national, regional, and international levels
Provide students with opportunities to engage in multidimensional legal advocacy, including:

Documentation and report-writing
Litigation
Media engagement
Work with legislative and administrative bodies
Campaigning
Community organizing
Global networking

Empower students to evaluate and propose reforms for laws and legal institutions
Invest in the next generation of skilled, ethical, and reform-minded lawyers