Location
The law school is situated on the 239-acre campus of the University of Miami in suburban Coral Gables, Florida.
The University of Miami School of Law is located at:

1311 Miller Drive
Coral Gables, FL 33146
Getting to Miami Law
By Car
The map below provides walking directions to the Law School (about a five minute walk) from parking at the University of Miami's Pavia garage. Please give adequate time for parking. A minimum of one half-hour is suggested. For prospective students, the Office of Student Recruitment is in the School of Law complex, Room F203.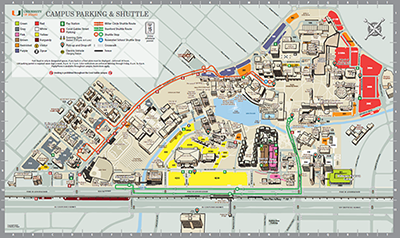 Click here to enlarge the campus map
On this map, the Pavia Garage is located at N8 (pink building) and the Law School is at M3. Visitors may park at metered spaces using the PayByPhone mobile app or a pay station. Metered spaces are located at:
View UM Parking & Transportation's full visitor's parking policy. All routes below lead to the on-campus Pavia Parking Garage.