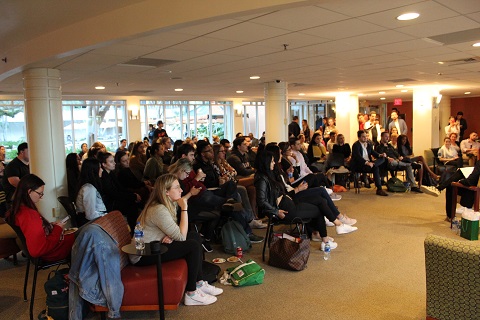 (Pictured: ESLS members at a Q & A with nightclub mogul, Dave Grutman, spring 2019)
Description:
The entertainment and sports fields in Miami and throughout the country hold many opportunities for law school graduates. The University of Miami School of Law boasts a unique blend of both subject-specific and broader courses that prepare its students for employment in these fields. The Entertainment and Sports Law Society (ESLS) seeks to supplement the classroom education provided at UM Law with real-world experiences in the entertainment and sports law fields. The purpose of the Entertainment and Sports Law Society is to educate and inform students about the realities of practicing in the entertainment and sports law fields.
We seek to provide our members with an insight into various avenues available to them as practicing attorneys, whether that is representation of entertainment and sports figures and entities, practicing in a law firm with an entertainment or sports division, or work within a major sporting league. We also hosted the first Entertainment and Sports Law Society Conference in 1997 and continue to host this annual event. Since then, the Conference has grown into a full-scale event where law students and professionals take part in a forum to discuss current legal issues in sports, entertainment, intellectual property, the arts, and the media.
Category: Legal Practice Area
Officers:
Lily Fontenot, President
Faculty Advisor: Greg Levy
Constitution: ESLS Constitution
Contact: Esls@law.miami.edu