This page is dedicated to provide information, assistance and resources to ensure success of Miami Law's military, veterans and family members.
Read some news highlighting Miami Law's commitment to veterans: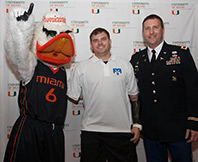 With Focus on Human Rights and Trial Advocacy, 3L Miami Scholar Serves Country and Those in Need
Marine Veteran and 2L Looks Forward to Second Career in Immigration Law
Commencement Speaker Heads to JAG Corps
A Special Graduation Gift to Help Veteran Students
Former Army Colonel & 2L Making the Most of Her Time at Miami Law
Clinic Partnership Has Helped Homeless Veterans Gain Benefits Over $3 Million
Miami Law Health Rights Clinic Fellow Scores Big Win on Behalf of Veterans
Husband and Wife Marine Corps Veterans Take on Law School 
Combat Soldier, Board-Certified Healthcare Executive, and Now Health & Health IT Lawyer 
Health Rights Clinic Wins 10K in Social Security Disability Back Pay On Behalf of Veteran
Resources for Active and Former Military Service Members and Their Families
The School of Law has primary contacts available for active and former military service members and their families and strives to achieve the highest level of customer service to all students.
Therefore, Miami Law asks that students consider in self-identifying themselves as an active or former military service member or family member to one of our primary contacts. Some students may be eligible for educational benefits because of their own military service or that of a parent. For information concerning such benefits, contact the University of Miami Veterans Affairs Office indicated below.
Active and former military service members and their families who choose to apply for financial aid should review the Guide to Completing the FAFSA. Those who complete the Free Application for Federal Student aid (FAFSA) will receive both a Shopping Sheet and Award notification once the Office of Financial Aid has determined eligibility for financial aid. To help students understand the information being provided upon notification of the shopping sheet and/or financial aid award please review the links below:​
Military Withdrawal / Readmission Information
Primary Contacts

Other Contacts

University of Miami Resources

The Counseling Center
Center for Student Services
5600 George Merrick Drive
Building 21-R
Coral Gables, FL 33146
305-284-5511

Office of Student Account Services (payments, billing, etc.)
Bowman Foster Ashe Building
Room 158
P.O. Box 249146
Coral Gables, FL 33146
305-284-6430
saccounts@miami.edu

Veterans Affairs
1350 Miller Drive
University Center, Room 121
Coral Gables, FL 33146
305-284-6418
registrar@miami.edu

Office of Registrar
Esther Molina, Supervisor Veterans Affairs
305-284-36418
e.m.b.fernandez@miami.edu