Miami's Strategic Location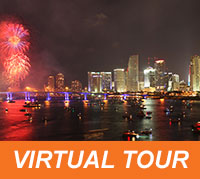 Miami is the gateway between the United States, Latin America, Europe, and Asia. Many American, European and Asian companies have their Latin American regional headquarters here. Moreover, Miami is home to one of the world's largest privately owned and operated free trade zones, has the third largest U.S. airport for international passengers and is the cruise capital of the world.
Miami also has the second-largest number of foreign banks in the United States, a large representation of foreign consulates, 25 international trade offices, 40 binational chambers of commerce and many non-governmental organizations with headquarters or offices here. Take a virtual tour icon to read more about living in Miami for law school.

A Nationally Ranked Institution
As part of the University of Miami, the law school enjoys being part of a top-ranked university with many highly regarded and ranked graduate programs, and Miami Law students have access to exceptional faculty and campus resources. In fact, Miami Law's LL.M. programs are widely regarded as the nation's best. A few listings include:
- The Financial Times - in 2015 and 2016 ranked Miami Law as one of the most innovative law schools in the world.
- LLM-Guide.com -  ranks Miami Law as the 15th most popular law school in the U.S. and our preparation in Sports Law in our Entertainment, Arts and Sports Law LL.M. as one of the best in the world.
- Cambridge University - included Miami Law as a "Leader in Learning" and one of the most innovative law school's in its recent publication Innovation 800.
- Billboard Magazine - ranked Miami Law in 2017 as a top school for music law the U.S.
- Hispanic Business Magazine - selected the University of Miami School of Law as one of the top ten U.S. law schools for Hispanics for seven consecutive years. 
- Pre-Law Magazine - ranked Miami Law as having one of the best moot court programs of the decade out of all 200 U.S. law schools.
- National Law Journal, the National Jurist and the Daily Business Review - ranked University of Miami Law highly for associate promotions to partner at law firms.
Focus on the Individual Student
LL.M. programs at Miami Law have always been small and selective to provide a superior experience for both students and faculty. The LL.M. Programs are tailor-made to each student's academic and professional needs. Each LL.M. student creates a course of study that matches his or her career goals.
Preparation to Take U.S. Bar Exam
If a foreign-trained law student or lawyer's long-term goal is to practice law in Florida or the U.S, he or she should consider doing one of the joint LL.M. + J.D. programs at University of Miami School of Law. In addition, each year a group of University of Miami LL.M. graduates sit for the New York Bar Exam. 
Career Development for International Students
The Career Development Office (CDO) is staffed with nine professional counselors (all of whom are former practicing attorneys), including one advisor solely dedicated to the needs of international and foreign LL.M. students. The law school provides career guides specifically for international attorneys.
Faculty & International Law Courses
The University of Miami School of Law offers extensive courses in each of the major areas of international and foreign law including courses in Spanish. These courses are intended for law students who are trying to improve their knowledge of technical Spanish.The University of Miami School of Law has one of the largest faculties who teach or do scholarly research in the area of international and foreign law of any American law school. 
Diverse Student Body
In a typical year, Miami Law's international graduate law programs includes about 40 students from 20 or more different countries around the globe, and the law school has graduated over 23,000 alumni who are living and working in more than 90 countries around the world. The School of Law was cited by Hispanic Business Magazine as a place that promotes and encourages a diverse community where Hispanic students can thrive. In 2014 Hispanic Business Magazine ranked the University of Miami School of Law a top three law school in the United States for Hispanic students based upon its strong international business curriculum with a particular focus on Latin America.
Research Assistantship Opportunities
Some of LL.M students are selected to serve as research assistants to international Faculty during the academic year.
Law Library
The University of Miami School of Law is home to one of the largest legal research libraries in the Southeast United States with an impressive international law collection. The foreign and comparative collection has extensive English, European Union and Latin American materials, including what is generally regarded as the best collection of materials on the Caribbean anywhere. The library has a specific Foreign/International Law Librarian available to assist students with research.