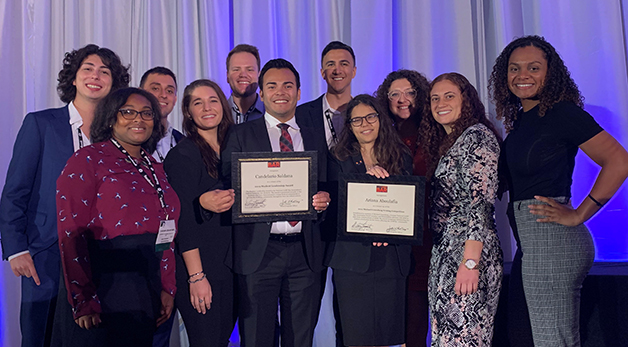 Please join us in supporting Miami Law's OUTLaw Lavender Law Fund to help send our students to the National LGBTQ+ Bar Association's Lavender Law Conference and Career Fair, held this July in Los Angeles, California. Your donation will help fund our students' transportation and lodging for the conference.
Past OUTLaw President Candelario Saldana, J.D. '19, started the Lavender Law Fund when he was a 3L here at Miami Law to help more LGBTQ+ students attend Lavender Law so they could connect with LGBTQ+ legal professionals and employers that are committed to hiring LGBTQ+ law students. Saldana had the assistance of alumnus Brian Adler, J.D. '93, the Law Alumni Association, the Career Development Office, and Deans Janet Stearns and Raquel Matas. Attendance of this conference is vital in supporting LGBTQ+ students, making them feel welcome in the profession, and promoting diversity & inclusion in the workplace. Saldana himself was deeply impacted by the conference when he attended it in 2017. At the conference's career fair, he was able to network with many firms who truly cared about diversity and didn't just "talk the talk." He had his initial interview with his current firm Cadwalader, Wickersham & Taft LLP, after which he landed a Summer Associate Position that led him to his current role as an Associate in its Capital Markets Group in the firm's Charlotte office.
When Saldana first started the fund, a GoFundMe page helped raise $11,000, which assisted in sending ten students to the 2019 conference in Philadelphia. One such student was Stephanie Robin, J.D. '20, who gained full-time employment due to her participation and networking with employers there. "Lavender Law was like nothing I had ever experienced before," stated Robin, "It was the first time in my life that I had felt completely comfortable in a large crowd of a thousand plus people. Participating in a conference full of like-minded individuals who also identified as LGBTQIA+ was an incredibly eye-opening experience." Robin is now a Labor & Employment Associate at Fisher Phillips' Philadelphia Office.
Aside from the wonderful networking and employment opportunities that attendance at Lavender Law affords, Saldana stated that the conference panelists and participants "are inspiring", help underscore why "it is important to be your authentic self" in the legal profession and help educate legal professionals on the current struggles the LGBTQ+ community is facing both legally and socially. "LGBTQ+ law students and legal professionals face unique challenges," stated Saldana, "Lavender Law allows us to celebrate our success and connect with one another to reenergize in order to continue improving our communities and the legal profession." Presently, Saldana is a board member of the National LGBTQ Task Force and the Pauli Murray LGBTQ+ Bar Association, an organization he co-founded, and was recently named as a Best LGBTQ+ Lawyer under 40 by the National LGBTQ+ Bar Association.
You can support our students and donate to the OUTLaw Lavender Law Fund here to ensure that future generations of law students can attend the conference and career fair.