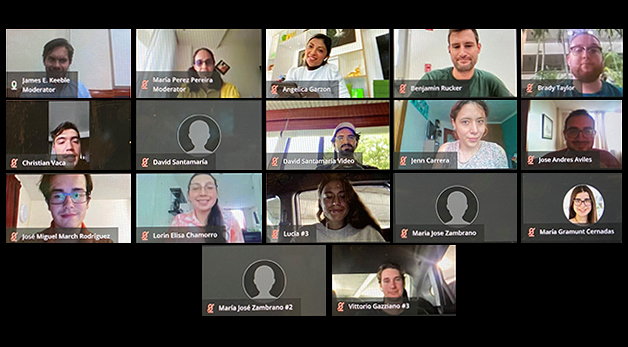 Miami Law and students from the Universidad San Francisco de Quito in Ecuador and from Universidad Francisco de Vittoria in Madrid, Spain
As a hemispheric university and a law school with expertise in international law, business, and arbitration, it is no surprise Miami Law collaborates with other global law schools on courses covering these areas of law. Over the fall 2021 semester, Paula Arias, director of the International Moot Court Program, collaborated with two colleagues, Professor Maria Perez Pereira from the Universidad Francisco de Vittoria in Spain and Professor James Keeble from the Universidad San Francisco de Quito in Ecuador, for her annual course on International Sales Transactions. The collaboration translated into a negotiation exercise between the students from the three universities. The group from Ecuador studied international business, while the group from Spain focused on international arbitration.
"The purpose of the course is to expose the students to the United Nations Convention on Contracts for the International Sale of Goods and the UNIDROIT Principals of International Commercial Contracts, which are the legal framework for most of the international commercial transactions around the globe," said Arias. "During the seminar, students learn the principles of law through a practical perspective, including simulations, drafting exercises, and engaging with practitioners that rely on this legal framework daily. The idea was to bring these three different groups of students to take advantage of the diverse perspectives from their cultures, which is crucial and common on any international commercial transaction."
Students negotiated the commercial terms of an international sales of goods contract based on a fictional scenario. The object of the transaction was to be produced and dispatched from South America and delivered to Europe. One group of students represented the seller and another group represented the buyer. The students developed a business strategy during two sessions and discussed the commercial terms. During the third session, the students from Spain included the arbitration clause or dispute resolution clause.
"The students needed to learn to identify the key elements of the business and foresee the variables of the particular market to achieve the best possible contractual terms," said Professor Keeble.
The purpose was to replicate how this type of transaction usually occurred and how arbitration is always the last-minute clause. Also, the professors sought to teach the students how to understand the business implications and long-term commercial value of a particular transaction and how the lawyer needs to help achieve these business and commercial implications.
This follows last year's partnership with the University in Quito on the same course.
"The law students are not trained to negotiate contracts, so this exercise was designed to provide a unique opportunity to learn from each other on how to negotiate an international commercial transaction," said Professor Perez Pereira.
Read more about Miami Law's International Law Program
Read more about Miami Law's International Moot Court Program