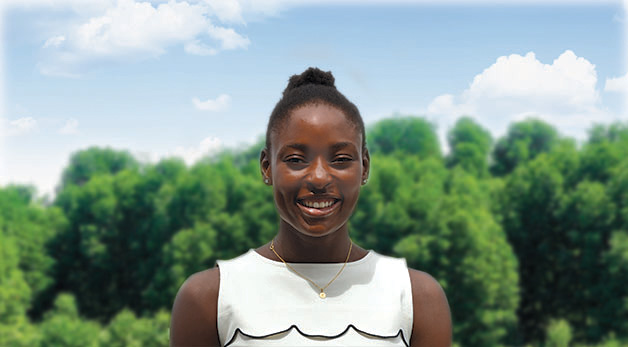 Chelsea Johnson, 3L
Passion is intuitively tied to practice for 3L Miami Public Interest Scholar Chelsea Johnson. A lifelong water polo aficionado and competitive jujiteira, Johnson's extracurricular achievements are as rich and colorful as her academic ones. One of five siblings raised by a single mother in Miami, Johnson's journey has been one of struggle and success – her combined passions for sport and public service have been the hallmark of her personal development.
When she is not playing Masters water polo or competing and taking third place in the Pan American Games for Brazilian Jiu-Jitsu, Johnson is local, making changes in and for her community.
Her latest major project collaborates with Professors Xavier Cortada and Bernard Perlmutter. The 25-year-old scholar's impactful work is essentially a "Where are They Now?" initiative that looks at the formerly incarcerated youths that were a part of the ArtCare project and report on their current lives.
"Basically, we want to look and see whether incarceration has had an impact on their lives, and in what way this impact has manifested itself as they moved into adulthood," says Johnson about the enterprise.
Cortada is an Artist in Residence and Professor of Practice at the University; through his primary appointment in the faculty of the Department of Art and Art History, he serves in the university's Abess Center for Ecosystem Science and Policy, the College of Arts and Sciences, the Miami Business School, the Rosenstiel School of Marine and Atmospheric Sciences, the School of Architecture, the School of Communication, and the School of Law.
He has collaborated extensively with faculty and students at the law school over many years, focusing on the intersection of art, policy, and the law. Born in Albany, New York, and raised in Miami, Cortada holds degrees from the University of Miami College of Arts and Sciences and UM's Graduate School of Business and School of Law.
He has worked with the Children and Youth Law Clinic for several years, bringing ArtCare to juveniles being tried as adults. The CYLCY began working with Cortada as part of the "Voice Project." Cortada created two paintings depicting the experiences of foster children involuntarily committed by the state to psychiatric hospitals. The collaboration occurred nearly two decades ago, and it concurred with a years-long advocacy effort to expand due process protections for marginalized foster children through the Florida Supreme Court. Cortada and Perlmutter recently co-authored an article discussing the clinic's systemic advocacy, vastly enhanced by this ongoing artistic collaboration, and has added clients' voices to the public discussion about unlawful and dehumanizing foster care practices. Cortada's canvases are now permanently displayed in the CYLC offices.
While the project is still unfolding and its more minute details are yet to be defined, it will surely be a resounding success. Indeed, this is not Johnson's first public service project, nor will it be her last. In 2017, Johnson founded the Johnson Swim School in Miami — a learn-to-swim non-profit program established with the goal of teaching 300+ children ages 8-14 swimming. She has also been a legal intern at the Children and Youth Law Clinic for nearly two years, participating in 14 hearings and four depositions with various Judges and General Magistrates, as well as other members of the legal community. She has also represented children and young adults who were or are in foster care in various legal issues related to immigration, injunctions, public benefits, refugee status, criminal expungements, and healthcare approvals.
As far as the future is concerned, Johnson intends to combine her athletic gusto with her commitment to her community: "career-wise, I am interested in working with the Public Defender's office, but I am also pursuing my LL.M. in Entertainment and Sports Law and would love to eventually work for a sports agency, or work within the realm of professional sports and athlete representation." She credits Miami Law with opening doors for her that she "did not know existed," crediting her work with the Miami Public Defender's office and with the Children and Youth Law Clinic with giving her the "experience of helping people in the communities that I want to impact…[i]t has given me a tiny, but real, look into my future, and I like the direction it's going."
Read more about the HOPE Public Interest Resource Center
Read more about Miami Law's Children and Youth Law Clinic