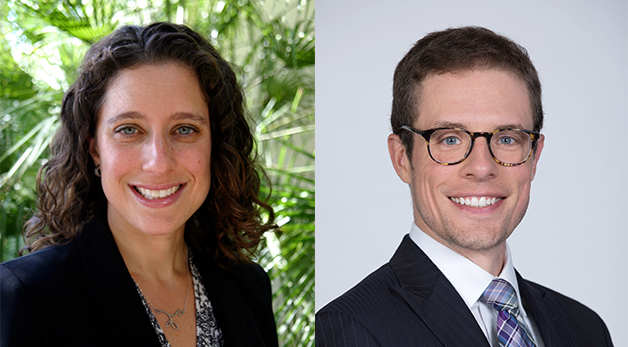 Professors Caroline Bettinger-Lopez and John Mark Newman
The Biden administration has appointed Professors Caroline Bettinger-López and John Mark Newman to leadership positions at the U.S. Department of Justice and the Federal Trade Commission.
Bettinger-López is serving as the senior advisor on gender and equality for the U.S. Department of Justice, where she is tasked, in coordination with other entities in DOJ and across the federal government, to develop a National Action Plan to End Gender-Based Violence that establishes a government-wide approach to preventing and addressing gender-based violence in the United States.
As deputy director of the Bureau of Competition at the Federal Trade Commission, Newman helps enforce the nation's antitrust laws, which form the foundation of the U.S.'s free-market economy. The antitrust laws promote the interests of consumers; they support unfettered markets and result in lower prices and more choices.
"The Miami Law community congratulates Professors Bettinger-López and John Newman on their appointments to serve the Biden administration," said Interim Dean Nell Jessup Newton. "Our students and the community have benefited from Carrie's and John's commitment to service, and we are excited to see them bring their expertise to aid in solving some of the nation's most pressing issues."
Leader in clinical training
Bettinger-López's current position grew out of her White House appointment last year as a Special Advisor on the White House Gender Policy Council, charging her with assisting in developing a National Action Plan to End Gender-Based Violence in the United States. Additionally, from 2015-2017, she served as White House advisor on Violence Against Women and senior advisor to then-Vice President Biden.
The council has attended listening sessions with over 2,000 participants. Through these listening sessions and consultations, GPC gathered feedback on the scale and scope of domestic violence, sexual assault, and other forms of gender-based violence in the United States, and policies, programs, and strategies to address the problem. The listening sessions provided an opportunity to collect solutions-oriented recommendations and center the voices of people who have been historically excluded from institutional decision-making processes, particularly people from culturally specific and traditionally exploited communities.
As a professor of law and founder and director of the Human Rights Clinic at the University of Miami School of Law, her scholarship and practice have long focused on issues of violence against women, gender and race discrimination, and immigrants' rights.
Her 2018 book chapter Developing a National Plan of Action on Violence Against Women and Gender Violence: A Human Rights Approach made the argument for why we need a transformative response to violence against women in the United States, and how a national action plan can be a catalyst for such lasting change. UN Women, the United Nations organization dedicated to gender equality and the empowerment of women, has urged all countries to adopt such plans; and over 70 countries, located on every continent (except Antarctica), have adopted national strategies of action on violence against women and/or gender-based violence.
At forefront of antitrust law
Since his December appointment at the FTC's Bureau of Competition, Newman's group investigates potential law violations and seeks legal remedies in federal court or before the FTC's administrative law judges. The bureau also serves as a resource for policymakers on competition issues and works closely with foreign competition agencies to promote sound and consistent outcomes in the international arena. The FTC's Bureau of Competition and the Antitrust Division of the Department of Justice enforce U.S. antitrust laws. The agencies consult before opening any investigation. The Antitrust Division handles all criminal antitrust enforcement.
Newman came to Miami Law after a stint with the U.S. Department of Justice Antitrust Division. During his time at Miami Law, his primary scholarly focus has been on the economics and regulation of digital markets, emphasizing antitrust and competition law.
Both professors will return to Miami Law following the service of their appointments.
Read more about Miami Law's faculty