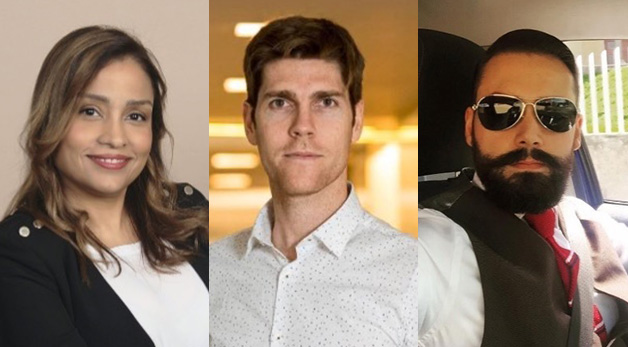 Nieves Guzman, Juan Ariccio & Luis Guillen Martinez
On of the advantages foreign-trained lawyers enjoy at University of Miami School of Law is their ability to get practical experience. Amidst the whirlwind of classes, reading, and assignments, many students in LL.M. programs also manage to secure a practicum or externship opportunity. Three students in the U.S. & Transnational Law LL.M. program share their practicum/externship experience so far:
Nieves Guzman, Dominican Republic
Nieves is a business and corporate counselor with over twenty years of experience in various areas of law, including: commercial, banking, administrative, tourism, hospitality, real estate, and corporate law transactions. She is currently doing a practicum opportunity at Holland & Knight assisting with a pro bono case, humanitarian visa parole, and a corporate case for a multinational company. The most valuable skill she has learned is how big law firms operate as a team to achieve positive results. Her favorite part of the practicum, though, has been working with one of the partners who has served as a mentor, introducing her to the real-world practice of U.S. Law.
Juan Ariccio, Argentina
Juan Ariccio is an Argentine lawyer and certified public accountant. His scope of business is international tax planning and wealth management. He currently has a practicum opportunity at Saint Joseph Law. Juan participates in some international tax planning, and he is also studying tax advantages and disadvantages of different national and international jurisdictions. He also participates in many tax and wealth planning cases for international clients, as well as projects related to investment funds. The most valuable part of his practicum experience has been being able to interact with highly qualified tax lawyers and gain experience in the U.S. legal system and tax system. He also enjoys that the firm makes him feel like an asset to the team.
Luis Guillen Martinez, Ecuador
Luis Guillen Martinez is from Ecuador where he used to work as an in-house counsel at a civil engineering company. He then moved to Germany where he worked as a business analyst and project manager. While pursuing his LL.M. degree, he secured an externship opportunity at UHealth in the Compliance Department in the Regulatory Division. His day-to-day activities includes collaborating with colleagues to develop a knowledge of the various health regulations. He also reviews contracts with physicians to ensure they comply with UHealth Regulations. The most valuable takeaway from his experience has been communication. He also has been collaborating with his team and learning from experts in the field.
With the help of the Career Development Office at Miami Law, LL.M. students are able to secure practicum opportunities, externships, and internships. Our Career Development Advisors are accessible to students to help them with career advice, job search and preparation, and networking opportunities. To learn more about the Career Development Office, click here.
To learn more about the LL.M. in U.S. & Transnational Law, click here.