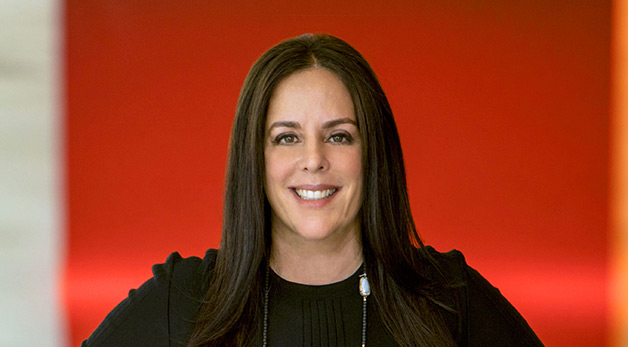 Yvette Ostolaza, B.A. '85, J.D. '92
Yvette Ostolaza, B.A. '85, J.D. '92, has come a long way from her early days, growing up in a Cuban American family in Miami. After excelling in high school, she became a first-generation college student, earning her bachelor's degree and juris doctor at the University of Miami. She then became a seasoned litigator, handling complex commercial litigation and investigation matters while taking the time to give back to the community and raise a family.
In April, she was named chair-elect of the management committee at Sidley Austin LLP, one of the country's premier law firms. When she takes the reins in April 2022, she will be the first woman in that role and one of only a handful of women to hold such a role at a global law firm. "I am honored and excited to be chosen to help lead one of the world's premier law firms," said Ostolaza, who will be guiding Sidley's strategy and direction along with Mike Schmidtberger, the chair of Sidley's executive committee. The 155-year-old law firm has 20 offices across the world, including in Europe and Asia.
Roots in Miami
Ostolaza grew up in Miami to Cuban American parents with no lawyers in her immediate family, but that didn't deter her from seeking a rewarding professional career. In 1982, she graduated from La Luz High School and enrolled at the University of Miami, thanks to a merit-based scholarship.
As an undergraduate, she enjoyed summer marketing internships at Miller Brewing Co. in Wisconsin and then at Midway Airlines. She saw what in-house lawyers did at those internships before graduating in three years with a bachelor's degree with general honors in 1985. "As an undergraduate, I wrote for the UM newspaper and took classes in communications, journalism, and marketing," she said. "That was great preparation for a legal career, especially when counseling clients in crisis management situations, where knowing how public relations and the news media operate is so important."
Ostolaza then spent several years at Eastern Airlines before enrolling at Miami Law. She was on the University of Miami Law Review and co-founded the Business Law Journal (now the Business Law Review). Knowing she wanted to become a litigator, Ostolaza participated in moot court and mock trials as a second-year student before earning her law degree magna cum laude in 1992.
"UM gave me a wonderful legal education, and it is a privilege to be a 'Cane," she said.
While in law school, Ostolaza met and married her husband, Peter Dewar, a visiting student as a 3L. They are recent empty nesters as their three children, Aidan, Alec, and Elena, are now working or in college. Along with spending time with her family, Ostolaza enjoys reading, traveling, boating, snow skiing, and gardening. "I feel fortunate to have found a career that's a natural fit for me," she said. "I tell our children to find something you love, and it won't feel like work. Once you know your path, you can focus on building the skills you need for success."
A Diverse Litigation Practice
Throughout her career, Ostolaza has focused her practice on complex litigation and investigation matters. Variety is also one of the reasons that Ostolaza enjoys her legal career. "Litigators get to learn about different businesses and shift their focus, as well as their strategies, based on what's important to each client," she said. "For instance, during the pandemic, many of my clients have been looking at issues related to employment, insurance, or financial restructuring. If you are naturally curious, it is fun to be a lawyer and keep growing as a professional."
Today, Ostolaza focuses her practice on three related areas. First, she works in global and multidistrict litigation strategies, which often draw on her significant experience in bankruptcy and securities litigation.
Ostolaza also represents clients in arbitration matters, and with her fluency in Spanish, she is often engaged in disputes involving Latin American entities. She is a member of the Roster of Neutral Arbitrators for the AAA for commercial litigation matters and the CPR Panel of Distinguished Neutrals as an arbitrator for the International Institute for Conflict Prevention & Resolution.
"I love everything about litigation and counseling clients," she said. "Advocacy gives you an opportunity to engage in an intellectual debate and hones your thinking skills while performing a valuable professional service for your clients."
Her third practice area involves internal investigations on behalf of companies, board committees, and individual directors. She also defends companies and directors in shareholder and securities class actions. "In the past few years, I have seen a sharp increase in shareholder demands and investigations, as well as securities litigation," she said.
Among her many accolades, Ostolaza has been ranked as a leading "General Commercial Litigator" by Chambers USA every year since 2009 and is a Band 1-ranked litigator. She has recently been named to the 2020 "Texas Trailblazers" list by Texas Lawyer, received the "Thought Leadership" award from Corporate Counsel, and Inside Counsel's 2019 Women, Influence & Power in Law Award. She appeared in Latino Leaders Magazine 2018 and 2020 as a Top Latino Lawyer and is listed as one of the Most Powerful Latinas in Law.
In the corporate world, Ostolaza serves on the board of Lionsgate, the international entertainment and media company. She has also been a board member of the State Bar of Texas and has been active in pro bono cases to advocate for children's rights and the disabled in Texas. In 2016, she received the Girls Inc. Women of Achievement Award. A year later, she was honored with the prestigious Larry Schoenbrun Jurisprudence Award from the Dallas chapter of the Anti-Defamation League for her outstanding leadership and exemplary contributions to the community.
Leadership at Sidley
After graduating from Miami Law, Ostolaza started her legal career in Dallas and spent 21 years at another global firm, advancing to the management committee at that firm. In 2013, she joined Sidley as managing partner of the firm's Dallas office. In the past eight years, she has grown revenue by 330% while maintaining her international legal practice and serving as co-chair of Sidley's Global Litigation Practice, which numbers 850 lawyers. In April 2022, she will be taking her leadership skills in the firm to the highest level – as Sidley's management committee chair.
"This new role is a natural for Yvette, who has proven to be a highly dynamic and effective leader, lawyer, and partner," said Larry Barden, the current chair of Sidley's management committee. "She is the kind of leader who brings out the best in those around her, the kind of lawyer who clients trust with their most important matters, and the kind of partner who is completely dedicated to the success of the firm."
While Sidley is the sixth-largest law firm, based on revenue, with 2,000 lawyers in 20 offices around the globe, Ostolaza sees excellent potential for future growth. "The pandemic has caused disruptions throughout the legal industry," she said. "With our strong balance sheet and worldwide network of offices, we plan to continue to attract top talent to serve our clients."
Reflecting on her career in litigation, Ostolaza advises today's Miami Law students not to narrow their focus.
"Along with trial work, take classes in arbitration and other forms of alternative dispute resolution," she said. "Take advantage of moot court and litigation competitions, and don't neglect the importance of client counseling."
While artificial intelligence applications can handle specific litigation tasks, they cannot replace the human aspects of law, including creativity, insights, and the ability to forge personal connections with clients, judges, juries, and colleagues. "At Miami Law, students receive an ideal combination of practice experience, along with the values of service to others," Ostolaza said. "That is so important because you need to understand all aspects of the law in order to become a well-rounded attorney."
Read more Miami Law Magazine stories
Read more about Litigation, Arbitration and Dispute Resolution at Miami Law