To those who run Miami Law's Litigation Skills Program, the experience is unique and necessary to prepare students for the rigors of practice. To the students who engage with the program, the opportunity is unparalleled and life changing.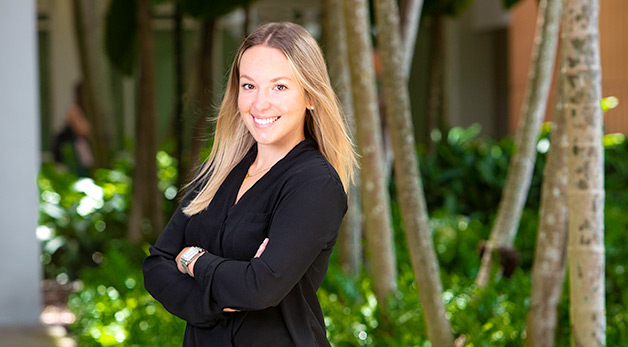 Sophia Carballo, 3L (photo by Joshua Prezant)
For third-year law student Sophia Carballo, Lit Skills has been her favorite undertaking at Miami Law. "It was different from any other course I had taken," the Miami Scholar said. "I was used to lecture, case law, and final, but Lit Skills was super hands-on."
The University of Florida graduate said the experience, in some ways, was not unlike the dance performances she took part in growing up. "I felt like every time we met was a different performance, on a different kind of stage, one where you are examining witnesses and need to always be on your toes. It was hard work throughout the semester, but it was cool to see how we all progressed and developed.
"When I signed up, I didn't picture myself as a litigator, but by the end of the course, I was convinced. Plus, it was so much fun," she said.
"This summer, I worked at Berger Singerman doing mostly transactional work. The skills from the program very much carried over; it's an important course to take regardless of what you plan to practice."
She credits the Litigation Skills Program senior manager in part for her success. "Lydia Sanchez has been a mentor throughout my law school experience," Carballo says.
The Miami native knew in elementary school that she wanted to follow in her father's footsteps into law. She chose Miami Law because she wants to practice locally and benefit from the almost unlimited connections to the South Florida legal community, including the top tier judges and attorneys who work with the litigation skills program.
"The networking in the program has been the best part," she says. "There were five judges and lawyers assigned to the six of us. Those kinds of one-on-one relationships grow into more of a mentorship. In fact, at Berger Singerman, one of the first cases I was assigned to provide research was assigned to Judge Goodman, whom I had argued in front of during the lit skills final trial."
The Cuban American has flourished at Miami Law, receiving the American Board of Trial Advocates award, a cash award given to the top third-year minority law student who has shown excellence in becoming a civil trial lawyer and held a judicial internship at the 11th Circuit Court of Appeals with Judge Adalberto Jordan.
Carballo will take the Florida Bar exam next summer and join Berger Singerman as an associate, where she hopes to stay "for a long time because I love the people there, and I know I will get incredible training."
Future Litigator Finds Confidence at Miami Law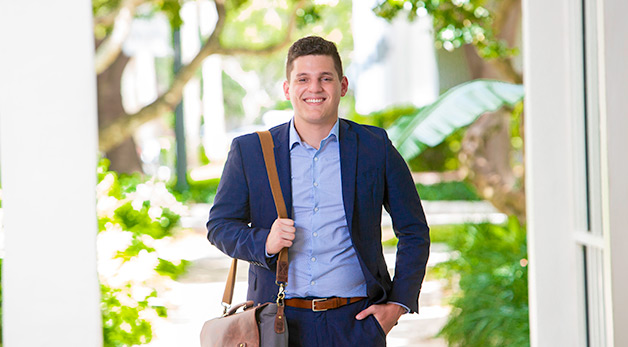 Julio Torres, 3L (photo by Joshua Prezant)
For Julio Torres, a third year and transfer student, Lit Skills put into practice lessons learned throughout the law school curriculum.
"Before the program, I had competed in mock trial competitions and was familiar with stage fright," the 25-year-old said. "I know it'll always be there, but with the help of the coaches and team members, it strengthened me as an advocate and helped me get more comfortable and confident. It reaffirmed my aspirations to be a trial attorney."
Torres's family always knew that Julio's persistence and empathy would take him far, even though he is the first in the family to attend law. The Miami native, from a Cuban and Colombian background, has embraced a range of opportunities in law school, from Lit Skills to interning with the Bankruptcy Assistance Clinic.
"I transferred to Miami Law from American University Washington College of Law because Miami is where I see myself as the trial attorney I aspire to be. No other law school has such an expansive network of alumni in the Miami community."
Lit skills, he says, taught him the intricacies of pretrial preparation and how to weave facts into a theory, as well as the fast and furious pace of cross and direct examination of witnesses.
"Even with children, we had to learn to think on our feet. The faculty was well prepared and gave advice in our sessions – things I wouldn't have considered – like how to analyze an issue, how to engage with a witness in a positive way in front of a jury. It reaffirmed my aspirations to be a trial attorney."
Torres spent his rising 3L summer as an associate at the Carballo Law Legal Counsel under the tutelage of attorney Steven Swartz, J.D. '15. Torres will continue working at the firm throughout his final year of law school.
"In the short three months I've been at the firm, I've learned a great deal of what it means to be a litigator. The opportunity has broadened my perspective."
Ashley Meyer is a Study in Contradictions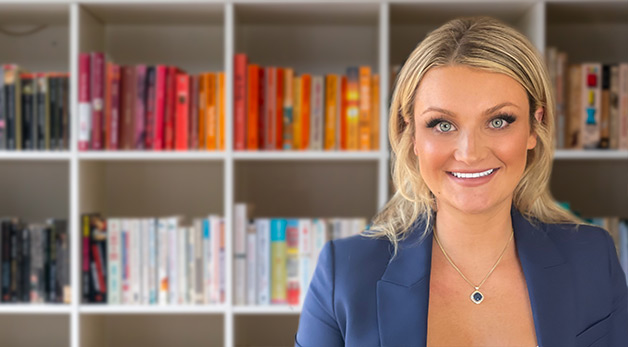 Ashley Meyer, 3L
The Destin, Florida, native is deeply committed to serving justice – from courtroom battles protecting the rights of the accused to serving as Innocence Clinic Director Craig Trocino's research assistant – but the 26-year-old has an accomplished flair for the creative, whether designing and sewing everything from ballgowns to swimwear.
Meyer didn't imagine lawyering in her future when she embarked on her higher education path that started with an audition at New York University Tisch School of the Arts and ended with a degree in classical dramatic performance.
"After I graduated, I worked at Rikers Island Correctional Facility as a performing arts teacher," she said. "I was challenged to understand how the most developed nation in the world could propagate conditions that not only deprived the accused of justice but also stripped the accused of their basic human rights. So, I adjusted my career trajectory and decided to go to law school."
Meyer chose Miami Law after meeting with Dean Marni Lennon with the Miami Scholars program. The Miami Scholars program aligned with Meyer's long-term goals in public interest and bonding over a mutual interest in theater. "I felt like she understood my skillset and how it could be beneficial and work toward the goal of advocating for individuals who have fallen through the cracks in our system," she said.
At Miami Law, Meyers has won the Litigation Skills Book Award and the Hon. Stanford Blake Award and made the dean's list fall and spring 2020-2021. She also participated in the Florida Pro-Bono Law School Challenge and the First-Generation Law Association.
The Miami Scholar spent the past summer juggling interning at the Colorado public defender's office, maneuvering to have DNA testing performed for a recent case she is working on for the Florida Innocence Project, and working as Professor Tamara Rice Lave's research assistant.
Working this summer with the PDs office as a Certified Legal Intern has influenced Meyer's trajectory, saying that the experience "has made me 100% want to be a trial lawyer and work for the defense side. I love being in the courtroom. I also love preparing for trial. It's very similar to preparing for a show in the theater. It's figuring out how to tell the story from your client's point of view in a way that the jury will understand and will empathize."
This fall, she is staying in Colorado at the PD's office and working for the Innocence Project of Florida and competing and captaining the trial team throughout the academic year. Last year, Meyer's trial team took home the National Trial Competition championship title.
Upon graduation, Meyer plans to continue working for the PD's office and continue to "cut my teeth trying cases." Eventually, she would like to go into private practice for criminal defense.
The consensus on the Litigation Skills Program has been overwhelmingly in the "time well spent" column with hundreds of graduates finding high value and a wealth of opportunity.
Read more Miami Law Magazine articles
More on Litigation, Arbitration and Dispute Resolution at Miami Law