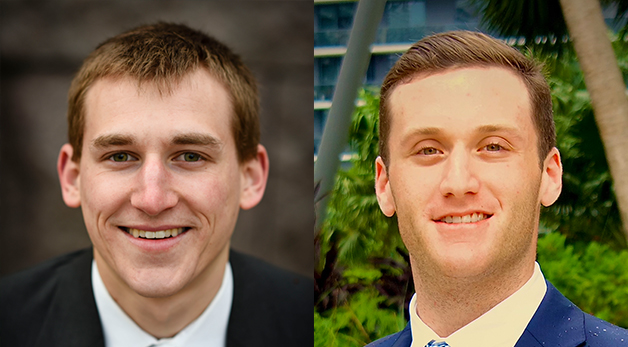 3Ls Andrew Graykowski and Daniel Robinson
Third-year Miami Law students Andrew Graykowski and Daniel Robinson were recently named the winners of the University of Miami's inaugural Health Law Writing Competition.
Hosted by the Health Law Association, the Health Law Writing Competition encouraged students to explore the "intersectional issues" of health care law, receiving submissions that touched on a variety of topics including public health, legislation, insurance, and immigration.
Both Graykowski and Robinson met this challenge head-on, delivering essays that offered a critical look at health policies in the United States.
Graykowski is a current Dean's Fellow for Professor Marc Fajer and a 3L Senator in the Student Bar Association. His piece, "The Surprise Billing Problem: A Quick Glance," discusses the No Surprises Act passed by Congress in December 2020. The act is an attempt to solve the surprise billing problem in the United States.
Graykowski's interest in the issue of surprise billing was sparked after a family member was hospitalized, and, he says "upon discharge, a huge bill awaited." Graykowski's essay questions if the Act goes far enough, wherein he concludes that it was much needed, but ultimately, "it is a Band-Aid on a deep wound with certain surprise costs, such as land ambulances, not being covered," he said.
Robinson is a research assistant to Professor Stephen Urice and an Articles and Comments editor for the Race and Social Justice Law Review. His essay, "Don't Let Us Die in Here," examines the spread of COVID-19 through U.S. immigration detention centers.
Robinson argues that detention centers are not built with social distancing in mind, meaning "medical isolation and solitary confinement are synonymous" with one detainee equating the experience to being "psychologically tortured," he wrote.
"The essay competition has encouraged scholarship in health law among UM law students and has allowed students to explore some of the many timely legal issues brought to light by the COVID-19 pandemic," said HLA president Bridget Dye.
More on studying health care law at Miami Law
Read more about Miami Law's student organizations