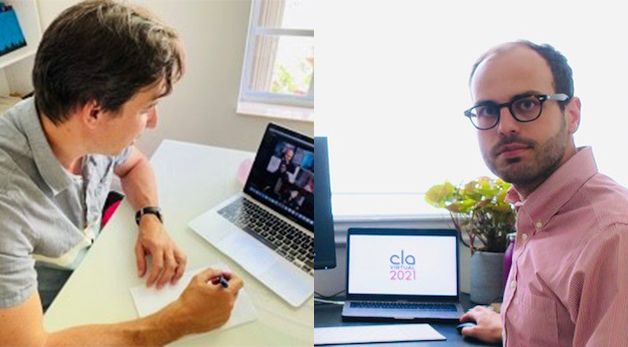 Hector Fernandez and Cristian Gallorini 
Since 2009, the Center for Studies on Law, Economics and Politics' Latin American Arbitration Conference (Conferencia Latinoamericana de Arbitraje) has hosted over 500 notable speakers and arbitrators, including Jan Paulsson, Miami Law's Michael Klein Distinguished Scholar Chair Emeritus, Alexis Mourre, and George Bermann, Miami Law Visiting Professor, to discuss important topics in the field of international arbitration in Latin America. This summer, nine students in the White & Case International Arbitration LL.M. Program attended the Twelfth CLA Conference virtually through Racial Equality for Arbitration Lawyers (REAL) Scholarships.
Founded in 2021 by Dr. Crina Baltag, Senior Lecturer, Stockholm University, Dr. Kabir Duggal, Senior International Arbitration Advisor, Arnold & Porter Kaye Scholer LLP, and Lecturer-in-Law, Columbia Law School, and Miami Law alumna Rekha Rangachari, Executive Director, New York International Arbitration Center, Racial Equality for Arbitration Lawyers (REAL) is a group of international arbitration lawyers from around the world striving for racial equality in the field of international arbitration. As an organization, REAL aims to address issues of underrepresentation, discrimination, and intersectionality in international arbitration through diversity and inclusion initiatives. REAL is also supported by ambassadors across the world, including Meg Kinnear, Secretary-General, ICSID; Miami Law Adjunct Professor, and Miami Law alumna Victoria Kigen, Case Counsel, Nairobi Centre for International Arbitration
"REAL seeks to provide real access to deserving lawyers all around the world through scholarships and other related initiatives. It is our honor to collaborate and work with students of the University of Miami School of Law to advance our goals," said Duggal.
One student who attended, Zuleika Beriro, Intensive Legal English + International Arbitration LL.M., from Venezuela, said that "as a Latin American candidate for the LL.M. in International Arbitration, being part of this Conference was a delightful experience that enhanced my perspective in this field." Another International Arbitration LL.M. student Cristian Gallorini from Italy felt "particularly grateful to Miami Law and REAL for giving me the opportunity to participate in the CLA 2021 Conference," which he found to be "a great introduction to arbitration in Latin America." Attending the conference and hearing from the distinguished panelists gave Gallorini a deeper understanding of "the peculiarities of arbitration in Latin America," "the similarities with the other civil law countries where I am originally from," and "the legal tradition of Latin American lawyers and their approach to domestic and international arbitration practice." Overall, for Gallorini, the CLA 2021 Conference "was a great way to understand the Latin America legal system and the background of my numerous colleagues and friends here at Miami Law," providing a "step forward in my education to becoming a more complete arbitration practitioner."
"As a proud UM alumna, it was as pleasure to open this door for students, with the promise of more opportunities to come as REAL builds its real presence in our global arbitration community. If we can each open even one door, we gain the privilege of meeting with diverse talent, and become even stronger together," said Rangachari.
Nigerian student Oyeniyi Sodimu, who is pursuing an International Arbitration LL.M., also attended the CLA 2021 Conference on a REAL Scholarship.  He said it helped him expand his knowledge of international arbitration in topics such as due process, transparency, disclosure, and party autonomy. "An arbitrator needs to be flexible…because we have different counsel from different jurisdictions with different cultures, traditions, and ways of practice."
Sandra Friedrich, lecturer in law and director of Miami Law's International Arbitration Institute and LL.M. Program added, "Miami and its region, South Florida, stand at the crossroads of the Americas, a location that provides our students with an international perspective. We are very grateful to REAL for granting scholarships to our students to attend this important conference, and thus providing them an opportunity to further reflect on and discuss important arbitration topics previously studied in the classroom and related to the Latin America region."
Intensive English + International Arbitration J.D./LL.M. student, Hector Fernandez from Venezuela, who also is admitted to practice law in Colombia, said that the CLA 2021 Conference was "amazing" and concluded by thanking both the "Racial Equality for Arbitration Lawyers (REAL) for the scholarship" and "Miami Law's White & Case International Arbitration LL.M. for allowing me to participate."
*************************
Miami Law's International Arbitration LL.M. provides a unique individualized curriculum for a small group of top quality students from around the globe who wish to acquire in-depth knowledge and skills in the field of international commercial and investment arbitration as a platform for a successful career. Students receive career advising tailored to their individual interests and professional goals. Students also may pursue networking and professional development opportunities, such as attending international job fairs, participating in internships with leading international arbitration firms and institutions, competing in international arbitration moot court competitions, attending international arbitration conferences, publishing in legal journals, and getting involved in professional arbitral organizations. After graduation, the LL.M. Program provides post-graduation options for students to sit for the bar exam in several U.S. states, including New York, and obtain a one-year post-graduation optional practical training (OPT) work permit. Miami Law also offers a three-semester Intensive Legal English + International Arbitration study option and a J.D./LL.M. Joint Degree in International Arbitration, which allows students to complete both degrees in as little as two years.