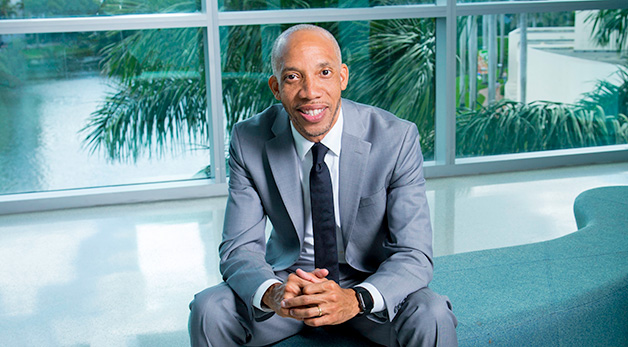 Professor Charlton Copeland
Interim Dean and Visiting Professor Nell Jessup Newton announced that Professor Charlton Copeland has agreed to serve as associate dean of Intellectual Life. He will step into the role pioneered by Professor Lili Levi.
"This was an easy decision for me, as Charlton is a great fit for this role," said Newton. "He is a prolific federalism scholar; he is a Dean's Distinguished Scholar; and, most recently, his work has been recognized with a Mellon Creates Grant and the 2021 Clyde Ferguson award from the AALS Section on Minority Groups."
Copeland will be working closely with the faculty's Intellectual Life Committee this year to continue Miami Law's strong intellectual life traditions.
The role at Miami Law is designed to cultivate and showcase faculty achievements in research, scholarship and pedagogy, enhance the scholarship workshops series, support tenure-track colleagues, launch and lead innovative pedagogy workshop series, help build Miami Law's grants operation, and otherwise elevate and celebrate our community's intellectual life.
"I am grateful to Tony Varona, Stephen Schnably and Nell Newton for thinking of me for this role," said Copeland. "I have taught at five law schools, and Miami Law's unique mix of intellectual energy and playfulness is rare. I hope to make some contribution to its sustenance in this role."
Copeland joined the faculty in 2007. He teaches civil procedure I and II, federal courts, administrative law, constitutional law, and the regulatory state. Charlton's research and scholarly interests focus on the role of American legal and political institutions in the policymaking process. Copeland's primary scholarly interests are separation of powers with a focus on the role that partisan polarization and presidential ambition collide in shaping responses to immigration and LGBT equality. He is currently writing a dissertation in political science that focuses on the conservative state since 1980s and the "long history" of voter suppression.
Read more about Miami Law's faculty