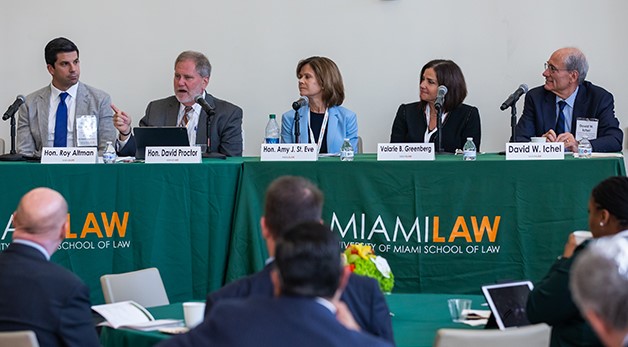 "Hot Topics in Class Actions and MDLs" panel from the 2020 forum. Pictured L to R: The Honorable Roy Altman, U.S. District Judge, Southern District of Florida; The Honorable David Proctor, U.S. District Judge, Northern District of Alabama; The Honorable Amy J. St. Eve, U.S. Circuit Court Judge for the Seventh Circuit; Valarie B. Greenberg, Akerman, LLP; and David W. Ichel, Professor, arbitrator/ mediator, and previous partner at Simpson Thacher & Bartlett.
 
With class actions and multidistrict litigation cases on the rise, three Miami firms focusing on trial, appellate, and class action law teamed up to support the annual Miami Law Class Action & Complex Litigation Forum. The annual Miami Law forum, sponsored by Kozyak Tropin & Throckmorton (KTT), Podhurst Orseck, and Harke Law LLP, supports merit-based scholarships and endows a fellowship for a student who has shown a commitment to a career in complex litigation.
Miami Law students also benefit from the event via insights and advice from attorneys and judges around the nation. "Students are always interested in how we can change society for the better," said Harley Tropin, J.D. '77, president of KTT. "Attorneys can do that one on one, such as representing a tenant against an overreaching landlord, or serving as a public defender. But bringing class action litigation against bad conduct is another way to achieve social change." Lance A. Harke, J.D. '90, who focuses his practice on mediation and arbitration in settling complex cases, also sees an upside for students, "Class actions are a highly effective vehicle for positive change through the legal system. But they are not a major component of legal education in most law schools."
Miami, the Ideal Setting for the Forum
"We joined together in 2016 to fund the conference because of the prevalence of these cases in South Florida and around the country," said Peter Prieto, J.D. '85, and partner, Podhurst Orseck P.A.
"Today, multidistrict litigation (MDL) makes up close to 50 percent of the federal docket. You can get thousands of cases filed after an incident," he added.
More than 400 students and practitioners attended the fifth Miami Law forum, which was held virtually on April 23, 2021. Prominent judges, attorneys, and professors from around the United States participated in two panels. Prieto said the first session, "Do's and Don'ts of Moving for and Defending Class Certification," was helpful for students because they heard perspectives from both the plaintiff and defense side, as well as the issues judges think about when presented with a class certification motion.
Harke moderated the second panel on "Hot Topics in Class Actions and MDL," which included a discussion of COVID-related litigation, such as lawsuits by small businesses against insurance companies over coverage.
Participating judges in the last forum included U.S. District Judge for the Northern District of Alabama David Proctor; U.S. Court of Appeals Judge for the Seventh Circuit Amy J. St. Eve; U.S. District Judge for the Northern District of Illinois Robert M. Dow; and U.S. District Judges for the Southern District of Florida Roy Altman and Beth Bloom.
The annual forums help elevate awareness of Miami Law's litigation programs, as well as South Florida's strategic location for resolving complex domestic and international matters, according to Tropin. "Miami Law is an ideal host for a forum on emerging trends in complex litigation," he said. "While there are still plenty of traditional business lawsuits, there are enormous cases like opioid overdoses or check overdraft litigation that can only be disposed of this way."
Class Actions as a Vehicle to Achieve Justice
Like Harke and Prieto, Tropin has been involved in class action suits with national ramifications. For instance, he recently represented a class of physicians in a suit against health maintenance organizations (HMOs). "That's the kind of case you can't do on a piecemeal basis," he added
Class action litigation can have several positive effects, along with money being returned to victims, said Tropin. "The threat of class action is a deterrent in itself, and the litigation often results in prophylactic measures to prevent bad conduct in the future," he said.
As with other forms of litigation, the number of class actions and MDL matters settled outside the courts far outweigh the number that actually go to trial. "Resolving a class action matter requires research, writing, and negotiation skills and lots of patience," said Tropin. "While some matters are resolved quickly, others can take years to make their way through the court system."
"Class actions are one of the primary means of achieving justice in the United States," said Harke.
Harke, Tropin and Prieto said the three firms are now working with Miami Law in planning the next forum in 2022. "We look for topics that are relevant and timely, recognizing that there are sensitivities with discussing ongoing litigation," said Prieto.
"Given the complexity of business and the economy, these complex, high-profile cases will continue to increase in the future."
See more Miami Law Magazine articles
Read more about arbitration, litigation and dispute resolution programs at Miami Law
More on the Class Action & Complex Litigation Forum