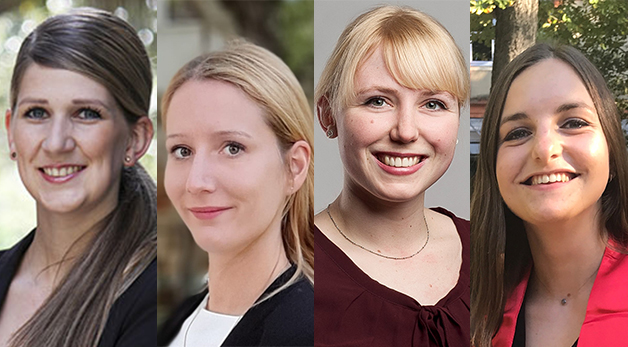 Luca Thones, Viviane Cismak, Emma Refuveille, and Sophie Schwarz
Miami Law offers a half-tuition scholarship (currently $27,375) to a present or past participant of the E-fellows LL.M. Day in Berlin, Frankfurt or Munich, Germany to attend one of Miami Law's LL.M. Programs, including its prestigious White & Case International Arbitration LL.M. Program. The inaugural E-Fellows Scholarship recipient was Luca Thönes from Germany (International Arbitration LL.M. '17).
"It is a great honor to be the E-Fellows scholarship holder and without this scholarship, I would not have been able to come to Miami," said Thönes. "My great experience of studying here is built on this scholarship." Thönes now works as an Associate at Luther in Hamburg, a prominent international business law firm.
During the 2019-2020 academic year, Viviane Cismak (International Arbitration LL.M. '20) from Germany, was granted the E-Fellows Scholarship to attend Miami Law. Cismak decided to pursue her LL.M. at Miami Law for three reasons: the "internationally renowned program," the "large variety of exciting classes," and "of course - Miami is a great destination to spend a year in the U.S." According to Cismak, Miami Law's International Arbitration Program is special because many classes "are taught by internationally recognized lawyers," allowing for "an academic approach" as well as "in-depth views on actual practical challenges and possible solutions." Cismak also remarked that "small class sizes encourage intense participation [and] close personal mentoring," while "the interactivity of the classes gave me the great opportunity to improve my oral argumentation skills." "Miami Law is also distinguished by a great diversity," said Cismak. "As I had hoped when I decided to go to Miami, I was able not only to professionalize my English, but also to learn a little Spanish." Cismak now works as an associate in White & Case's International Arbitration Practice Group in Frankfurt.
In the Fall of 2020, Miami Law welcomed another E-Fellows Scholarship Recipient, Emma Refuveille from France (International Arbitration J.D./LL.M. candidate) who is a dually-trained law graduate in France and England. Refuveille chose to study at Miami Law because it "is one of the arbitration centers in the U.S., and I knew it would be the ideal place to study." For Refuveille, "studying at Miami Law has proven to be the best decision, and so far, the program has offered me everything I hoped for!" Throughout her time at Miami Law, Refuveille has had the opportunity to "participate in many meetings…and get great advice from law firms in Miami and from University of Miami alumni, as well as throughout the U.S.." Refuveille also had the opportunity to participate in the International Arbitration LL.M. Practicum Program twice so far, first with De Almeida Pereira, an international arbitration boutique law firm in Washington, D.C., co-founded by a Miami Law alum, and then with Am200-ranked Florida-based full-service law firm Shutts & Bowen in Miami, Florida. "Without the generous E-Fellows scholarship, I would not have been able to join Miami Law," Refuveille concluded. "It made a huge difference. Thank you, University of Miami, and proud to be a 'cane!"
Current International Arbitration LL.M. student, Sophie Schwarz from Germany, was awarded the E-Fellows Scholarship during the 2021 academic year. Schwarz first became interested in the field of international arbitration during the 2017 Foreign Direct Investment (FDI) Moot Court competition. "Since this field of law is closely related to and influenced by international and transborder regulations," Schwarz wanted to "broaden [her] horizons by studying in a foreign legal system." Then, at the E-Fellows LL.M. Fair in 2019, Schwarz was "impressed by the variety of courses offered" and "the opportunity to experience the practical side of International Arbitration." For Schwarz, "two of the academic highlights of the International Arbitration LL.M. Program so far have been the short courses 'ICSID Practice and Procedure,' taught by ICSID's Secretary-General Meg Kinnear and ICSID Legal Counsel Alex B. Kaplan, and 'Arbitration Institutions in a Changing and Challenging World,' taught by Professor Nassib G. Ziadé," who serves as the CEO of the Bahrain Chamber for Dispute Resolution.
During her first semester at Miami Law, Schwarz had the opportunity to complete an International Arbitration LL.M. Practicum placement with Shutts & Bowen LLP, "a Floridian law firm specialized in International Arbitration and Litigation, with a wonderful office in Downtown Miami." According to Schwarz, "the practicum is a perfect addition to my classes in the LL.M. Program because I can use the knowledge I gain from the lectures for my work at Shutts & Bowen and vice versa" and "helps me to improve my knowledge about the judicial system of the U.S." After graduating from the LL.M. Program, Schwarz plans to return to Germany and prepare for her second German Bar exam.
***********************
Miami Law's International Arbitration LL.M. provides a unique individualized curriculum for a small group of top quality students from around the globe who wish to acquire in-depth knowledge and skills in the field of international commercial and investment arbitration as a platform for a successful career. Students receive career advising tailored to their individual interests and professional goals. Students also may pursue networking and professional development opportunities, such as attending international job fairs, participating in internships with leading international arbitration firms and institutions, competing in international arbitration moot court competitions, attending international arbitration conferences, publishing in legal journals, and getting involved in professional arbitral organizations. After graduation, the LL.M. Program provides post-graduation options for students to sit for the bar exam in several U.S. states, including New York, and obtain a one-year post-graduation optional practical training (OPT) work permit. Miami Law also offers a three-semester Intensive Legal English + International Arbitration study option and a J.D./LL.M. Joint Degree in International Arbitration, which allows students to complete both degrees in as little as two years.