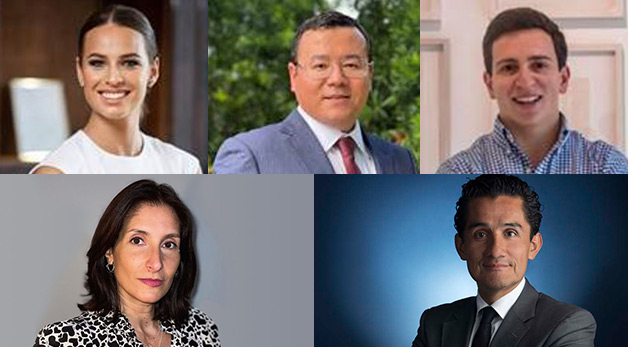 Clockwise: Rochelle Hamman, Movlonbek Tojimatov, Victor Delgado, Alejandro Santoyo, and Nicole Haidar
The University of Miami has one of the largest international student populations in the country with students from all over the world and this is also reflected in the law school student body. Since 1952 Miami Law has offered LL.M. programs and a welcoming environment that have drawn foreign-trained lawyers from around the globe.
In fall 2021, 72 incoming international students joined our LL.M. programs and hail from 36 foreign countries including: Argentina, Austria, Bahamas, Belgium, Brazil, Canada, Chile, China, Colombia, Dominican Republic, Ecuador, Estonia, France, Germany, Haiti, Iraq, Italy, Jamaica, Jordan, Mexico, Nigeria, Pakistan, Panama, Peru, Portugal, Russia, Saudi Arabia, South Africa, Spain, Sweden, Switzerland, Turkey, United Kingdom, United States, Uzbekistan, Venezuela.
Meet a few of the new students who have joined Miami Law:
Victor Delgado - Entertainment, Arts, and Sports Law LL.M. Program
Victor joins the Entertainment, Arts and Sports Law LL.M. program from Bogota, Colombia where he graduated from Javeriana University. He has more than five years of experience advising and representing top-tier Colombian and international athletes, national sports federations and athletes' agents in litigation and high-complexity procedures before international sports authorities. He also has prior experience in one of Colombia's most prominent law firms in the M&A team. Recently, Victor represented the Colombian Weightlifting Federation in a procedure before the Independent Panel of the International Weightlifting Federation regarding the eligibility to be part of the Tokyo 2020 Olympics. The positive outcome of this procedure resulted in a silver medal for Colombia.
"My goal in Miami is to gather new legal and research capabilities to be able to offer my clients a greater knowledge and perspective while assessing their cases. Also, expand my connections to facilitate business between Latin-American parties and American stakeholders. Miami is now a hotspot for athletes, and everybody should focus on that. Pursuing the NY Bar has always been a dream for me and being able to work on that while attending lectures with an incomparable set of teachers, successful both inside and outside the classroom, is magical. My expectations increase every day, and Miami Law is keeping up to the pace."
Rochelle Hamman - U.S. & Transnational Law LL.M. Program
Rochelle comes to us from South Africa to join the LL.M. in U.S. & Transnational Law for Foreign-Trained Lawyers program. She obtained her LL.B. degree at the University of Pretoria, where she graduated top of her class in Criminal Procedure and Alternative Dispute Resolution. After she started her legal internship, her career took an exciting turn when she was granted the opportunity to work for a multi-national company as their Administrative- and Human Resources Manager. This is where she received practical experience of the law by managing a wide variety of legal matters. Rochelle is interested in being a criminal attorney, specifically for female victims of violent crimes. She looks forward to practicing law in the United States.
"I chose UM School of Law as a step towards becoming a US criminal attorney, as it provides me with the unique opportunity to practice law in the States, as well as the opportunity to earn a joint JD/LL.M. degree. The UM School of Law also offers distinct networking opportunities with a number of conferences and workshops available to students as part of their legal studies. I believe that the UM School of Law will equip me with all the necessary tools to assist me towards my ambitions of becoming one of the foremost criminal attorneys in the US."
Movlonbek Tojimatov - International Arbitration LL.M. Program
Movlonbek is from Uzbekistan and has more than 14 years if experience as an international law specialist with demonstrated history in foreign affairs, global dispute resolution, international arbitration, international commerce, and trade law. He has served as a diplomat and has also represented the Uzbek government in rounds of international negotiations, dispute resolution processes before international arbitration tribunals and in foreign domestic courts, before the U.N. General Assembly and Security Council, and at other international organizations and institutions. Most recently, Movlonbek has worked in the investment banking legal and compliance sector and attained experience in the financial industry.
"I am very proud and happy to have been admitted into the highly respected White & Case International Arbitration LL.M. program at the University of Miami School of Law and think this program is one of the best in the world. After graduation from the LL.M, I intend to pass the New York bar exam and become a professional international arbitration lawyer. I am confident that receiving important professional education in this field at Miami Law, combined with my experience in public international law and the financial sector, will be assets to the international dispute resolution practice of any global law firm."
 
Nicole Haidar - Real Property Development LL.M. Program
Haidar is a Mexican lawyer form Mexico City with 25 years of experience in corporate law, contracts, real estate transactions and regulation of financial institutions. She obtained her law degree from Universidad Anáhuac in 1999, with her thesis "Product Liability; a comparative analysis of product liability regulation applicable in Mexico, the United States and Spain" and in 2002 she obtained a master's degree from Boston University LL.M. in American Law. She was an associate with White & Case, Mexico City's office, and worked as the head of the Legal Departments of several private companies and financial entities, engaged in mortgage loans and microcredits. In the last 6 years, has acted as legal advisor to a group of investors that participate in real estate development projects in Mexico. Such projects include land acquisitions, financing schemes, negotiation and drafting of agreements, dealing with authorities and closings.
"I believe UM School of Law Robert Traurig-Greenberg Traurig Real Property Development LL.M. will significantly contribute to my professional career, by giving me the opportunity to deepen in the planning, structuring, and financing of real estate developments; participate in interdisciplinary work with UM's graduate School of Architecture and the Miami Business School; doing networking; and gaining new perspectives that will expand my legal vision as a real estate transaction lawyer, allowing me to provide more expert advice to my clients."
 
Alejandro Santoyo - Taxation of Cross-Border Investment LL.M. Program
Alejandro joins us from Mexico City where he graduated both as a lawyer and a public accountant. In addition to pursuing his LL.M. in Taxation of Cross-Border Investment, he also holds an MBA degree from The University of Texas at Austin. He is the head of the tax practice at the largest and one of the most regarded law firms in Mexico. During his almost thirty years of experience as tax practitioner he has advised international banks with operations in his country as well as US private equity funds investing therein. In his prior professional experience, he was the head of tax for JPMorgan in Mexico also with responsibilities in other LATAM offices. Recently he represented Apollo Global Management as lender of a DIP (debtor-in-possession) facility into Grupo Aeromexico S.A.B. de C.V., ("AMX") in connection to AMX´s chapter 11 procedures in the US. The outcome of this transaction was that the most important airline of the country was able to continue operating.
"During the pandemia some people decided to start doing exercise or to learn how to cook, in my case, it was the perfect opportunity to learn about the most relevant and developed tax system in the world. Even though I may not practice US tax law, in the future I'm confident that the quality of my professional services will be significantly increased both for international clients investing in Mexico as well as for Mexican corporates pursuing to expand their operation in the US. So far I'm not only extremely pleased with the quality of the professors at The University of Miami, but also with the great friendship relationships I have developed. I'm convinced that it is never too late to continue learning and I can not think of how this experience could have been any better for me."
More on LL.M. Programs at Miami Law
More on Why Foreign Attorneys Choose Miami Law