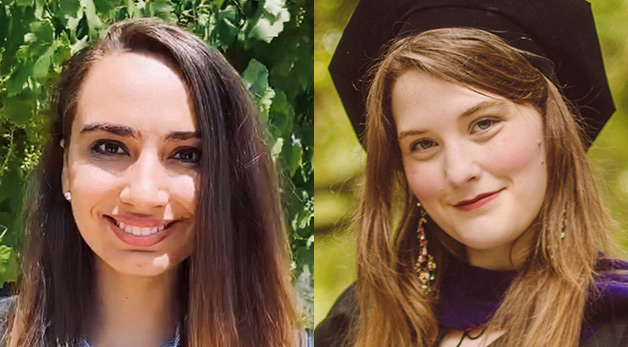 Gita Howard, J.D. '21 and Anna Dellapa, J.D. '21
Gita Howard, J.D. '21, and Anna Dellapa, J.D. '21, understand how an internship through Miami Law can help start a career in international law. For Howard, it was a "dream internship" at the United Nations' Office of Legal Affairs in New York in summer 2020 after her 2L year. For Dellapa, the internship application opened the door to a permanent position with a leading law firm in the United Arab Emirates.
"We work closely with students to support their career goals," said Yazmyne V. Eterovic, director of International LL.M. Career & Professional Development Programs at Miami Law. "That includes finding attractive internships related to international law."
Interning at the United Nations
As an intern in the general legal division, Howard worked with United Nations attorneys involved in peacekeeping missions, accountability matters, intellectual property issues, and human resource policies.
"It was an amazing summer experience, even though it was done remotely due to the COVID-19 pandemic," she said.
"I knew beforehand that I wanted to practice international law and do human rights work, and the U.N. internship confirmed that career path."
As an undergraduate at Scripps College, Howard attended a workshop at The Oxford Consortium for Human Rights. After enrolling at Miami Law, she was awarded a HOPE Fellowship to pursue her public interest dreams. Her first summer, she was a legal intern at The Tibetan Legal Association in Dharamshala, India. During her 2L year, she interned with Miami Law's Human Rights Clinic and co-founded the Human Rights Society.
After earning a juris doctor degree, Howard was accepted as a fellow on the foreign policy team at Human Rights First, a non-government organization based in Washington, D.C. "I will be working to hold human rights abusers accountable for their actions," she said.
Heading for the Middle East
Dellapa will join Squire Patton Boggs this fall in Dubai, United Arab Emirates, after "learning amazing things" at Miami Law. Dellapa earned her undergraduate degree in creative writing at Pratt Institute and then followed in the footsteps of her attorney father.
"I was drawn to international law right away," she said, noting that she was a research assistant in her first-year human rights course at Miami Law.
She was also a legal intern at the Innocence Clinic, staff editor at the University of Miami Law Review, and recipient of Dean's Certificate of Achievement Awards in Evidence and Legal Writing. "The international arbitration classes at Miami Law helped build my professional skills," she said. "Rather than focus on procedural issues, arbitration gets right to the heart of the dispute. You submit the evidence and wait for the decision."
In summer 2020, Dellapa was offered a summer internship at Squire Patton Boggs that had to be canceled due to the COVID-19 pandemic. "The firm has a program where you divide your time between the U.S. and international office, and I was excited to be offered a full-time position after graduation," she said. "My sister lives in Qatar, and it will be great to be working in Dubai this fall."
See more Miami Law magazine stories
Read more about internships and hands-on learning at Miami Law