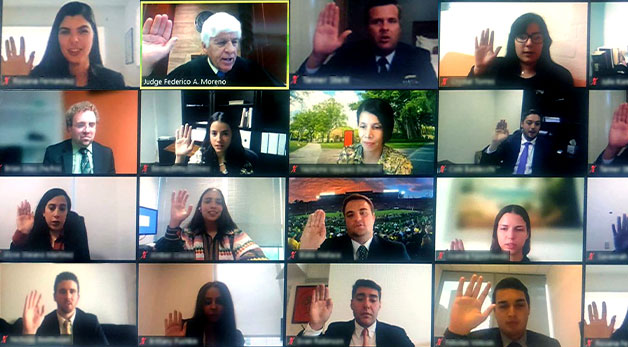 Two hundred and three Miami Law graduates raised their right hands virtually in front of friends, family, and faculty, swearing to "never reject, from any consideration personal to myself, the cause of the defenseless or oppressed, or delay anyone's cause for lucre or malice."
Those who took the oath had passed the July Florida Bar exam on their first attempt, and pushed Miami Law's pass rate to 82.5%, the second highest in the state.
Senior United States District Judge Federico A. Moreno, J.D. '78, of the United States District Court, Southern District of Florida, led the swearing-in ceremony Tuesday afternoon. 
While attending Miami Law, Judge Moreno met his future wife, Maria Cristina Moreno, and they graduated in the same year. He had been president of the Student Bar Association, while she was a member of the University of Miami Law Review. Judge Moreno was also a member of The Inter-American Law Review, Moot Court, the Society of Bar & Gavel and the Hispanic Law Student Association.
Moreno has served on the boards of Legal Services of Greater Miami, the Cuban American Bar Association's Pro Bono Program, and the United Way. He received the Pro Bono Service Award of the Cuban American Bar Association and the United Way's "People Helping People" Award and was a member of the Notre Dame Club of Miami. At UM, he serves on Miami Law's Visiting Committee and was director of the Law Alumni Association, which in 2006 gave him its Alumni Achievement Award.
"We grateful to Judge Moreno for taking part in the swearing in and we are so proud of all of our successful bar applicants and graduates," Interim Dean and Visiting Professor Nell Jessup Newton said. "With changes caused by the pandemic, it's been a very long and rocky road, but they persevered and succeeded."
Holistic approach to bar exam
The recent graduates benefited from Miami Law's expanded team and a robust bar prep menu encompassing a three-year curriculum under the Academic Achievement Program, led by Director Steven Maxwell.
"Congratulations to our hard-working graduates who took the Oath of Admission," said Maxwell. "Much of the credit goes to the Academic Achievement team of Rodney Rawls and Brian Sites, who shepherded graduates while short-staffed. Together, we will continue to build and expand our efforts to help all graduates pass the bar exam."