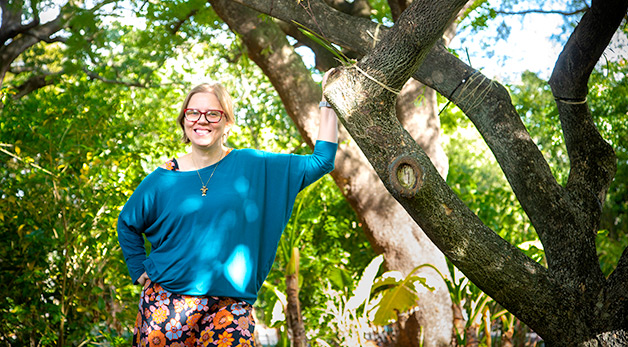 Professor Jessica Owley (photo by Joshua Prezant)
Professor Jessica Owley is committed to providing local, national, and global learning opportunities for students in Miami Law's Environmental Law Program. "Climate change, sea-level rise, and pollution are among the most pressing issues of our time, and South Florida is right on the front line," she said.
Since joining the faculty in 2019, Owley has guided the Environmental Law Program, whose interdisciplinary focus includes marine and atmospheric science, economics, real estate, and public policy. "Our law students need to know-how to read a scientific paper, understand risk analysis, and learn the science that provides the foundation for a rule, regulation or statute," she said. "It's also important to be able to communicate with experts in different fields and explain their findings to a judge or jury on behalf of a client."
To support that goal, Erin Okuno, a licensed attorney with a background in environmental law, joined the Miami Law faculty this fall. She will teach writing skills and play an active role in the Environmental Law Program.
As the new academic year begins, Miami Law's collaborative programs and partnerships allow students to combine legal and environmental interests in a multitude of ways. One example is Miami Law's longstanding dual degree program with the Rosenstiel School of Marine and Atmospheric Studies – the only such offering in the U.S.
Daniel Suman, adjunct professor of coastal law at Miami Law and professor of environmental science and policy at the Rosenstiel School, co-founded the dual degree J.D./M.P.S. Marine Ecosystems and Society program with Professor Bernard Oxman. "We also offer experiential travel programs to Vietnam and China, as well as Panama," said Suman. "They give our students a better understanding of how environmental issues are addressed in different jurisdictions."
Environmental Justice Clinic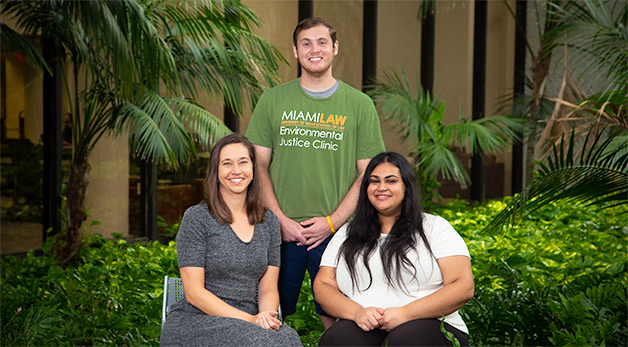 Abigail Fleming (seated on the left), with EJC students Ashley Vazquez and Daniel Geller (photo by Joshua Prezant)
Miami Law's Environmental Justice Clinic advocates for and empowers marginalized communities on the frontline of the climate crisis in South Florida. The Clinic incorporates interdisciplinary studies and fieldwork on actual cases and campaigns to help redress environmental injustices. "Understanding the intersections between social justice and the built and natural environments, the Clinic believes that the road map to community sustainability requires an interdisciplinary response that engages both the social and physical sciences, recognizes diverse sets of expertise, and places historically marginalized communities at the forefront of decision-making," said Abigail Fleming, Mysun Foundation Practitioner-in-Residence at the Clinic.
As the climate crisis takes center-stage in policy, students desire to develop the knowledge and skills required to engage in this complex response. In fact, this year the clinic received a significant increase in the amount of applications it traditionally receives with only eight available spots.
"Law students work alongside community partners to create transformative solutions that are rooted in equity," said Fleming. Students conduct factual investigations;  coordinate systemic change through litigation, legislative, and transactional strategies; and engage in and organize policy campaigns and grassroots initiatives.
"Our community partners often reflect that their work would not be possible without the Environmental Law Clinic's support," said Fleming. "They call the Clinic a 'hidden gem' and an 'invaluable resource' for marginalized communities in South Florida."
United Nations Climate Change Conferences
In 2015, Owley attended the United Nations Framework Convention on Climate Change, which led to the worldwide Paris Agreement. She has attended the annual conference and took six Miami Law students to Madrid for the United Nations' 25th climate change conference held in December 2019.
"We were one of the few law schools allowed to attend the two weeks of deliberations on how U.N. members will address climate change," she said. "It is a great experience to be in the room and watch international law being made."
Owley hoped to attend the 26th UN climate change conference scheduled for November 2021 in Glasgow, Scotland; however due to COVID-19, she was unable to secure student travel approval. She noted that UM recently was provisionally approved for official accredited observer status at the climate change treaty-making talks. UM environmental experts are still scheduled to contribute to the talks specifically Daniel Suman and Xavier Cortada.
Moot Court Competitions Surrounding the Environment
Miami Law students can hone their advocacy skills through the Jeffery G. Miller National Environmental Law Moot Court Competition. This is the largest interschool moot court competition of any kind, regularly attracting 200 competitors from law schools from throughout the nation.
This spring, third-year students Christian Maroni and Catherine Talley won the 52-school competition as members of the Charles C. Papy, Jr. Moot Court Board team. "This is one of the most complicated moot court competitions, and it was held entirely online," said Owley, who coached the team with attorney Jake Monk, J.D. '12.
During the virtual competition, teams argued a hypothetical case on behalf of three different parties with standing and a total of six issues. This year, the case focused on the intricacies of the Environmental Protection Agency's categorization of pollutants and their effects on public health and welfare.
"We are proud of our students for their remarkable success and plan to bring a team to the 2022 national competition at Pace Law School," said Owley, who will again serve as coach. "We are also planning to participate in the International Environmental Law Moot Court competition, which begins with virtual regional rounds prior to the international round."
Studying Water Policy Via International Courses and Travel
Since 2008, Suman has been leading international trips to Southeast Asia and Central America to expand the environmental horizons of Miami Law students. Before the pandemic, he organized a monthlong summer course, "Water Resources Law and Policy Program," in collaboration with Hanoi University of Mining and Geology and Hanoi University of Natural Resources and Environment in Vietnam and Yunnan University in China.
"Our focus in 2019 was water policy," said Suman.
"Along with learning from academic experts, Miami Law students took part in field trips to drinking water and wastewater facilities, as well as mangrove restoration projects and coastal national parks. This gave them an opportunity to compare water resource problems, policies, and laws while building friendships and experiencing different cultures."
Suman has also led spring break interdisciplinary trips to Panama, Chile, and Colombia, including a 2020 experience in Bocas del Toro, Panama. "This is an environmentally sensitive region with rapid tourism growth," he said. "We had about 20 students who conducted research projects and heard from business, government and Indigenous community leaders. For many participants, this trip is a high point of their time at UM."
While the pandemic prevented spring or summer travel this year, Suman plans to resume the trips in 2022, noting that both courses are listed in Miami Law's Environmental Law Concentration.
An International Perspective
As director of the Environmental Law Program, Owley brings an international perspective to climate change, pollution, and responsible real estate development. She was a visiting professor at the Universidad Pontificia–Comillas in Madrid, Spain, and taught a course in a master's in International & European Business Law. Prior to her academic career, she was an attorney in private practice and director of the Spoonbill Action Voluntary Echo, a nonprofit focused on preserving fragile ecosystems in coastal Taiwan.
Currently, Owley is editor-in-chief of the Journal of Law, Property and Society, president of the Environmental Law Collaborative and a member of the International Union for the Conservation of Nature World Commission on Environmental Law and the World Commission of Protected Areas. Her work in fields like private land conservation and environmental and property law is cited widely, and her awards include the 2019 Morrison Prize for sustainability research.
"Growing up in Milwaukee with an activist mom, I have always been interested in environmental issues," she said. "In high school, I was an exchange student on a farm in Norway, which gave me a very direct connection with the northern European environment."
Now, Owley says Miami Law is an ideal location for studying the legal, social, and physical implications of the changing global climate. "From tropical diseases like Zika to sea level rise and biodiversity loss, critical environmental issues are top-of-mind in South Florida," she said. "We need to respond to issues that are happening now while maintaining a focus on reducing greenhouse gas emissions and other long-term environmental goals."
Read more about Miami Law's Environmental Law Program
Read more stories from Miami Law Magazine