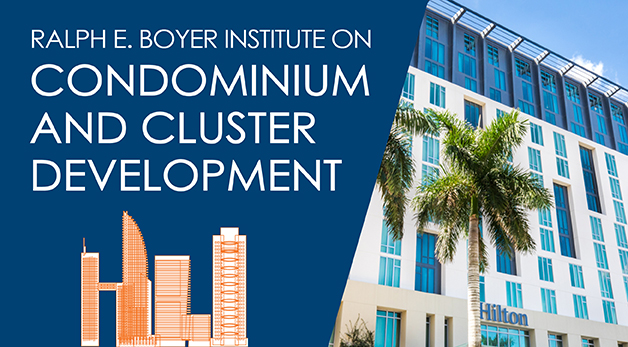 CORAL GABLES, Fla. (September 21, 2021) – The aftermath of the Surfside condominium collapse will be the focus of many of the discussions at the 46th Institute on Condominium and Cluster Development conference, the annual event from Miami Law and the Ralph E. Boyer Institute on Condominium Law, October 7 and 8.
The program's director, William Sklar, J.D. '80, is the chair of the Condominium Law and Policy on Life Safety Task Force, formed by the The Florida Bar's Real Property, Probate, and Trust Law Section of The Florida Bar following the catastrophe and serves as a resource to the Governor of Florida.
"The tragic event of the building collapse in Surfside Florida is perhaps the most significant incident in Florida's history of condominium development," said Sklar. "Issues raised concerning governance, maintenance standards, inspections and basic life safety, as well as the financing of long-term condominium association operations have been placed front and center by this tragedy and will be the subject of in -depth at this year's Boyer Institute."
The two-day conference is designed to update condominium and planned development law generally, and explore in detail topics of current interest, such as effects of natural and viral disasters on Community Associations. The sessions will explore judicial, legislative, arbitration, and administrative recent developments. A roundtable discussion and "Community Association Emergency Powers—New Legislation—Board Authority and Liability; Access Limitations; What We Have Learned from the Pandemic and Surfside Disaster" session will focus entirely on the collapse.
Sklar, will be joined by real estate and arbitration attorneys as well as representatives from the Bureaus of Compliance and Standards and Registration at the Division of Florida Condominiums, Timeshare and Mobile Homes.
Sklar's practice areas include representation of developers and lenders in a broad range of planning, drafting and development of residential, commercial and complex mixed-use condominiums and planned developments. Additionally, Sklar serves as regulatory counsel to developers and lenders relative to compliance under numerous federal, state and local statutes, regulations and ordinances, including the Interstate Land Sales Full Disclosure Act, Fair Housing Act, Florida Condominium and Homeowners Association Acts and numerous other laws and regulations affecting real estate development and transactions.
The Boyer Institute is an extension of the law school's expertise in real estate development exemplified by the school's Real Property Development LL.M.  — widely regarded as the nation's best and ranked by LL.M. Guide in 2021 as a Top 10 Real Estate Law Program — is designed for the law graduate or attorney who wants to acquire or expand expertise in planning, structuring, and financing real estate projects, either as a practitioner, owner, or developer. Given the increased complexity of real estate development, pursuing a specialized post-graduate degree is one of the most effective ways to acquire the necessary breadth and depth of experience in this field.
The event, Thursday and Friday, October 7 and 8, 2021 at the Hilton West Palm Beach, will earn Florida Bar CLE credits: 18.0 general credits, including 1.0 in ethics and 1.0 in technology; 18.0 Certification Credits in Business Litigation, Real Estate and Condominium & Planned Land Development Law.
The cost to register is $580.00, including a downloadable copy of all materials. For more information, go to registration or view the program. #BoyerCondo
PLEASE NOTE: The event will follow all University of Miami event COVID-19 protocols, including social distancing and masks must be worn covering nose and mouth indoors at all times.