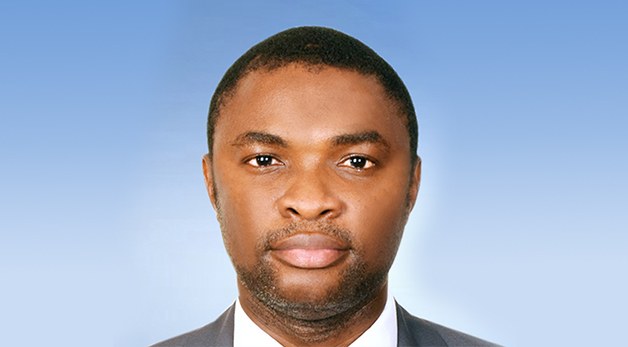 Azubike Okoye
Azubike Okoye has been named the 2021-2022 Young ICCA Full-tuition Scholarship winner.
"I was completely stunned. It was like winning a case at the Supreme Court after a circuit split," said Okoye, when he heard he had been awarded the scholarship. "It is a further reminder that I am bound to give back in the no distant future to the ICCA and the society that made me today."
Before pursuing an LL.M. in International Arbitration at Miami Law, Okoye worked as a senior associate counsel in Lagos, Nigeria where he represented foreign and local clients in commercial disputes. During this time, Okoye received a judicial commendation from a judge from the High Court of Lagos State for his in-depth knowledge of Nigerian law.
Okoye received his Barrister-at-Law from the Nigerian Law School in Lagos State and his Bachelor of Laws from Nnamdi Azikiwe University in Anambra State, graduating from both institutions with honors.
Miami Law partnered with the Young International Council for International Arbitration to launch this scholarship in 2012 as Young ICCA is a world-wide arbitration knowledge network for young practitioners and students, which aims to promote the use of arbitration by exposing new practitioners from all corners of the globe to the international practice of arbitration.
Previous winners of the Young ICCA Scholarship, who hailed from Canada, Chile, Ecuador, India, Italy, Ukraine, the United States, and Venezuela, have found trainee positions and permanent placements with Clyde & Co. in Montréal, Canada; Debevoise & Plimpton in London, U.K.; DLA Piper in Miami, Florida; Hanotiau & van den Berg in Brussels, Belgium; Hogan Lovells in Miami, Florida; Hughes Hubbard & Reed in Miami, Florida; the International Centre for Settlement of Investment Disputes (ICSID) in Washington, D.C.; Reed Smith in Miami, Florida (formerly Astigarraga Davis); Three Crowns in Manama, Bahrain, London, U.K. and Washington, D.C.; and White & Case in Washington, D.C.
Okoye currently is completing an IA practicum placement with GST LLP, a Miami-based GAR-100 ranked international arbitration boutique law firm co-founded by Miami Law alumni Quinn Smith, J.D. '08 and Mauricio Gomm Santos, LL.M. '06.
"I could not have imagined any better place to be in the world than Miami Law," Okoye said when asked about his time at Miami Law so far. "Course works and class discussions are very engaging with diverse opinions and thoughtful views."
After finishing his studies at Miami, Okoye plans to sit for the New York Bar Examination in July 2022. He hopes he can settle in the United States for the time being and continue to practice law but hopes to maintain a strong presence in both Nigeria as well as the United States.
To learn more about the various scholarship opportunities Miami Law's International Arbitration LL.M. Program offers, please join our virtual International Arbitration LL.M. Program Features + Scholarship Chat on Thursday, October 21, at 11 am ET. Register here.
Read more about Miami Law's White & Case International Arbitration LL.M.