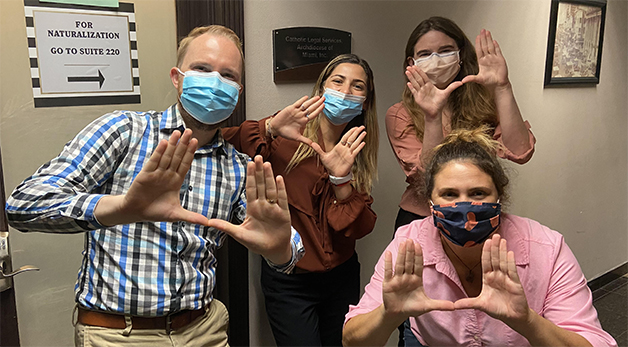 Sean Werkheiser, Shirley Grinstein, Amelia Anderson, and Sarah Hanners 
Fall break is a time for Miami Law students to pause, rest, and reenergize for the second half of the semester. For many Miami Law students, participating in pro bono, social justice work helps them reconnect with why they came to law school and fuels their motivation for the continued study of law. Thirteen Miami Law students chose to use the break to focus on social justice issues related to criminal law and immigration law. They volunteered on two opportunities organized through the HOPE Public Interest Resource Center - a Pro Bono Asylum Clinic with Catholic Legal Services and a Sealing and Expungement Workshop hosted by the law firm Greenspoon Marder LLP.
Working on Asylum Cases
Four 1L Miami Law students, Miami Scholar Sean Werkheiser, Miami Scholar Amelia Anderson, Miami Scholar Gabrielle Thomas, and Shirley Grinstein volunteered with Catholic Legal Services for four full days. The organization trained them on how to assist pro se asylum seekers. The law students then met with eligible clients, conducted extensive interviews, and helped prepare asylum applications.
"I had an amazing, enlightening, and refreshing experience at the asylum clinic. It was truly my first hands-on (person to person) experience in immigration work, and I couldn't be more excited for what's next," said Thomas.
Werkheiser adds, "Fall break at CLS was an incredibly enriching experience. I was able to take things that I have been learning in the classroom and use them to bring about a positive change in other people's lives. Specifically, I completed asylum applications for people who fled to the U.S. to escape political persecution in their home countries of Cuba and Colombia. Seeing the real-world applications of my course material helped me return to class with a renewed vigor and a sense of purpose after fall break."
This experience was meaningful for the law student participants, but it also impacted the lives of the clients and the staff at CLS.
"Because of the Miami Law volunteers, 10 more refugees, from five different countries, now have asylum applications filed, and we have been able to tackle our callback backlog, which has been a tremendous help to our legal support staff," said supervising attorney and Miami Scholar alumna, Sarah Hanners, JD '16.
Criminal Justice - Sealing and Expungement Work
Nine Miami Law students volunteered with Greenspoon Marder's first expungement and record-sealing workshop, which took place in Coconut Grove on the last Saturday of fall break. The event was a partnership between the law firm, the Miami-Dade State Attorney's Office, and the Miami-Dade Public Defender's Office.
"Some of the many things I took from participating in the Sealing & Expungement Workshop are the importance of bringing legal aid directly to the communities who need them the most," said Miami Law LL.M. student Anja Staats. 'We won't change the world in one day, but every single person we were able to support is a step in the right direction worth celebrating."
"The disappointing, as well as the incredibly satisfying moments of this experience, motivated me to sign up for the next volunteer opportunity right away," Staats said.
Benefits of Volunteering: Networking and Camaraderie 
Second-year Miami Scholar Kate Ruston also enjoyed the experience. "I had a fantastic time volunteering at the workshop with Greenspoon Marder. I appreciated the opportunity to learn about the sealing and expungement process and believe it is an essential service that should be as available and accessible as possible. I enjoyed meeting the other Miami Law volunteers, the pro bono attorneys from Greenspoon Marder, and the community members who participated, and I look forward to participating again this spring," said Ruston.
The HOPE Public Interest Resource Center organizes and coordinates pro bono opportunities for Fall, Winter, and Spring breaks. Read the weekly HOPE E-News to learn about upcoming opportunities or email umhope@law.miami.edu to discuss your interests and help plan future experiences.
More on social justice and public interest at Miami Law
Read more about the HOPE Public Interest Resource Center