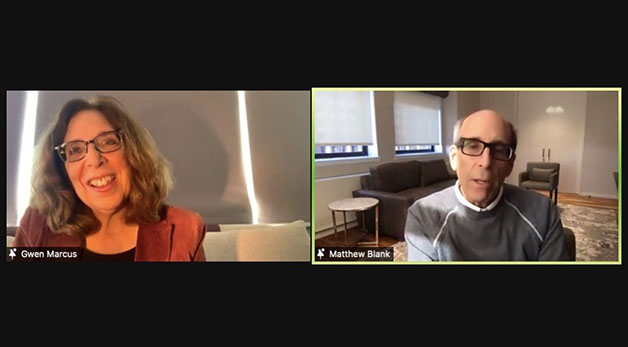 Miami Law's Entertainment, Arts and Sports LL.M. Law program again featured an impressive roster of industry lawyers and executives for its guest speaker series this semester. These weekly talks give current EASL LL.M. and J.D./LL.M. students an opportunity to engage with legal professionals from across the sports, entertainment, and arts industries.
This year's extraordinary lineup includes Matt Blank, interim CEO AMC and former chairman and CEO of Showtime Networks; Dan Rube, EVP & deputy general counsel at NBA; Heather Hutchinson, vice president and associate general counsel at Buzzfeed; and Kim Miale, NFL agent and general counsel at Roc Nation Sports and EASL Advisory Board member.
"Creating a meaningful link between students and industry leaders has always been, and will continue to be, an emphasis for our program," said EASL LL.M. director Greg Levy. "Virtual meetings have enhanced our ability to create these connections and draw from a wider pool of professionals. Not only do students benefit from hearing how these lawyers and executives got to where they are, but students also have an opportunity to develop relevant skills and showcase their abilities through our workshop sessions."
The program's extracurricular requirements also include substantive weekly workshops, tutorials held with industry-leading attorneys, who lead students through interactive sessions on pressing topics like public relations, international sports arbitration, First Amendment considerations in content creation, leadership, and the intersection between public relations and legal and managing a crisis. Students are also given the unique opportunity to make site visits, including to Hard Rock Stadium, home of the Miami Dolphins, and meet with legal counsel.
The award-winning Entertainment, Arts and Sports Law program is available only at Miami Law and is taught by prominent faculty and practicing attorneys. Students take courses in legal subject areas that lie at the forefront of these industries. The program's emphasis on hands-on, practical learning teaches skills that can make all the difference in helping attorneys land industry positions in what has become an ultra-competitive job market.
The LL.M. Guide, the premier website with information on worldwide LL.M. programs, holds Miami Law's Entertainment, Arts and Sports Law Program in high regard, with the following accolades:
2021 Top LL.M. Programs By Specialty in Sports Law and Media/Entertainment Law
2020 Top 10 in Entertainment/Media Law
Top 10 in 2020 and #1 most popular overall for the sports law track
2019 Top 10 in Entertainment/Media Law
#2 most popular Entertainment/Media Graduate Program in the U.S.
Billboard Magazine has also noted Miami Law's status as a leading school in the nation for music law programs in 2019 and 2017. The top music industry lawyers list includes Miami Law alumni Horacio Gutierrez of Spotify, Leslie José Zigel of Greenspoon Marder, and Simran Singh of Singh, Singh & Trauben.
Fall 2021 Speaker lineup:
● Evan Green, J.D./LL.M. '17, director of arbitration in the baseball division at Creative Arts Agency
● Gwen Marcus, previously EVP & GC, Showtime, distinguished practitioner and advisor, Entertainment Track, Entertainment, Arts and Sports Law LL.M.
● Jessica Lee, chair, Privacy, Security & Data Innovations, Loeb & Loeb
● Heather Hutchinson, vice president & associate general counsel, Buzzfeed
● Jonathan Anschell, executive vice president and Chief Legal Officer, Mattel, Inc.
● Dan Rube, EVP & deputy general counsel at NBA
● Matt Blank, interim CEO, AMC, former CEO & chairman, Showtime
● Joe Pierce, senior vice president & general counsel, AMB Sports + Entertainment
● Brandon Briggs, deputy general counsel, Inter Miami CF
● Kim Miale, NFL agent and general counsel, Roc Nation Sports and EASL Advisory Board member
Fall 2021 Tutorial Participants:
● Marc Trestman, former NFL and CFL head coach, lawyer and EASL adjunct faculty member
● Ricardo de Buen, managing partner, De Buen Law & Fabiola Moya, corporate counsel, CONCACAF
● Howard Bragman, founder & CEO, La Brea Media
● Liz MacNamara, partner, Davis Wright Tremaine LLP &
● Rachel Storm, partner, Davis Wright Tremaine LLP
● Carol Kaplan, partner, Loeb & Loeb & David Manella, entertainment attorney, Loeb & Loeb
● Myles Pistorius, senior vice president and general counsel, Miami Dolphins and Hard Rock Stadium
● Fabiola Moya, corporate counsel, CONCACAF
Read more about Miami Law's Entertainment, Arts & Sports Law LL.M. Program