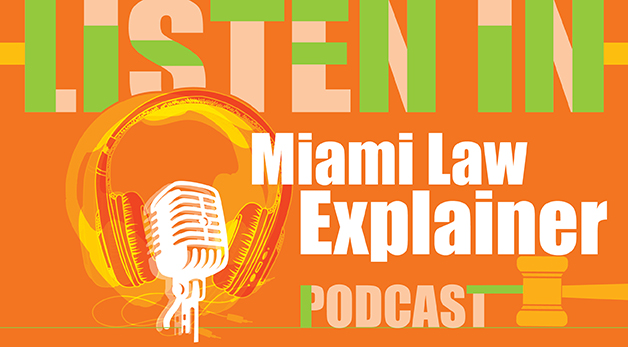 The Miami Law Explainer delivered its 100th episode and closes season seven of the law school's popular podcast where expert faculty dive into the headlines. This season tackled health disparities and access to weatherization, innocence and child welfare reforms, and new rules for college athletes and the antitrust battle between Apple and Fortnite.
The show, with more than 33,000 worldwide listens, will be back in January with a new docket of drilling into captivating and curious news-making legal issues. In the meantime, 101 episodes are available to stream and binge, with our experts opining and explaining.
S7 E1 Combating Health Disparties Problems with access to healthcare abound throughout the United States and have been brought into sharper focus by the pandemic. Miami Law's Health Disparities Project Fredman Family Foundation Practitioner-in-Residence Dr. Timothy Loftus, and two of his students – Kristen Dagher and Lauren Jones – examine the roadblocks and the solutions to equal access to all. Recorded on August 18, 2021.
S7 E2 The Death of Innocence As the pandemic rages on, the dire situation in many prisons has bullied on unabated. Miami Law Innocence Clinic Director Craig Trocino and one of his students – Tori Simkovic – join the show to look behind the bars. Recorded on August 30, 2021.
S7 E3 Florida's Child Fails Florida's Department of Children and Families' mismanagement impacts tens of thousands of children under its supervision. Kele Stewart and Robert Latham of the Children and Youth Law Clinic shine the light. Recorded on September 14, 2021.
S7 E4 Linking Poverty and Climate Change Climate change amplifies the divide between the haves and have not and nowhere more in the U.S. than Miami. Join Miami Law's Practitioner-in-Residence at the Mysun Foundation Environmental Justice Clinic Abigail Fleming and clinic intern Kate Dremluk to drill into the core of the issues. Recorded September 30, 2021.
S7 E5 The Epic Conclusion to the Fortnite Antitrust Battle Royale A federal judge recently ruled in the antitrust case brought by Fortnite game maker Epic against financial rules with the Apple apps store. Antitrust expert and former attorney in the U.S. Department of Justice Antitrust Division John Newman picks up the controller. Recorded October 8, 2021.
S7 E6 Facing Change at the NCAAA Big changes have come to college sports as state laws and NCAA rule changes offer some new protections and financial opportunities for players. Greg Levy, Miami Law's director of the entertainment, arts, and sports law post-graduate program and executive producer of "The Leadership Gameplan" with former NFL coach Marc Trestman, keeps score. Recorded on October 8, 2021.
S7 E7 Who Cares About Ethical Sourcing? As the supply chain issues have rocked global trade, has ethical sourcing taken a hit? And do consumers care? Marcia Nadine Weldon, faculty coordinator for the Business Compliance and Sustainability Concentration at Miami Law talks chains and sourcing on today's show. Recorded on November 10, 2021.
S7 E8 Feeling Freedom Last month, Miami Law's Innocence Clinic Director secured the release of his wrongfully convicted client after serving seven years of a twenty-year sentence. Craig Trocino peels back the difficult process. Recorded on November 18, 2021.
Listen to the Miami Law Explainer on most podcasting platforms, including SoundCloud, iTunes, Spotify, and Stitcher.