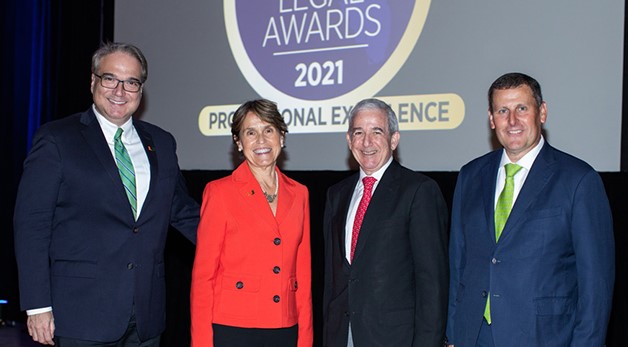 At the Awards Ceremony L to R: Miami Law Dean Anthony E. Varona and  Associate Dean Raquel Matas, Ken Hoffman, J.D. '83, and Bill Carter, CEO of ALM Media.
Of all the attorneys recognized in the Daily Business Review's 2021 Florida Legal Awards, twenty-four are Miami Law alumni or faculty. The respected publication from ALM Media reports on the latest trends to professionals in the legal, financial services, benefits, consulting, property and casualty insurance, and real estate industries. The honorees were celebrated at the publication's annual awards event, held in-person on May 19, 2021 at the JW Marriott Marquis in Miami.
According to the event program, The Florida Legal Awards recognizes distinguished members of the Florida legal community and "some of the state's greatest attorneys and firms, along with the rising stars of the industry."
Lifetime Achievement to Larry Hoffman, J.D. '54
The event honored Larry J. Hoffman with its lifetime achievment award. Hoffman is the founding chairman of Greenberg Traurig, one of the largest law firms in the world. The firm credits him with strategically directing "the firm's growth from a local law firm into the international firm that now ranks among the leaders in the legal marketplace." The ceremony honored Hoffman with a tribute video. A dedicated Miami Law alumnus, Hoffman has contributed to Miami Law in numerous ways including the The Larry Hoffman Greenberg Traurig Business of Law Chair now held by Professor Michele DeStefano and the Hoffman Forum to name a few.
List of All Miami Law Daily Business Review 2021 Honorees:
Lifetime Achievement
Larry J. Hoffman, Greenberg Traurig, J.D. '54
Distinguished Leaders
Susan Eisenberg, Cozen O'Connor, J.D. '86
Ira Coleman, McDermott Will & Emery, LL.M. in Tax '87
Best Mentors
David Spector, Holland & Knight, J.D. '96
Michael Haggard, the Haggard Law Firm, J.D. '95
Mitchell Panter, Panter, Panter & Sampedro, J.D. '86
Sarah B. Herald, Bilzin Sumberg, J.D. '79
Diversity and Inclusion: Individual
Tiffani Lee, Holland & Knight, J.D. '97
Anthony "Tony" Upshaw, McDermott Will & Emery, J.D. '90
Yolanda Strader, Carlton Fields, J.D. '09
Innovators
Mildred Gomez, Bilzin Sumberg's COVID-19 Taskforce, LL.M. in Estate Planning '13
Sara B. Herald, Bilzin Sumberg's COVID-19 Taskforce, J.D. '79
Jose Sariego, Bilzin Sumberg's COVID-19 Taskforce and Adjunct Faculty, Miami Law Entertainment, Arts and Sports Law LL.M.
Real Estate Transactions
Nancy Lash, Co-Chair of the Miami Real Estate Practice at Greenberg Traurig and Adjunct Faculty, Miami Law Real Property Development LL.M.
On the Rise
Marianne Curtis, Berger Singerman, J.D. '11
Eva M. Spahn, Greenberg Traurig, J.D. '11
Elena Otero, Holland & Knight, J.D. '08
Olivia Kelman, K&L Gates, J.D. '13
Michael Levine, Stewart Tilghman Fox Bianchi & Cain, J.D. '13
Maia Aron, Mark Migdal & Hayden, J.D. '05
Steven Appelbaum, Saul Ewing Arnstein & Lehr, J.D. '09
Social Impact
Melanie Damian of Damian & Valori | Culmo Trial Attorneys, J.D. '96
Unsung Heroes
Raquel Matas, Associate Dean for Administration; Counsel to the Dean; Acting Director, Robert Traurig-Greenberg Traurig LL.M. in Real Property Development & Lecturer in Law, University of Miami School of Law
Maria Sampedro-Iglesia, MAZE Resolutions, J.D. '88
This acknowledgement of Miami Law alumni and faculty comes on the footsteps of the school's recognition as a top 15 school for alumni recognized as Super Lawyers.
See the full list of honorees
See photos from the event
Watch tribute video to Larry Hoffman
More on Miami Law's accomplished alumni