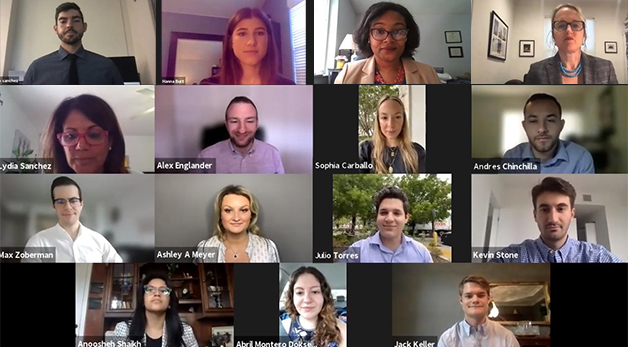 Litigation Students with Prof. Tamara Lave and Lydia Sanchez
Miami Law's Litigation Skills Program recently awarded nine scholarships to several students who distinguished themselves this past semester with their hard work and trial advocacy skills.
Maxwell Zoberman and Ashley Meyer accepted two of the awards given to students enrolled in the semester-long Litigation Skills I course. They both received the Director's Book Award for Excellence in Litigation Skills, which is awarded each semester to the top performing students for their excellence in trial advocacy.
Zoberman also received the Thomas Ewald Memorial Award, given to a student who best exemplifies the devotion to high standards and ethical conduct followed by Thomas Ewald. This award comes with a Montblanc pen – an homage to the late Ewald, the Miami Law trial advocacy professor who was known to carry the pen in his shirt pocket. Meyer also received the Hon. Stanford Blake Award. This is a $500 cash prize given to a 2L or 3L who has excelled in Trial Skills.
Sophia Carballo was awarded the $1,000 American Board of Trial Advocates Award given annually by ABOTA to the student who best exemplifies ABOTA 's commitment to the Seventh Amendment right to trial by jury and to upholding the highest levels of civility, integrity, and professionalism of the bar.
Kevin Stone and Anoosheh Shaik both received the John F. Evans Memorial Scholarship in the amount of $2,000. This scholarship was established in 1989 in memory of John F. Evans, a criminal defense attorney, former deputy chief of the U.S. State Department's Miami Strike Force, and founding partner of the law firm of Zuckerman, Spaeder, Taylor, and Evans.

Andres Chinchilla and Julio Torres each received the Marco A. Vazquez Memorial Scholarship in the amount of $5,000. This scholarship was established in 1996 in memory of a former Miami Law and Litigation Skills Program graduate.
Kadian Crawford was awarded the Kozyak Tropin & Throckmorton Scholarship. Established in 1995 by one of Miami's leading law firms, it is awarded to a minority law student who has completed Litigation Skills and has expressed an interest in trial advocacy.
John Keller was awarded the Litigation Skills Adjunct Faculty Scholarship in the amount of $2,000. It is awarded to a second- or third-year student who has demonstrated excellence in advocacy, professionalism, and civility in the Lit Skills I class, and has demonstrated financial need.
Abril Montero Dokser received the Honorable Theodore Klein Endowed Scholarship in the amount of $3,500. This scholarship was established in 2006 in memory of a former Litigation Skills Faculty member, Law Professor and U. S. Magistrate Judge who was recognized as a leader among his peers.
Alex Englander, Hanna Burt, and Mario Sanchez were also awarded the Director's Book Award.
Read more about the Litigation Skills Program at Miami Law.
More on Litigation, Arbitration and Dispute Resolution at Miami Law