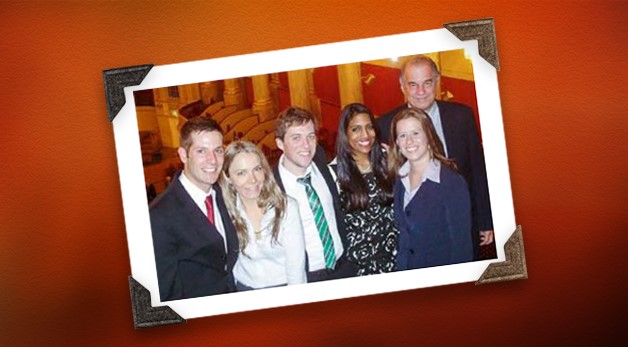 Pictured L to R: the 2009 Miami Law Vis Moot team with Diogo Pereira, J.D. '10, Anna Tumpovskiy, International Arbitration LL.M. '10, Kevin Huber, J.D. '10, Rekha Rangachari, J.D. '10, Professor John Rooney, and Nyana Abreau Miller J.D. '10
---
From February 2021 Newsletter, made available with permission of ArbitralWomen.
ArbitralWomen Board Member Cherine Foty recently had the opportunity to interview Rekha Rangachari, ArbitralWomen Board Member and Executive Director of the New York International Arbitration Center. The interview covered Rekha's myriad activities which she undertakes under the many different hats she wears. In addition to being the Executive Director of a major arbitral organisation/hearing centre, Rekha is actively involved in the leadership of many distinguished dispute resolution organisations. She is a pioneer for promoting diversity and equal representation for women in the field of alternative dispute resolution in New York, the United States, and internationally. 
Before we speak about your career at the New York International Arbitration Center, can you tell our readers how your career in international dispute resolution began?
Like many, it was a path that materialised in real time. As a student at the University of Miami School of Law, I was eager to involve myself in the international offerings of a port of call city to Latin America, and fortuitous as my tenure overlapped with the founding of its International Arbitration Institute. I had the privilege to be ensconced in my international arbitration coursework while learning from global thought leaders, in parallel with donning the badge of a Vis Mootie for two years (first substance, then jurisdiction). I was enthralled. After internships in Rotterdam and Brussels with key practitioners sharpening my skills, I began my institutional trajectory at the ICDR, then to the AAA, and most recently to NYIAC.
You worked for several years at the International Centre for Dispute Resolution and thereafter at the American Arbitration Association before becoming the Executive Director of the New York Arbitration Center. Can you tell our readers about your experience in domestic and international arbitral institutions/organisations and how you came into the role of Executive Director of NYIAC?
Where you work defines your vantage point. For me, this was a deep dive into the ways and means in which arbitral institutions operate, advance, and evolve. When I started at the ICDR, what struck me immediately was the breadth and diversity of my colleagues, not only multilingual and carrying several degrees across jurisdictions (what I would later learn is not uncommon) but also anchored in different stages of their careers. Together, we dove into issues surrounding access to emergency and interim relief in arbitration, before procedural rules revisions successively percolated through arbitral institutions. We spent time poring over arbitrator qualifications to create arbitrator lists, mindful of the parties' jurisdictional, linguistic, and subject-matter expertise requests. Consolidation and joinder were also top considerations, with parallel filings reflecting similar global parties engaged across proceedings. Shifting to a domestic lens at the AAA, I focused on the growth of the New York commercial caseload. I sought to understand the age-old divide between litigation and arbitration, but also why stakeholders selected one as opposed to the other based on business model, risk appetite, and any unpleasant experience(s).
What does a typical day as Executive Director of the New York Arbitration Center look like?
I'm pleased to say there's no typical day in most of our careers, including in the work of a small business leader. On any day, I don several hats, e.g., NYIAC press officer, strategic advisor, historian, venue manager, head of global events, web developer, custodian of documents, and the list goes on. When colleagues ask to be redirected to another department, I reply with equal humour and zeal (after a pause, of course), "It's me, Rekha. How can I help?" My work streams involve deliberate practice — outlining policies and discussions ripe for Executive Committee and Board engagement, responding to member and public queries on substance and administration, exploring global collaborations through activities, events, and trainings, and speaking and writing on topics surrounding new developments, best practices, and New York as a central hub (i.e., choice of law, seat, and venue). In sum, many in the community have told me that I have become synonymous with NYIAC, NYIAC is me — a merged identity that defines each day.
In 2019, you were on the organising committee of the inaugural New York Arbitration Week. How did the idea for New York Arbitration Week come about and what were the important components of the programming for week? Please also talk about the challenges of organising the second New York Arbitration Week as a virtual event.
Global arbitration days and weeks have become a trend and thankfully so – a genuine opportunity to come together as a community to debate hot topics, review and evaluate updated rules, procedures, and jurisprudence, and network. New York benefits from being at the heart of international practice, with headquarters and offices of the leading law firms, arbitral institutions, and organisations. It has been my great pleasure for NYIAC to be at the epicentre, together with the Chartered Institute of Arbitrators (CIArb) New York Branch. The goal is to marry substantive sessions with organic networking, be it in person, remote, or hybrid.
In 2019, we held our first dedicated week, with the press and panache that goes alongside it. Critical topics included key developments regarding diversity, inclusion, unconscious bias, and intersectionality (for which Young ArbitralWomen Practitioners held a lead role), the launches of the Restatement of the Law (Third) of International Commercial and Investor-State Arbitration and the ICCA-City Bar-CPR Protocol on Cybersecurity in International Arbitration, with transparency, contract interpretation, and economic issues in international arbitration covered at the Fordham Conference.
Broadcasting remotely for New York Arbitration Week 2020, we embraced our global community in technicolour online and it was phenomenal — with more than 1,000 unique attendees over 18 sessions, hailing from 100 countries! We zeroed in on variety, from substantive dialogue on non-signatories and mixed-mode dispute resolution to a mock U.S. Supreme Court argument on whether discovery applies under a U.S. federal statute to private international commercial arbitrations. In parallel, we opened the door to candid conversations and urgent concerns during the ArbitralWomen and Young International Arbitration Practitioners of New York keynotes and networking sessions on breaking into the proverbial arbitration club, pivoting to do what you need to for your personal and professional growth, and getting through the current financial crisis and pandemic (with sanity intact). Planning events on a global scale is never easy but can be truly gratifying when you have the opportunity to work with a blue-ribbon team — from Co-Chairs Stephanie Cohen and Jeffrey Rosenthal, to our Organising Committee, to FTI Consulting who managed our online platform. But the unsung heroes of any event are the delegates who carve out time and, in this instance, click 'Join Meeting'.
You joined the Board of Directors of ArbitralWomen in June 2020. What motivated you to run for election as a board member and what has been your role on the board? How were your first six months as ArbitralWomen board director, especially in the time of COVID-19?
I come from a strong line of leading women. My maternal grandmother was a born entrepreneur, opening a successful cooking school and eatery in South India at a time when it was uncommon for women to work outside the home. My mother left the comforts of life in that city after medical school, traveling 13,000 kilometres to the US with my father to begin life anew, with few contacts and limited funds. My sister and I were raised with the mentality that the world is our oyster – to dream big, to capitalise on the privileges we were afforded, and to be both fierce and kind as we paved our route forward. These are reasons why I joined ArbitralWomen as a member.
Fast forward to 2018, when I had the great honour to co-chair the 25th Anniversary Diversity Dividend Jubilee Conference with President Dana MacGrath, complete with an all-access pass to meet ArbitralWomen's leadership. At that Conference, we launched the bespoke Diversity Toolkit Training, which has become an engagement point that I continue to hold dear as I speak with stakeholders. What that Conference reaffirmed in my mind's eye is the power of ArbitralWomen and its crucial platform – trailblazing conversations on diversity, gender equality and parity, bias, and intersectionality, all while advancing the interests of female practitioners and promoting women and diversity in international arbitration. There are many ways to shift the paradigm and ArbitralWomen got the recipe spot on through methodical processes, community support, and necessary allies. It is truly reaffirming to be picked by one's global peers. I owe a debt of gratitude to my colleagues and friends for giving me the chance to contribute.
Shifting in real time to remote working was not without its aches and pains. But we did it then and continue to thrive now. Supporting an organisation like ArbitralWomen through the pandemic has reinforced the need — to be mindful of the varying pressures on women across distinct jurisdictions and to turn the volume up on these perspectives, personalities, and cultural mores that syncopate a given region. Through curated break-out sessions and events, we create moments ripe for cultural awakening and connectivity and thereby build respect, appreciation, and cognition — foundational elements of a bridge that endures.
You previously served on the Diversity Committee of the American Arbitration Association spearheading initiatives for greater cross-cultural representation and collaboration, you organised a highly successful Diversity Challenge event and Colloquy on Diversity and Perseverance at the first and second New York Arbitration Weeks, you are involved in the Diversity Toolkit Committee of ArbitralWomen, and you most recently launched a new organisation R.E.A.L. – Racial Equality for Arbitration Lawyers of which you are Co-Chair. Please share your thoughts on the importance of diversity in the field of international arbitration and your thoughts on intersectionality.
Diversity and inclusion are a dynamic pair that now have ready recall in most circles. What does it mean in practice? Put another way, how do we, as ArbitralWomen Founder Mirèze Philippe reminds us, Walk the Talk? We begin with our individual access points. As Director at the AAA-ICDR in New York, one of my work streams was strategising how to expand the pool of diverse mediators and arbitrators – to ensure the New York commercial rosters reflected the sum of talented practitioners. I met with leaders of affinity bar associations and organisations, to better understand the leaky pipeline and identify practitioners at two stages of their careers: to begin a trajectory into dispute resolution through the Higginbotham Fellows Program or to apply to the AAA-ICDR as a neutral.
As Executive Director at NYIAC, I co-lead an international organisation. In my "empire state of mind" amidst the bright "lights that will inspire you", diversity plays an important role because one of my work streams is member and public engagement. I spend considerable time meeting with diverse delegates and students, e.g., recently relocated for a master's programme, visiting for Working Group Sessions at the United Nations Headquarters in New York (where NYIAC has observer status), or passing by on business trips. I like to believe NYIAC is the central entrepôt for any stakeholder in international arbitration in New York, and through these one-off coffee connections, I build momentum for change. Both at the AAAICDR and NYIAC, it has been a luxury to work with exceptional leaders in our field who gave me the freedom to dance, and in turn, embrace others to hear my music.
Moreover, recent events in the US have caused me to reflect on our practice and recognise the lack of intersectional diversity in what should be a truly international practice. This is the genesis of a new arbitral organisation and non-profit incorporated in New York, titled Racial Equality for Arbitration Lawyers (REAL), where I serve as co-chair (buttressed by a phenomenal cohort of leaders within our Steering Committee, Ambassadors, Partner Organisations (which include ArbitralWomen), Members and Allies). REAL seeks to promote racial justice through inclusion, anchored in twin goals of "access" for everyone and "advocacy" for those who may not have a voice. Please consider joining REAL and broadening our dialogue and action. (There is no sign-up fee.)
You are also involved in a number of other organisations on the city, state, national, and international level. The list of the organisations in which you hold board, chair, or other leadership positions is extensive and includes committees of the New York State Bar Association (NYSBA), the American Society of International Law (ASIL), the American Bar Association (ABA), amongst many others. Please tell us about your choice to be involved in so many organisations and why you focus your efforts not only on the local level, but also the national and international level.
Several years prior, I was a classical Indian dancer by training. I learned readily then how much I enjoyed chasseing between principal roles and the company core, and I bring that same spirit to the committees and organisations I lead. The hope as in my dancing days is to create strong, clean lines from one organisation to the next, as we collectively build a better process — reflective of developments in one that can be shared in the next. Far too often, with the best of intentions to define a space, we wave our organisational flag with fervour. We strive to be the organiser and not the supporting entity. Just maybe, we gain similarly from either role, bringing a larger share of players to the table. We can then focus on fewer but better substantive programmes that achieve clearly defined goals and capitalise on important perspectives to spur dialogue, scholarship, and action. I strive to do this across committees and organisations, and readily welcome your collaboration. Feel free to drop me an email.
As you are well aware, the underrepresentation of women and minorities in arbitration remains a dire problem. Given your role as the executive director of an arbitral organisation/hearing centre, what is your advice to women and other underrepresented minorities to improve their exposure and gain the confidence of counsel, parties, and institutions to be appointed as an arbitrator?
I'll borrow here from Winston Churchill: 'Success is not final, failure is not fatal: it is the courage to continue that counts'. Trust your gut and do not be afraid to take sharp turns in your career. Although you cannot always be sure of the myriad on-and-off ramp access points, there are good skills, experiences, and people to discover at every juncture. As you expand your practice:
a. Recognise that there are systemic issues with gender, race, and other forms of representation;
b. Seek mentors and advisors who will act as sponsors and champions for you;
c. Join institutions like ArbitralWomen and REAL that strive to be part of the solution; and
d. Give opportunities to others whenever you have a chance.
I'll close with Ruth Bader Ginsburg: 'Fight for the things that you care about. But do it in a way that will lead others to join you'. Dear friends, build with courage, conviction, and kindness.
More on international arbitration at Miami Law