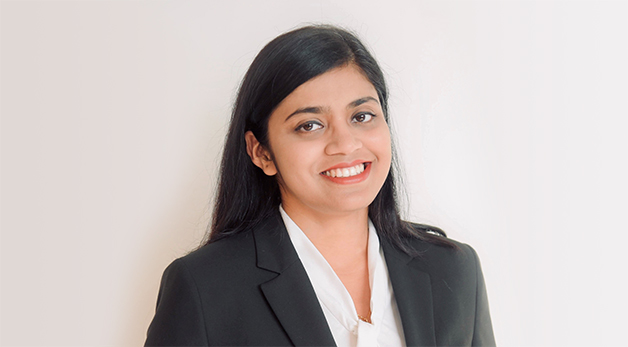 Somya Priyadarshini, LL.M. '19
Name: Somya Priyadarshini
Country of Origin: India
Year of LL.M.: 2019
Law School(s) attended: Chanakya National Law University, India (B.A.LL.B (hons.), 2010-2015); University of Miami School of Law, USA (International Arbitration LL.M, 2018-2019)
Language(s): English, Hindi
Current Position: Senior Associate, MRP Advisory, Dubai, United Arab Emirates
Relevant past position(s): Law Clerk, Siegfried Rivera, Coral Gables, USA; Associate, Chambers of Ratan K. Singh (Founder & Chairman, Society of Construction Law, UK), New Delhi, India
Awards, Honors, Publications: Edited chapters of "Florida Construction Law Supplement 2020" by Steven Siegfried
What Are Your Current Position, Title, and Day-to-Day Tasks?
I am a Senior Associate with MRP Advisory. We are a boutique law firm based out of the United Arab Emirates offering specialized legal solutions for construction, infrastructure and engineering related disputes and handles arbitrations under various institutional rules.
My day-to-day tasks include replying to emails of clients, arbitrators, ICC and other institutions; researching and drafting pleadings for submissions; and attending client meetings.
How Did Your LL.M. Studies Help You Build a Successful Career in the Field?
There were umpteen networking opportunities on and off campus which provided you an excellent platform to introduce yourself to the arbitration community. These events help you connect with more and more people who are relevant to your profession and bring you closer to potential opportunities.
The best part about the International Arbitration LL.M was the amazing faculty who were always there to guide us. For me, Professor John H. Rooney, Jr. and Sandra Friedrich were my constant support.
The practical skills courses like 'Forensics of Advocacy in International Arbitration' was a one-of-a-kind course where we worked in groups on actual decided arbitration matters like a mock court set up. It taught us the practical implications of the international arbitration principles, rules and standards which I find helpful in my present role.
What Was the Most Impactful Experience During your Studies at Miami Law?
The International Arbitration LL.M. Practicum was another feature of this hands-on LL.M Program and I was fortunate enough to get placed for a practicum with Siegfried Rivera, one of the oldest law firm in Florida specializing in construction disputes. Through this practicum, I was able to secure a long-term position with Siegfried Rivera for my post-graduation Optional Practical Training (OPT) period, which gave me first-hand experience on handling complicated international disputes, particularly construction matters.
The International Arbitration LL.M provided with an amazing opportunity to network with expert practitioners from all over the world, as I attended the ICC Miami Conference on International Arbitration in 2018 and 2019, as well as the AAA-ICDR Construction Conference, Miami.
What Advice Would You Give an Incoming LL.M. Student on How to Make the Most of Their LL.M.?
I would suggest attending all the international arbitration lecture events and luncheons where you get to meet so many alumni whose experience can always be guiding. The arbitration organizations in Miami are the best place to interact with the established arbitration practitioners who can guide your career and be resourceful.
Additionally, make sure to attend additional networking events, which the University organizes time and again. The International Arbitration LL.M Practicum and the International Moot Court Program are assets of this LL.M program that you should definitely take advantage of. Being a practitioner, I can tell that these programs help you develop your skills in the longer run.
How Has the Graduate Experience Impacted Your Current Work?
When I was pursuing my LL.M, my fellow classmates came from 25+ countries around the globe and that was the kind of exposure that Miami Law provides. I am thankful for this platform as I made so many friends, learnt about new cultures and the practice of law in so many different jurisdictions. I am still in touch with so many of my batchmates from the LL.M.
The faculty for this LL.M. was one of the prime reasons why I decided to go to Miami Law and it did prove right. Getting the opportunity to learn from the who's who of the international arbitration world was priceless and it gave me a better insight about the subject matter.
I am happy and proud to be still in connection with some of my faculty members who became my mentors.
Other Comments?
The LL.M provides an array of varied and interesting optional subjects which helps you explore more about the course and your interest.
Read more about Miami Law's International Arbitration LL.M. Program