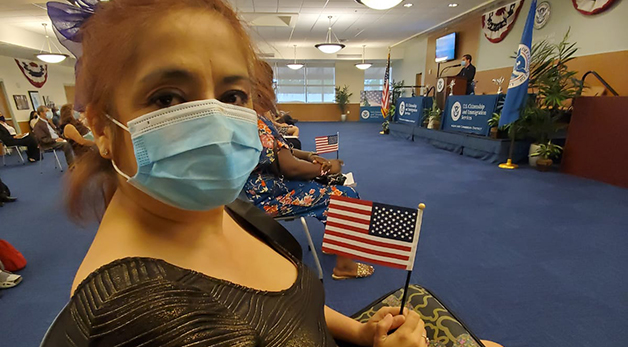 Client Rocio Cabrejos being sworn in as a U.S. citizen
Even though Rocio Cabrejos survived brain cancer twice, endured two rounds of brain surgery and other intensive treatments, the United States Citizenship and Immigration Services twice wrongfully denied the 54-year-old mother the medical certification for a disability exception for her citizenship exam. Enter Miami Law's Health Rights Clinic.
The surgeries had left the Peruvian native with a large cavity in her skull and a piece of her brain missing. The effects of Cabrejos' illness and treatment left her with severe memory issues. On top of that, Cabrejos was diagnosed with post-traumatic stress disorder due to her being a victim of the 2017 Fort Lauderdale-Hollywood International Airport shooting.
Three licensed physicians, including a Sylvester Comprehensive Cancer Center neuro-oncologist and University of Miami Miller School of Medicine forensic psychiatry fellow, determined that Cabrejos' medical condition and disability prevented her from "demonstrating the ability to: (1) read English, (2) write English, (3) speak English and (4) answer question regarding United States history and civics, even in a language the applicant understands..." according to agency's disability exception rule.
However, USCIS denied her a disability exception on two occasions, requiring her to proceed through two naturalization interviews, rejecting at her application at both.
Valuable learning opportunity for students
"This clinical experience is unique because of the medical-legal partnership with the University of Miami School of Law and the University of Miami Miller School of Medicine," said second-year law student Mathew Renik, who worked on the case. "Law students and lawyers work very closely with experts. Without experts, it would be hard to get the necessary evidence that is needed to support your clients' position.
"Because of our partnership with Miller, I had access to world-renowned medical experts. This partnership has given me the ability to start working with experts, a necessary skill any attorney needs. I believe that the key to our success with the Cabrejos case was my strategic use of medical experts. Their medical opinions, as well supporting declarations as to the conditions of Cabrejos' health and abilities on the naturalization process were extremely helpful."
Renik spent close to 300 hours on Cabrejos' case. After USCIS wrongfully denied Cabrejos' disability exception, Renik petitioned for a "Hearing on a Decision in Naturalization Proceeding." To support his position, Renik filed an appellate brief accompanied by hundreds of pages of evidence, including medical records, and peer-reviewed medical journal articles. Renik sourced medical evidence from two physicians, including a disability application prepared by Dr. Julie Guzzardi, the Health Rights Clinic forensic psychiatry fellow.
Renik successfully advocated for his client's position at the hearing, earning his client the disability exception to which she was entitled. Two days later, Renik's client was scheduled for her Oath of Allegiance, bringing her year-long fight for citizenship to an end. On April 2, 20214, Cabrejos took the oath and was officially naturalized.
"Everything I worked on at the Health Rights Clinic was real," Renik said. "I had real clients, with real legal problems, and every decision I made had real-life consequences. While the thought of that was scary at first, I will say that having the ability to work with clients and positively impact their life has been very rewarding. I had the ability to develop and transform my case from just building blocks of facts to a successful legal theory. After developing a theory of the case that I was satisfied with, I had the opportunity to present it to an adjudicator and to all our delight, I won. It was an amazing feeling. At the Health Rights Clinic, I have had the chance to accomplish things that I otherwise would not have been able to until I was a licensed attorney."
Law students in the clinic function as the client's primary advocate and conduct client intakes/ interviews, conduct legal research, file legal pleadings and legal documents, develop case strategies and theories, and provide representation in administrative hearings and court.
"Matt spent countless hours preparing this case and did an extraordinary job arguing this difficult case before the USCIS hearing officer," said Associate Clinic Director Melissa Swain. "He can now carry the skills he gained during this case to the rest of his legal career. Great job, Matt!"
The Health Rights Clinic is a medical-legal partnership operated in collaboration with the school of medicine. Students participating in the clinic represent multiple clients in different legal matters related to health. Under Director JoNel Newman and Swain's guidance, clinic students spend the academic year representing low-income patients of the Comprehensive AIDS Program, Sylvester Comprehensive Cancer Center, Batchelor Children's Research Institute, Mailman Center for Child Development, Jackson Hospital and other medical partners.
"As a second-year law student, my clinical experience has been invaluable," said Renik. "The legal and professional skills that I have developed are not just great resume boosters and interview topics, they are skills that I will continue to use and develop as I navigate the legal world as a young attorney. It is amazing to say that as a 2L, I represented and advocated for a client in a real word legal proceeding. I am grateful that I had the opportunity to conduct my first hearing and earn my first win with the Health Rights Clinic."
Cabrejos, now enjoying full citizenship, could not have done it without Renik and Miami Law.
"I am so happy how the student was able to win my case," said Cabrejos. "The student prepared me every day, and emotionally, I am doing so much better since the clinic came into my life. I am so grateful."
Read more about Miami Law's Health Rights Clinic