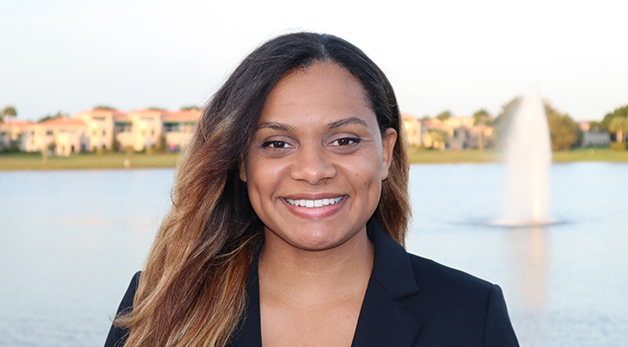 Jordan Rhodes, 3L
Jordan Rhodes's third year at Miami Law was far outside the usual experience. While she served as president of the Student Bar Association and the student trustee for the University of Miami Board of Trustees, both the pandemic and the death of George Floyd changed the trajectory of her path.
Since being elected to serve as SBA president in March 2020, Rhodes utilized her role to increase conversations around racial equity and improve diversity within the law school and beyond.
After the police killing of Floyd and the subsequent protests that took place over the summer, Miami Law's Dean and M. Minnette Massey Professor of Law Anthony E. Varona invited Rhodes to speak at a virtual teach-in, which engaged more than 1,100 registered attendees from across the country. Rhodes discussed her experience as a Black woman in the United States and as a law student with hopes of joining a profession in which only 2% of attorneys are Black women.
Rhodes also worked with Professor Kele Stewart, Miami Law's dean of experiential learning, to organize and moderate a virtual panel of prominent social advocacy workers in Miami Dade. The panel's purpose was to expose clinical law students to the importance of cultural awareness and empathy, primarily when representing clients with different backgrounds and cultures than their own.
Also, Rhodes addressed the law faculty about cultural sensitivity in the classroom and helped organize implicit bias training for all student leaders at Miami Law. Partnering with an undergraduate group of diverse pre-law students, she helped organize mentoring opportunities between minority undergraduate students and law students.
She collaborated with the Multicultural Student Affairs Office to participate in a Brave Spaces Panel entitled "Processing the 2020 Election," which took place the day after the presidential election. She also organized an event to unveil a new art piece honoring Black legal history in the United States and South Florida area, commissioning the young Black artist Sydney Maubert to create the acrylic on canvas painting, "On the Shoulders of Giants," which hangs in the Jaret L. Davis BLSA Racial Justice Collaborative Workspace at the Donna E. Shalala Student Center.
Rhodes spent her last year writing an essay for submission to the University of Miami Law Review for its Special Issue of Caveat on systemic racial injustice in U.S. law and policy. Miami Law's Associate Dean for Diversity, Equity, and Community Osamudia James served as an advisor to Rhodes' essay, "The Uncomfortable Truth Behind the Business of College Sports: Striving for Antiracism in a Post COVID-19 World."
In 2017, Rhodes graduated summa cum laude from the University of Florida with a B.A. in political science, African American studies, and a minor in mass communications. In her time at Miami Law, she served as a member of the Society of Bar & Gavel, a community service and honor society. She maintained leadership positions in both the Black Law Student Association and OUTLaw. As a second-year student, Rhodes interned with the Children & Youth Law Clinic and served as a research fellow for the Cyber Civil Rights Practicum.
Next steps on West Coast at Major Los Angeles Law Firm
Social justice aside, Rhodes spent her rising third-year summer working remotely for the Los Angeles law firm of Pillsbury Winthrop while also taking a class and serving as a research assistant to Professor Andrew Elmore.
"I researched state and federal employment regulations that were drafted in response to the pandemic and wrote memos on how these new regulations provide the opportunity to advocate for greater protections for low-paid domestic and agricultural workers," Rhodes said.
She also took the class COVID-19: Lawyering in a Pandemic, taught by multiple faculty members. Every session focused on the various social impacts of COVID-19 from a legal perspective.
"These opportunities offered at Miami Law allowed me to continue my legal education and become knowledgeable in developing areas of the law," she said.
Rhodes is California-bound, having accepted an offer to join Pillsbury Winthrop, an international and full-service law firm focusing on the technology and media, energy, financial, and real estate and construction sectors. A native of South Florida, Rhodes said she was ready for new horizons. She will take the California Bar Exam in July of this summer.
"As a summer associate, Pillsbury Winthrop gave me the opportunity to work in various practice areas such as litigation, intellectual property, insurance, and employment," said Rhodes. "The diversity in the work I did last summer helped me find out which area of law most interests me. I am looking forward to moving to California and starting this new chapter of my life. However, I plan to stay connected to the Canes' Community and become a very involved Miami Law alumni!"
In her final weeks at Miami Law, the University of Miami's LGBTQ Student Center awarded Rhodes the Outstanding Graduate Student Award for her leadership on campus. She also received the Roger Sorino Award from the Society of Bar and Gavel, given each year to a graduating law student who best exemplifies leadership, dedication to the school, and service to the community.
"One of my greatest passions is being an advocate for others — it's one of the main reasons that I enrolled in law school," said Rhodes. "I came to Miami Law because I thought it was the best opportunity for me to not just learn the law, but to learn how to become an effective advocate and grow as an individual. In just three short years, I have gained knowledge of the law as well as an understanding of the many ways in which the law still needs to evolve and progress. I am so grateful to Miami Law for providing endless opportunities for me to learn new things, meet interesting people, and grow as a future young attorney."