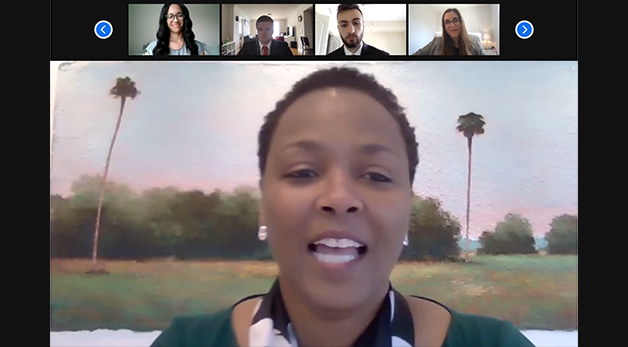 Tiffani Lee, J.D. '97, during the CEPS Lawyers in Leadership Award Presentation
Tiffani Lee, diversity partner at Holland & Knight and Miami Law alumna, was honored with the CEPS Lawyers in Leadership Award by the Center for Ethics and Public Service Legal Profession Program. The award honors members of the legal community who are exceptionally dedicated to public citizenship and leadership.
Lee, J.D. '97, was one of the founding fellows of the Center for Ethics and Public Service. She was also the Honor Council president and the writing and research editor of the University of Miami Law Review. Additionally, she was inducted into the Iron Arrow Honor Society, the highest possible honor at the University of Miami.
At Holland & Knight, Lee has spearheaded firmwide diversity initiatives and has also spoken out against the racial injustice plaguing our society today. In the wake of the George Floyd and Breonna Taylor killings, Lee authored "Lawyers Must Address Racial Injustice with Radical Candor," an article published in the legal trade publication, Law360. She also wrote a book chapter titled "A Racial Reckoning in the Midst of a Pandemic Accelerates Pursuit of Racial Equity" for the book Accelerating Trends in Law Firms, released in August of 2021.
Over 70 attendees — students, faculty, and community members alike — tuned into the award ceremony presented over Zoom. Professor Anthony Alfieri, Vice Dean Andrew Dawson, and Assistant Dean Marcelyn Cox introduced the esteemed Miami alumna and provided meaningful remarks on her lasting impression at the law school. The event itself consisted of a candid conversation on diversity in the legal profession and law school and was moderated by Legal Profession Program students Alexa Garcia, Luisa Paganini, and Stephanie Sanchez.
Lee joins a long list of prestigious Lawyers in Leadership Award recipients. Past honorees include Kathleen Williams, Carlos J. Martinez, the Florida Justice Institute, and the Honorable Jacqueline Becerra.