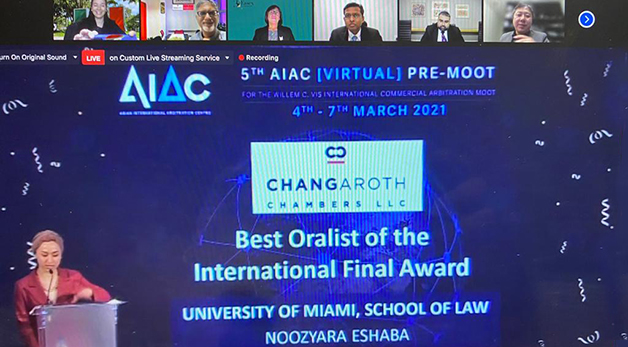 Miami Law student Noozyara Eschaba is announced as the winner for best oralist.
With an acumen in global and international law, it is no surprise Miami Law's international moot court team was declared winner of the fifth annual AIAC Pre-Moot, held virtually March 4 through 7, achieving the best overall score out of nearly 100 schools from around the world. Noozyara Eshaba — an LL.M. student at Miami Law's prestigious White & Case International Arbitration Program — was also recognized as Best Oralist after earning the most points for her performance.
Eshaba, along with teammates Dre Joseph, Emilio Rodriguez, David Berris, Maria Andreina Hernandez, and Blake Fezza, participated in the pre-moot through the International Moot Court Program, the only one of its kind in the United States that trains students in oral and written advocacy through global moot competitions.
Joseph, also an LL.M. student in International Arbitration, gave closing remarks at the awards ceremony on March 7. Paula Arias, director of the program and one of the team's coaches, along with Goel Damkani, also gave remarks congratulating all participants for their performance.
"The students impressed me during the four-day's pre-moot," said Arias. "Their desire to improve their arguments and their advocacy skills, despite the challenging time difference (13 hours with Malaysia), made the team stronger and led them to the championship. I am super proud of their growth, and I hope it translates to further success not only in the competition but in their careers."
Sponsored by the Malaysian-based Asian International Arbitration Centre – among the world's largest alternative dispute resolution institutions — AIAC Pre-Moot is one of the most prominent pre-moots for the Willem C. Vis International Commercial Arbitration Moot, itself the most prominent and most respected competition in the field. The fifth annual installment of the pre-moot was the first to be entirely virtual and the first to be sponsored by Miami Law.
Miami Law competes annually in the Vis Moot through the International Moot Court Program, often preparing through various pre-moots leading up to the final rounds in Vienna, Austria. Such "pre-competitions" serve as a clinical tool to train law students through two crucial phases: the writing of memorandums for claimant and respondent and the hearing of oral argument based upon the memorandums.
Miami Law has historically performed with distinction at the Vis Moot, which involves several hundred law schools and programs worldwide. As recently as 2019, the Miami Law "Vis team" achieved Best Oralist in the overall competition, testifying to the program's robust alumni base, as that year's team member, Irina Mocanu-Coman, participated in the AIAC Pre-Moot as a volunteer arbitrator, alongside Arias.
Read more about Miami Law's international moot court program.