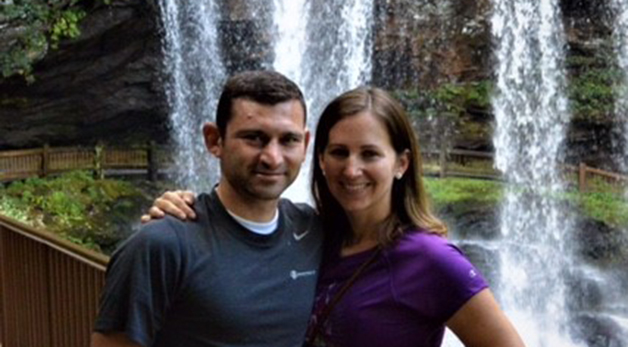 Craig Kronenthal, J.D. '09, and Sara Gonzalez-Rothi, J.D. '09
President Joe Biden recently named Sara Gonzalez-Rothi, J.D. '09, as the White House's first adviser focused solely on water.
Climate change and environmental justice will be a top priority for the Miami Law alumna, selected for an Everglades Foundation Congressional Fellowship by the UM Leonard and Jayne Abbess Center for Ecosystem Science and Policy during her time at Miami Law.
"Growing up in Florida, water and nature run through my veins," said Gonzalez-Rothi. "but until taking the maritime and environmental law courses at the University of Miami, I never imagined I could turn my passion into a career."
As Biden's senior director for water at the Council on Environmental Quality, the Gainesville, Florida, native is responsible for coordinating the administration's water policy.
Gonzalez-Rothi came to this role most recently having served as senior counsel on the Senate Committee on Commerce, Science, and Transportation, where she advised democratic members of the committee on issues related to the ocean and atmosphere, with a focus on the National Oceanic and Atmospheric Administration, including climate change, ocean acidification, drought, sea-level rise, coastal zone management, green infrastructure, offshore energy, weather satellites, marine protected areas, geoengineering, hurricanes, tornadoes, tsunamis, seismic exploration, appropriations, workforce issues, Great Lakes, marine sound, harmful algal blooms, and hypoxia.
Gonzalez-Rothi also previously served as a senior policy specialist for the National Wildlife Federation leading organizational policy development for coastal and floodplain ecosystem campaigns, including implementation of the RESTORE Act to increase ecological resilience of the Gulf of Mexico; restoration of the Mississippi River Delta; modernization of the National Flood Insurance Program and the Army Corps of Engineers Civil Works Program. While there, she contributed legal research for a brief to the United States Supreme Court in support of Florida state wetlands permitting requirements in Koontz v. St. Johns River Water Management District.
An Everglades Foundation Congressional Fellowship
Gonzalez-Rothi first landed on Capitol Hill as an Everglades fellow for U.S. Senator Bill Nelson and stayed on as a legislative counsel advising the senior Florida senator on environmental, energy, agriculture, and animal welfare. One of her most heralded accomplishments was negotiating and successfully shepherding the RESTORE Act through Senate passage with overwhelming bipartisan support from 76 U.S. Senators, conference committee negotiations, and final enactment as P.L. 112-141; and securing funding and authorizations for key Everglades Restoration projects.
The Everglades fellowship included a one-year placement in Washington, D.C., with a congressional committee or federal agency with jurisdiction over issues affecting the Everglades, receiving a $32,500 stipend for the year. The Abess Center placed the Miami Law student in the office of Florida Senator Bill Nelson with his deputy legislative director and key Everglades staffer Susie Perez-Quinn.
"It's a great opportunity for those selected because they are getting the opportunity to see how government works and how policy is made," said the late Miami Law Professor and Dean Emerita Mary Doyle, founding director of the Abess Center, at the time. "[Sara will] get to participate in policymaking that has a broad impact on not just the Everglades, but on all wetlands."
The Abess Center is a partnership with the Everglades Foundation, a not-for-profit organization dedicated to advancing an understanding of the greater Everglades ecosystem and its irreplaceable environmental and economic value.
"My fellowship year was really a capstone to the three law school years, transitioning what I learned academically into practice, coming most into focus during the Deepwater Horizon disaster," said Gonzalez-Rothi. "What I tell students, interns, fellows, and early career folks is to say 'yes!' even to non-traditional opportunities. My parents, my now-husband (also a Miami Law alumnus), and Professor Doyle encouraged me to pursue the fellowship — and they were right. Law school graduates often do a judicial clerkship or enter a firm right away, but following a different path opened a career I had never considered and have thoroughly enjoyed. I'm so thankful to U.M. for taking a chance on me."
Miami Law awarded Gonzalez-Rothi a Dean's Fellowship, covering her tuition for all three years. She says the award made it possible for her to attend law school, for which she is very grateful.
Gonzalez-Rothi lives on the Chesapeake Bay with her husband, Craig Kronenthal, J.D. '09, a patent attorney at Banner Witcoff in Washington, D.C.; two sons, Cole, 3, and C.J., two weeks, and a mixed breed black-and-white dog named Bo.
"It's fitting that the paper I wrote to complete one of my 3L seminars compared restoration of the Everglades to restoration of the Chesapeake Bay, and now I get to work on both," she said.