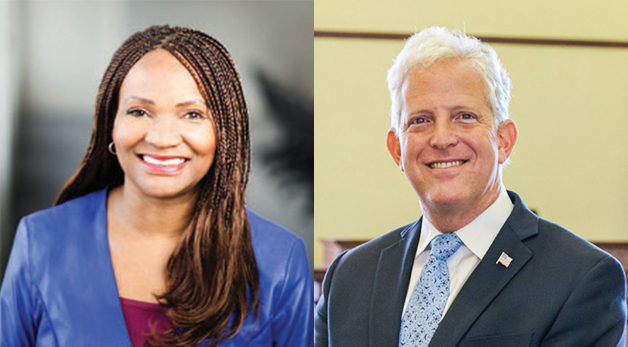 Deborah Enix-Ross, J.D. '81 & Gary Lesser, J.D. '92
Miami Law alumni continue to make their mark at the helms of the American Bar Association and The Florida Bar.
ABA President-Elect
Deborah Enix-Ross, J.D. '81, has been nominated to serve as president-elect of the American Bar Association, one of the world's largest voluntary professional organizations and the top legal organization with a stated duty to improve the profession. She will become ABA president in August 2022. During the virtual ABA 2021 Midyear Meeting, she delivered her remarks where she pledged a continued concentration on civics, civility, and collaboration in her role.
Enix-Ross is the third Miami Law alumna to lead the ABA – Carolyn Lamm, J.D. '73 was president in 2009-2010, and Hilarie Bass, J.D. '81, was the president in 2017-2018.
Enix-Ross served as the chair of the ABA's House of Delegates from 2016-18. She is the senior advisor to the International Dispute Resolution Group at Debevoise & Plimpton. She has served as the chair of the Business and Human Rights Project of the ABA Center for Human Rights and is a former chair of the ABA Section of International Law, where she was the Goal IX Officer and co-founded the Women`s Interest Network.
Alumni Front the Florida Bar
Longtime Florida Bar leader and West Palm Beach attorney Gary Lesser, J.D. '92, has been elected as President-elect Designate of The Florida Bar. Lesser will be sworn in as president-elect at the annual Florida Bar convention on June 11, 2021. With more than 103,000 members, The Florida Bar is one of the largest unified bars in the nation. It is charged by the Florida Supreme Court with regulating the practice of law in the state as well as promoting the administration of justice.
Other Miami Law alumni who have led the Florida Bar include Michael J. Higer, J.D. '85, and Edith Osman, J.D. '83.