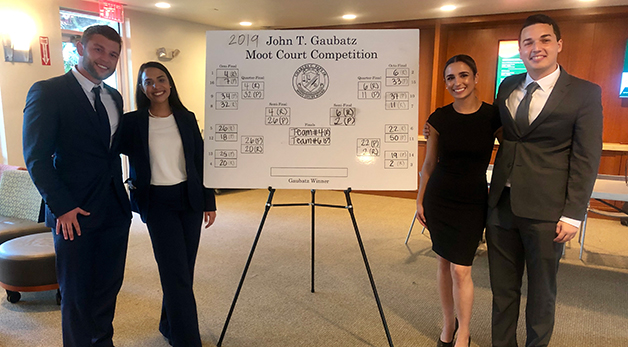 Miami Law's Charles C. Papy, Jr. Moot Court Board was ranked 21st in the nation for the 2020-2021 academic year by Blakely Advocacy Institute at the University of Houston Law Center.
The team increased their ranking by nine spots from the 2019-20 moot court team ratings. Papy Moot Court now stands as the second-highest ranked moot court team in the state of Florida.
In years past, Miami Law's moot court teams would travel across the world for competitions. This past year, however, the students rose to the challenge of undertaking an entirely new format of argument, while largely confined to their homes.
"Not only did the members have to adjust to the challenges that the pandemic brought, but they had to learn a new style of arguing and competing," said Director of Programs Farah Barquero, referring to virtual as opposed to in-person argumentation. "I am beyond proud of our members for their success, resilience, and determination in what has been an unprecedentedly challenging year."
Students amassed several team and individual victories and strong competition results throughout the season. The team won the prestigious Jeffrey G. Miller National Environmental Law Moot Court Competition, while Miami Law students earned top oralist honors at the National Appellate Advocacy Competition and the Conrad B. Duberstein Bankruptcy Moot Court Competition.
"Although navigating during a remote environment lent itself to apathy, we worked together and refused to settle for mediocrity," said Jessica Duque, former president of the Papy Moot Court Board, who served during the 2020-21 school year. "I am so proud to be a part of this board."
The Papy Moot Court also placed third in three prestigious competitions, each with over 30 teams competing: the Emory Civil Rights and Liberties Moot Court Competition, the Saul Lefkowitz Moot Court Competition, and the Thurgood Marshall Memorial Moot Court Competition. The students also finished as quarterfinalists in the Herbert Wechsler National Criminal Moot Court Competition and the Cardozo BMI Entertainment and Media Law Moot Court Competition, while Hurricanes team garnered individual recognition at the Emory and Herbert Weschler competitions.
"Preparing for competition this last year was challenging and exciting," said Kassandra Cabrera, who was recognized as Runner-Up Best Oralist at the Emory competition this past year. "We focused on our professionalism and worked on perfecting our oral argument skills on a new platform."
Team members repeatedly stressed that hard work and collaboration behind the scenes led to these competitive successes.
"Each and every member of the team, whether they competed or not, put in an enormous amount of work this year," observed Christian Maroni, part of the team who won the Jeffrey G. Miller competition. "It means a lot to see all of the hard work and support pay off."
"Our extensive alumni base further contributed to our successes and we are incredibly grateful for their time and effort," added Duque. "I'm excited to pay it forward, just as those before me have."
Whether one participates in competitions or not, membership on the Papy Moot Court Board can offer benefits that help young lawyers throughout their careers.
"As a competitor this last year, I was challenged to learn how to best advocate on a virtual platform," observed Cabrera. "Generally, I improved my research and writing skills that will surely help me in my upcoming legal career."
When reflecting upon the team's fortitude in rising to the unprecedented challenges of this past year, students and administrators alike expressed optimism about the future of the Papy Moot Court Board.
"I know that if the team continues to put in that type of effort next year, they can build on this year and have even more success," said Maroni.
"We have high expectations for the upcoming competition season and intend to continue representing the University of Miami with the same excellence and pride as always," added Barquero.
Read more about Miami Law's Charles Papy, Jr. Moot Court Program
More on Litigation, Arbitration and Dispture Resolution at Miami Law