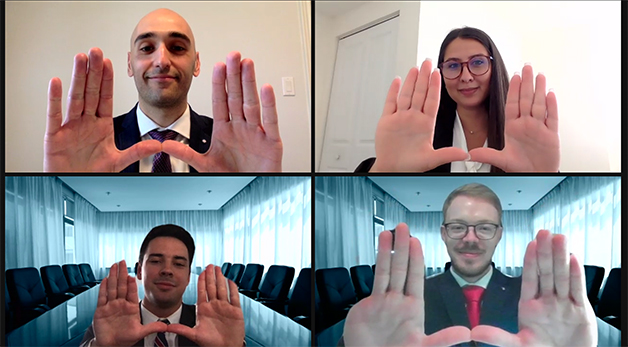 Miami Law team
A team of four Miami Law students recently won the Moorad Game Day Case Competition, hosted by Villanova University School of Law.
The honor marked Miami Law's second consecutive win in the annual competition, where teams of three to five sports law and business students from across the country present and negotiate solutions to current issues in sports law and business law - two areas in which Miami Law has expertise.
The competition was sponsored by Jeffrey Moorad, who served as CEO of the Arizona Diamondbacks and San Diego Padres and co-founded the Steinberg & Moorad sports agency and the MSP Sports Capital investment company. A panel of Moorad and other senior executives and sports industry professionals selected the winners.
The four victorious students, JD/LL.M. students Juliana Rubin and Evan Gray, and LL.M. students Nick Flowers and Nick Rossi, all of whom specialize in sports law in Miami Law's Entertainment, Arts, and Sports Law (EASL) program, earned a cash prize for their triumph.
"In an era of increased globalization for sports, it was fitting that our winning team represented three countries (America, Canada and South Africa)," said Rossi. "The EASL program brings talented students from a variety of backgrounds and gives them practical platforms to engage with and develop their viewpoints. The result is a synergy amongst the students which you would be hard pressed to replicate anywhere else."
"Our team was a perfect representation of the diversity of students and viewpoints that the EASL program emphasizes," added Rubin.
From when the problem was released on Thursday until Saturday morning, the Miami Law quartet worked together to prepare a presentation to the NFL executive committee and a negotiation involving the forced sale of a team.
"This competition was a culmination of everything we have learned throughout our coursework in the EASL LL.M. program," said Rubin. "We were able to evaluate real world issues from varying levels and perspectives, as we have done in our classes, tutorials, and group projects. We were equipped with a solid process and framework to approach the two parts of the competition."
The presentation analyzed potential actions the NFL commissioner could take against a team owner accused of sexual misconduct, while the negotiation involved discussing key terms in a punitive, league-mandated, forced sale of the team.
"[The students] worked tirelessly to put together and deliver a masterful presentation," said Greg Levy, J.D.'10, director of the program. "The students were able to lean into what they have learned throughout the EASL program to come out on top of a very competitive field."
The competition was a valuable experience for the students, who demonstrated by their performance how Miami Law's EASL program prepares students for careers in sports law and business.
"UM's EASL program was perfect preparation for the Villanova competition because our coursework is so practical and hands-on," said Rossi.
"Winning the competition was a perfect way to end my time at Miami Law," added Rubin.
Learn more about Miami Law's EASL Program