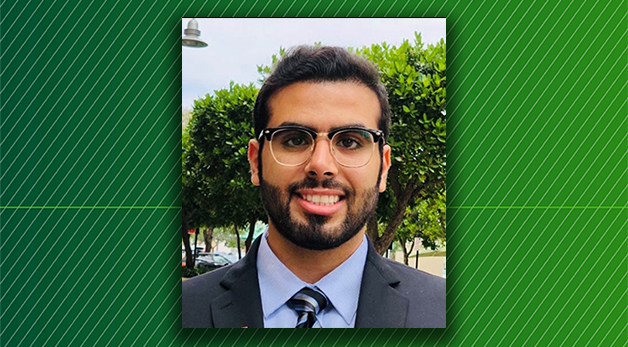 Adnan Alajaji. LL.M. '18
Name: Adnan Alajaji
Country of Origin: Saudi Arabia
Year of LL.M.: 2018
Law School(s) attended: Bachelor of Judicial Studies, Umm AlQura University, Intensive English + International Arbitration LL.M., University of Miami School of Law
Language(s): Arabic, English
Current Position: Legal Analyst, Saudi Aramco Law Organization, Dhahran, Saudi Arabia
Relevant past position(s): Trainee Lawyer, Alsharif Law Firm, Saudi Arabia; Attorney Legal Researcher, Jeddah Governorate, Saudi Arabia
Awards, Honors, Publications: International Moot Court Board Honors, University of Miami School of Law; Bachelor of Judicial Studies, with First Class Honor, Umm AlQura University
What Are Your Current Position, Title, and Day-to-Day Tasks?
The Saudi Arabian Oil Company (Aramco) is a Saudi Arabian public petroleum and natural gas company based in Dhahran. As of 2020, it is one of the largest companies in the world by revenue. In my current position as a Legal Analyst, some of my job responsibilities include drafting memos and attending court hearings, staying up-to-date on changes to legislation, particularly in relation to laws, rules and regulations that directly affect the Company, provide responses to inquiries raised in connection with Sharia Law and Arbitration, and communicating with and managing external counsel.
How Did Your LL.M. Studies Help You Build a Successful Career in the Field?
The LL.M. in International Arbitration helped me gain expertise in another legal system, alongside valuable international experience and language proficiency. Moreover, it helped me connect with a set of well-known practitioners, professors, peers and alumni.
What Was the Most Impactful Experience During your Studies at Miami Law?
During my time at Miami Law, I competed in the Foreign Direct Investment (FDI) International Arbitration Moot competition and had the opportunity to travel to Stockholm, Sweden. The International Moot Court Program helped me improve the foundational skills that I needed as a lawyer, such as effective communication orally and in writing, drafting, and advocacy skills.
What Advice Would You Give an Incoming LL.M. Student on How to Make the Most of Their LL.M.?
I would urge incoming students to try their best to be part of all the various events the International Arbitration LL.M. Program offers, to engage with the arbitration community as well as to build and expand their network in the field.
How Has the Graduate Experience Impacted Your Current Work?
The graduate experience has a positive impact on me on all aspects, especially on how to manage workload effectively, meet deadlines and priorities.
Other Comments?
Studying at Miami Law allowed me to combine studying with fun for the maximum amount of both!
Read more about Miami Law's International Arbitration LL.M. Program