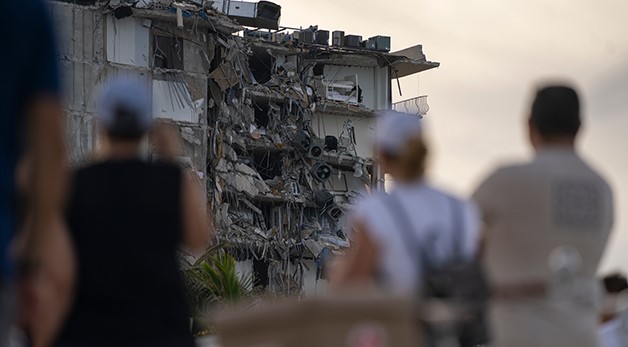 The University of Miami School of Law has extensive courses and faculty with expertise in real estate law. It is no surprise one such expert from the Robert Traurig-Greenberg Traurig LL.M. in Real Property Development Program, Bill Sklar, is leading a task force on condo law in response to the recent tragedy in Surfside, FL.
In the wake of the collapse, The Florida Bar's Real Property, Probate, and Trust Law Section created the Condominium Law and Policy on Life Safety Task Force to be chaired by Sklar, J.D. '80, and to serve as a resource to the Governor of Florida. A recent Wall Street Journal article which quoted Sklar said the task force will examine all aspects of Florida Condominium board law in addition to laws surrounding operations, maintenance, and construction; it will not explore the causes of the collapse. Sklar has also been interviewed about the tragedy by The Washington Post and the Miami Herald.
Faculty Expertise in Real Estate Development
Sklar, who is also the director of Miami Law's Boyer Institute on Condo and Cluster Development, is a real estate industry trailblazer and has taught at Miami Law for the past forty years. He teaches along with other expert faculty in the Real Property Development LL.M. Program.
"The RPD LL.M. Program is taught by leading practitioners and experts in their fields, covering all the subjects necessary for the planning, structuring, and financing of real estate projects- from the traditional to the cutting edge ones," said Program Director Raquel M.Matas. "Additional expertise comes from an Advisory Board of industry leaders from law practice, development, architecture, construction, insurance, lending, brokerage, and marketing."
Boyer Institute on Condo Development Panels and Experts to Address Surfside
For forty-six years, The Ralph E. Boyer Institute on Condominium and Cluster Development Law has been Florida's foremost conference which provides the latest updates on condominium and planned development law.
This year's event will take place October 7-8 in West Palm Beach Florida. The fall conference has added panels specifically on the Surfside tragedy and include, "Reform of Condominium Operations Resulting From the Surfside Tragedy— Changes in Condominium
Association Law and Governance" and "Community Association Emergency Powers—New Legislation—Board Authority and Liability; Access Limitations; What We Have Learned from the Pandemic and Surfside Disaster."
The yearly institute draws experts from across the state of Florida to cover the latest on key topics for attorneys and professionals involved in real estate transactions, development, and finance.
As director of the Institute, Sklar says, "Miami Law's Ralph E. Boyer Institute on Condominium Law has provided a forum for advanced leading-edge discussion of topics affecting developers, lenders, associations, and others in this emerging area of law affecting over 50 million Americans and nearly 10 million Floridians. We are proud of, not only our tradition but our role in advancing the discussion of new laws, regulations, and trends affecting so many of our citizens."
More on Ralph E. Boyer Institute on Condominium Law
More on Robert Traurig-Greenberg Traurig LL.M. in Real Property Development