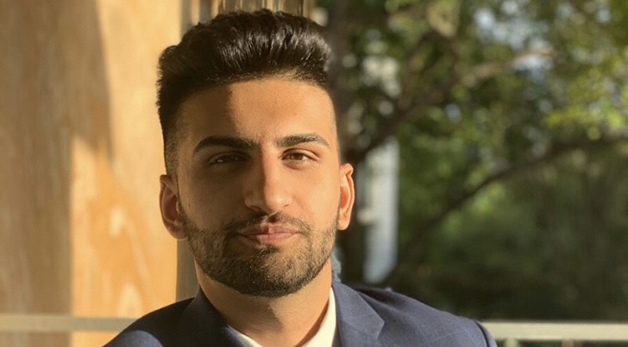 Rising 2L Milind N. Khurana
Miami Law student Milind N. Khurana is making the most of his summer internship with the legal department of AT&T, the world's largest telephone company.
"I saw this as a great opportunity to explore the different facets of the law," said Khurana, a Floridian, and holder of Bachelor of Science degrees in both political science and neuroscience, as well as a Master of Arts in international administration, all from the University of Miami. "I am planning on using this summer to narrow down the different practice areas that I find interesting."
The rising 2L has had plenty of real-world experience so far at AT&T, with responsibilities ranging from conducting legal research to reviewing contract language. His Miami Law education has helped him with his work. "Many of my assignments thus far have dealt with researching case law and applying it to the situation at hand. The training we received during our LCOMM classes on how to navigate Lexis/Westlaw and properly conduct research has come into play."
Seeing how the law is applied within such a large corporation has been an eye-opening experience for Khurana. "Before this experience, I had no idea how an in-house legal department would function and the extent of the impact it would have on the company itself. It has been interesting seeing how large the department is."
Khurana has learned constantly on the job, not only about the law but also about the importance of relationships in the legal world. "My supervisors have consistently told us that, while it is good to do well on the assignments we are given, the most important parts of the internship experience are the interactions and connections we will be making throughout the summer. We are in a unique position to have access to some of the best lawyers at the biggest telecommunications company in the U.S."
While Khurana's interests include health care law, government policy and global business, he, like many rising 2Ls, is still figuring out exactly which path his career in law will follow. "At this point, my passion within the law is undefined, but I have been granted this amazing opportunity to explore the nuances of the legal field and begin to figure out what I am passionate about. I decided to pursue law because I wanted to be in a service industry and make an impact in whichever area I choose to eventually be in."
"It is a great feeling to know that the work you are putting in will have a tangible impact down the line," he added.
In addition to his work in-house for AT&T, Khurana is interested in human rights law. This fall, he'll start work with Miami Law's Human Rights Clinic. He also earned the Dean's Certificate of Achievement Award for his Legal Communications and Research and Property classes this past year, in addition to earning the CALI award for LCOMMS II.
After graduation, Khurana is interested in working in litigation at an organization or firm where he could gain hands-on experience, although he is still in the process of narrowing it down. His work at AT&T, as well as his Miami Law studies, are helping him realize those aspirations.
Read more about Miami Law's J.D. Program
More on Business Law at Miami Law