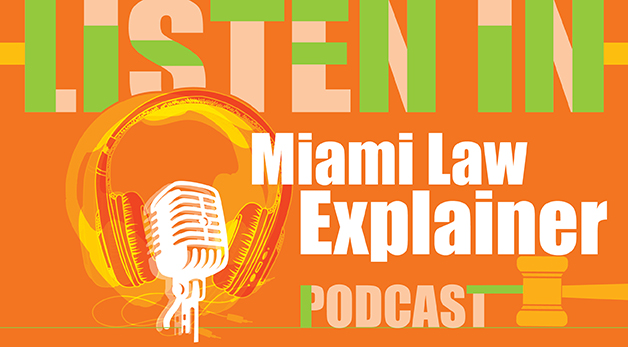 Miami Law's legal podcast, the Explainer, is gearing up for season six mid-January. Here are a few themes that gained top listens from seasons past.
Gun Control
In season two's bonus episode, Business Tackles Gun Control, Professor Mary Anne Franks, whose latest book "The Cult of the Constitution" looks at the deadly devotion to guns and free speech, unboxes both the debate and the divide as U.S. companies are increasingly taking stands on social issues. Think Dick's Sporting Goods and Levi's signaling their support for gun control; and now Salesforce, the business software behemoth announced barring business that sell assault weapons from using its customer relationship management system.
Separating Migrant Children
From season one, in Children of the Caravans Children and Youth Law Clinic Director Bernard Perlmutter dives in to the issue of the increasing numbers of children presenting at the U.S. southern border, either with family or without. Thousands are shuttled into camps or a patchwork of foster agencies across the country. Even in the best of examples, the children suffer from being separated from their families or people they know.
Women's Rights in Sports
In season three's Women of the Pitch, chief class action referee Professor Sergio Campos delivers the commentary on why the women of U.S. Soccer's fight, on the pitch and in the courts, keep scoring legal goals.
Looted Art and Restitution
In Artifacts on the Move from season two, art and museum law expert and lifetime member of the Archaeological Institute of America Professor Stephen Urice unpacks the Metropolitan Museum of Art's announcement that they are returning the Gilded Coffin of the Priest Nedjemankh after evidence was unearthed that it was looted during the Arab Spring in 2011.
Technology and Antitrust
Professor and former Department of Justice antitrust attorney John Mark Newman takes over the game controller in season five's The Epic Battle for Fortnite navigating the game maker's suit again Apple over the apps store's terms and conditions.