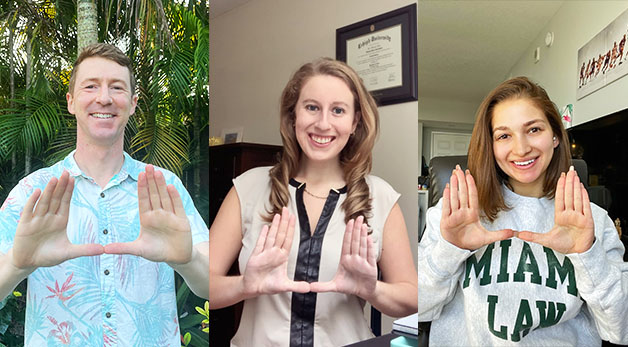 Myles Crandall, Hayley Goodman & Jillian Kushner
During the winter break, over 30 Miami Law students helped to build their legal skills in the areas of social justice and public interest, family law, and criminal law, while giving back to vulnerable communities through pro bono opportunities. The HOPE Public Interest Resource Center developed seven "alternative breaks" to ensure that law students had the chance to expand their skill sets while providing much-needed services to agencies and communities.
"Alternative Winter Break opportunities introduced me to practicing attorneys and people working on legal issues in Florida," said 1L student Myles Crandall. "It was meaningful to see some of the legal realities and challenges facing people. I learned more about legal systems and structures. I hope that my work played a role in easing non-profit legal teams' workloads and increasing potential positive outcomes for clients. I valued the opportunity to begin putting my legal education to use."
The seven projects – which were all conducted remotely - included working for the Florida Rural Legal Services, Legal Services of Greater Miami, National Association of Counsel for Children, Southern Legal Counsel, Promise of Justice, The Fines & Fees Justice Center and the Disability Independence Group.
The DIG is in the early stages of litigation on a fair housing case involving discriminatory practices based on race and income and is also involved with policy advocacy around issues of domestic violence, sexual assault and the ADA.
"Working with the Disability Independence Group helped me see the wide range of legal, and human rights, issues which attorneys can challenge," said Crandall. "The DIG team is dedicated to making their office, and our state, inclusive and accessible. Through advocacy, education, and direct legal services, DIG works to make sure people are seen, heard, and represented. I was able to learn more about housing discrimination and research in hopes of providing protection from discriminatory eviction."
Another alternative winter break project opportunity was at the National Association of Counsel for Children's Child Advocacy Legal Research Project.
"I am grateful to the HOPE Office for affording me the opportunity to work with the National Association of Counsel for Children over winter break so that I could engage in a systemic advocacy experience for the first time," said 2L Hayley Goodman. "I was able to delve into a child welfare policy legal research and writing project, which heightened my awareness about how the child welfare system functions differently in each state across America. As I continue my work in the Children and Youth Law Clinic, this research project has given me some much needed understanding of the realities and systems that my individual clients face."
The Post-Conviction Relief Pro Bono Assistance at the Promise of Justice help seek post-conviction relief for individuals convicted in Louisiana by non-unanimous juries, a practice that has been deemed unconstitutional by the Supreme Court.
"With the long winter break, I realized I wanted to take advantage of the time off from school and gain some more experience," said Jillian Kushner, 2L. "I still had time to relax with friends and family while also getting involved with the Promise of Justice Initiative where I was able to conduct research and review case files to help find potential clients who have been imprisoned."
The Fines & Fees Justice Center seeks to catalyze a movement to eliminate the fines and fees that distort justice. In the project, students used their research and surveying skills to illuminate the landscape of fines and fees in Florida and helped identify specific problems for future advocacy projects.
"Working with the Fines and Fees Justice Center exposed me to shocking realities about county court funding," explained Crandall, who worked on two pro bono projects during winter break. "Suspending driver's licenses is one of the few measures that court clerks feel they have to force people to pay fines and fees. Sadly, this system is not sustainable for individuals who owe money or as a method for funding the court system."
Through these projects, students gained valuable experience speaking with clients, drafting pleadings and other documents, and conducting legal research. Additionally, all the work conducted during the winter break counted as pro bono hours.
"The Fines and Fees Justice Center was thrilled to work with so many talented and committed Miami Law students on the project," said Ashley Thomas, Florida State Director with Fines and Fees Justice Center. "Working with the students provides an invaluable benefit to our work in Florida."
Read more about Social Justice and Public Interest at Miami Law