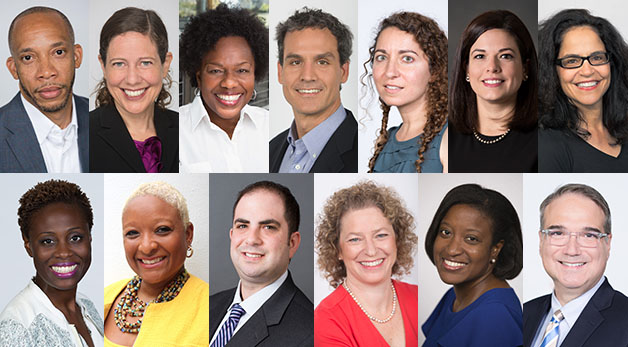 Miami Law was well represented at this year's Association of American Law Schools annual meeting, themed "The Power of Words," participating as attendees, awardees, moderators, and speakers.
More than a dozen from the law school joined the more than 900 presenters in 250 sessions over the five-day virtual meeting, including Dean and M. Minnette Massey Professor of Law Anthony Eudelio Varona as a facilitator in a session on social media, and as a speaker about the opportunities and challenges for LQBTQ+ in leadership positions at law schools as well as Professor Charlton Copeland, recipient of the AALS's prestigious Clyde Ferguson award.
The meeting is the largest gathering of law faculty in the world. More than 2,500 law teachers, librarians, and law school administrators from member schools, non-member schools, and law schools of other nations attend the gathering.
Most of the meeting is devoted to programs organized and presented by AALS sections. To encourage and recognize excellent legal scholarship by new law teachers, AALS issues a call for scholarly papers by full-time faculty who have taught for five years or less. Legal scholars select for special recognition those authors whose papers have made the most substantial contribution to legal literature.
"Congratulations to my wonderful colleague, Professor Charlton Copeland, recipient of the AALS's prestigious Clyde Ferguson award! Bravo, Charlton, both for the award and for all your important work across the board," said Lili Levi, dean's distinguished scholar, and vice dean for intellectual life. "A big shout-out also to the other Miami Law faculty and administrators who shared their wisdom on AALS panels. Miami Law celebrates you and your contributions!" This past July, Levi organized with the AALS Journal of Legal Education, the online symposium, "Power, Privilege, and Transformation: Lessons from the Pandemic for Online Legal Education." 
Professor of Law & Dean's Distinguished Scholar Caroline Mala Corbin spoke on COVID-19 and Religious Free Exercise; Assistant Dean for Career Development Marcelyn Cox presented to the section on law school administration and finance about economics, admissions and placement in the current legal education environment and their financial impacts. 
Professor Andrew B. Dawson, vice dean for academic affairs, was a commentator, and Lecturer Tamar Ezar, acting director the Human Rights Clinic, presented to the section on commercial and consumer law works-in-progress for junior consumer law scholars.
Katrin Hussman Schroll, associate dean of admissions and enrollment management, was a speaker in a session titled, "Speaking Each Other's Language: Identifying How We Overcome Challenges and Collaborate as Distinct Professional Groups" while Professor Elizabeth M. Iglesias moderated the section on civil rights and poverty law's "Politics, Pandemic, and the Future of Civil Rights and Poverty Law." Iglesias is also the Chair of the AALS Section on Civil Rights.
Associate Dean for Diversity, Equity, and Community and Professor Osamudia R. James, who was was elected to the executive committee of AALS's Minority Groups Section last year, moderated the section on minority groups in awarding Copeland's award. Marcia Narine Weldon, professor of legal writing and lecturer in law, was a speaker for the section on socio-economics about minority groups and securities regulation, "For Whose Benefit Public Corporations? Perspectives on Shareholder and Stakeholder Primacy."
During the meeting for 2021-2022 section officers, Jarrod F. Reich, professor of legal writing and lecturer in law, chair of the AALS section on Balance in Legal Education, moderated its panel, "The Growth Mindset; A New Vision for Legal Education and Resiliency in the Legal Profession." This section was also selected as one of the AALS's sections of the year. Dean of Students, Janet E. Stearns, spoke at the section of students services and part-time division programs joint program about hot topics in law student services.
Associate Dean for Experiential Education and Professor of Clinical Legal Education, and Co-Director, Children & Youth Law Clinic Kele Stewart moderated the section on balance in legal education, clinical legal education, and leadership joint pedagogy in a session titled, "Teaching Leadership Skills in a Time of Crisis." Stewart also serves on the executive committee of the AALS Section on Clinical Legal Education.